As the number of startup companies continues to rise to new heights, online platforms for individuals involved in these companies have also been on the rise. F6S is one such platform. It is a community of founders, investors, other global companies, and talents.
It is also an ideal site for job seekers who wish to enter a startup company. The site provides a list of job vacancies from thousands of startup companies in the world.
In this article, discover F6S and its community below. Learn also how to apply for startup jobs on the site.
Getting Started with the Largest Startup Ecosystem
Joining the Community of Founders and Job Hunters
Setting Up My Interests and Skills
Searching for Jobs on F6S
Checking the Job Descriptions
Applying for a Job with F6S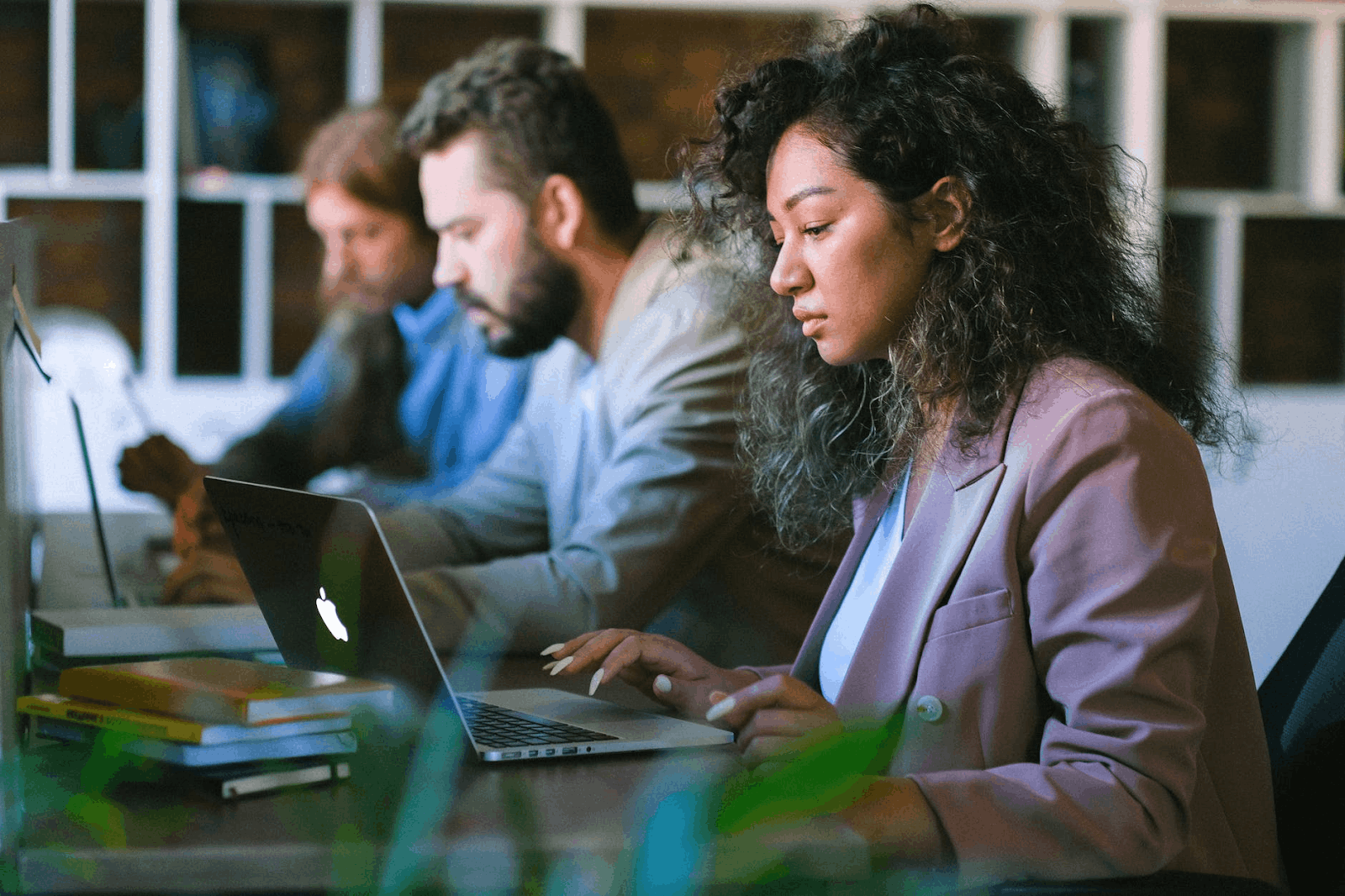 Getting Started with the Largest Startup Ecosystem
F6S is one of the world's largest platforms for startup founders. It is a network where founders can freely interact with accelerators, talent, and tools, with the ultimate goal of growing together.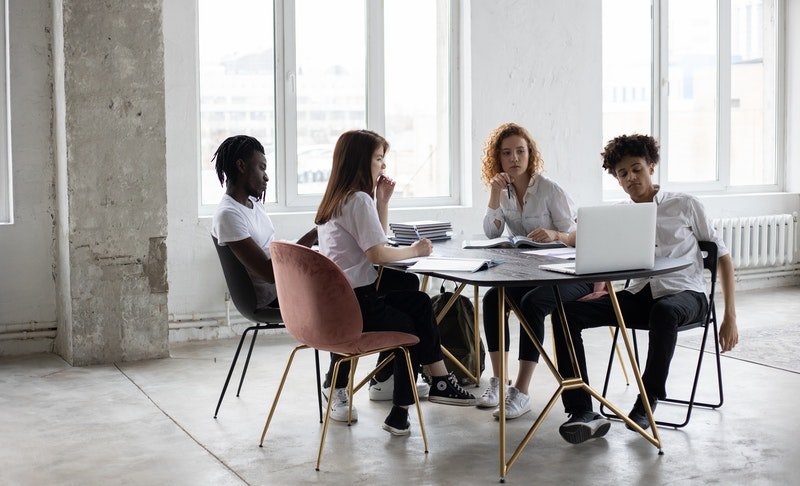 The name F6S came from shortening the number of letters between "f" and "s" in the word "founders." It boasts itself as the largest growth company community as it aims to deliver billions in growth funding continuously.
At present, the F6S community has over 4 million company founders alongside global corporations, governments, and programs that make up a huge startup ecosystem.
The network helps founders and their startup companies through funding, grants, jobs, talents, company services, investments, partnerships, pilot contracts, and many more.
Discovering F6S Community
Based on the team's record, thousands of F6S members interact daily because of grants and investments. Moreover, its members can also enjoy free founder benefits such as Amazon Web Service (AWS) business support.
Every day, F6S welcomes numerous founders who wish to apply to startup programs, including accelerators. The F6S community is not only limited to top companies but also the companies that are in the earlier stages. The majority of the members are startups.
The members of the F6S community are not just founders. They openly welcome talented individuals who are seeking job opportunities from startup company members.
Joining the Community of Founders and Job Hunters
F6S provides an avenue for the members to interact freely. It is through the F6S website in which all members have their respective accounts. Interested individuals can join the community anytime for free.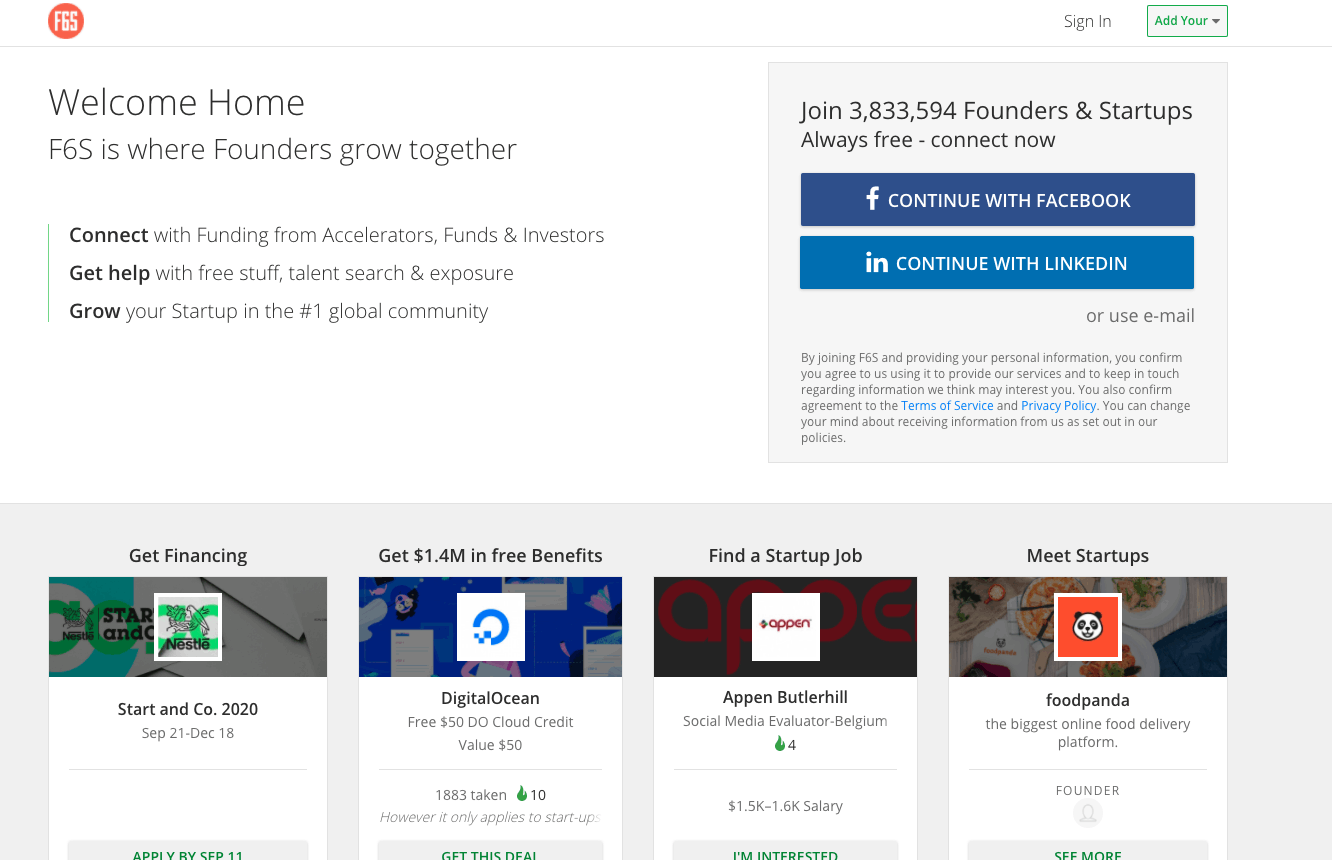 When I graduated from college, I had already decided that I wanted to be a part of a startup company. I wanted to contribute to the growth of the company from the beginning.
I found the community a great opportunity to look for job vacancies from startup companies. So, I created an account on F6S where I was presented options to connect my Linkedin or Facebook account or provide an active email.
As a new user, I was required to create a profile that contained my basic information. Then, I had to set up my account by providing the email and a password. I also provided my current location.
Creating Profiles on F6S
The profile that I create on the platform will be public, which lets startup companies and other members view my account. Aside from my name and location, F6S asked for a profile photo in JPG, PNG, or GIF format.
Given that companies may check my profile on F6S, I added a short bio to introduce myself formally. In it was a description of my goals, background, and expertise.
The site also gave me the option of providing a link to my accounts on Facebook, Twitter, LinkedIn, or personal website. You can also add a tagline to your profile if you choose.
Setting Up My Interests and Skills
On the F6S site, startups can reach out directly to candidates. I can receive messages from startups that are currently looking for new members.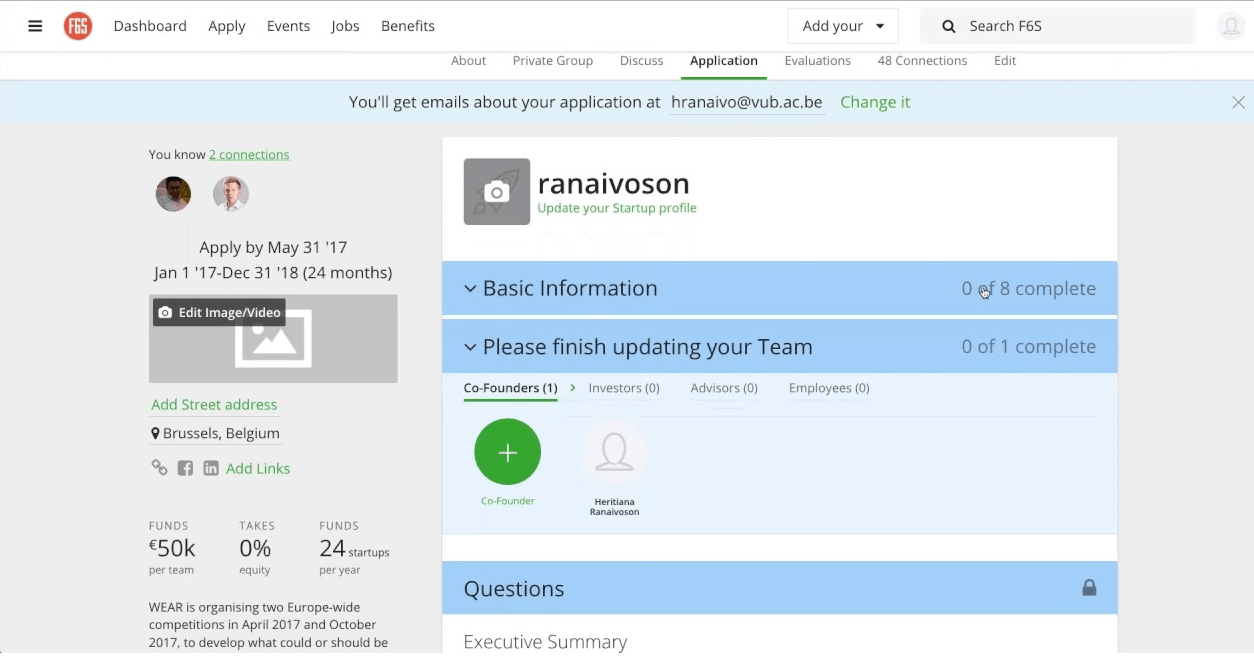 I found it interesting that F6S asked how serious I was about looking for a job right now, which had options such as "Actively looking" or "Could be tempted". Moreover, F6S asked what field I would like to venture into, whether in business or tech.
Then, F6S prompted me to indicate which skills match my strengths or interests. For the business field, some of the skills are Marketing, Sales, Business Development, Financial, Operations, Product, Accounting, Social Media, Sales Management, Advertising, and Team Leadership.
On the other hand, some of the tech skills include Back End Dev, Front End Dev, UI/UX Design, General Engineer, Hardware Engineer, Mobile Dev, Data Science, Database Admin, DevOps, CSS, and Web Development.
Improving My Profile Strength
I worked on improving my profile so that I could make a good impression on the startup companies visiting my account. I added several specific skills that will show what I know, hoping that they will meet the criteria set by the companies.
I also added my professional experiences with the F6S template. It prompted me to provide information about the company's name, my job role or position, employment type, and employment duration.
To build up my profile, F6S asked me to indicate something great that I have built. In addition, I also provided my educational background.
Searching for Jobs on F6S
I don't have to wait for startup companies to send me a message, because I can actively look for one on the F6S site. There are two main options when searching for a job – the Job tab or the Search feature.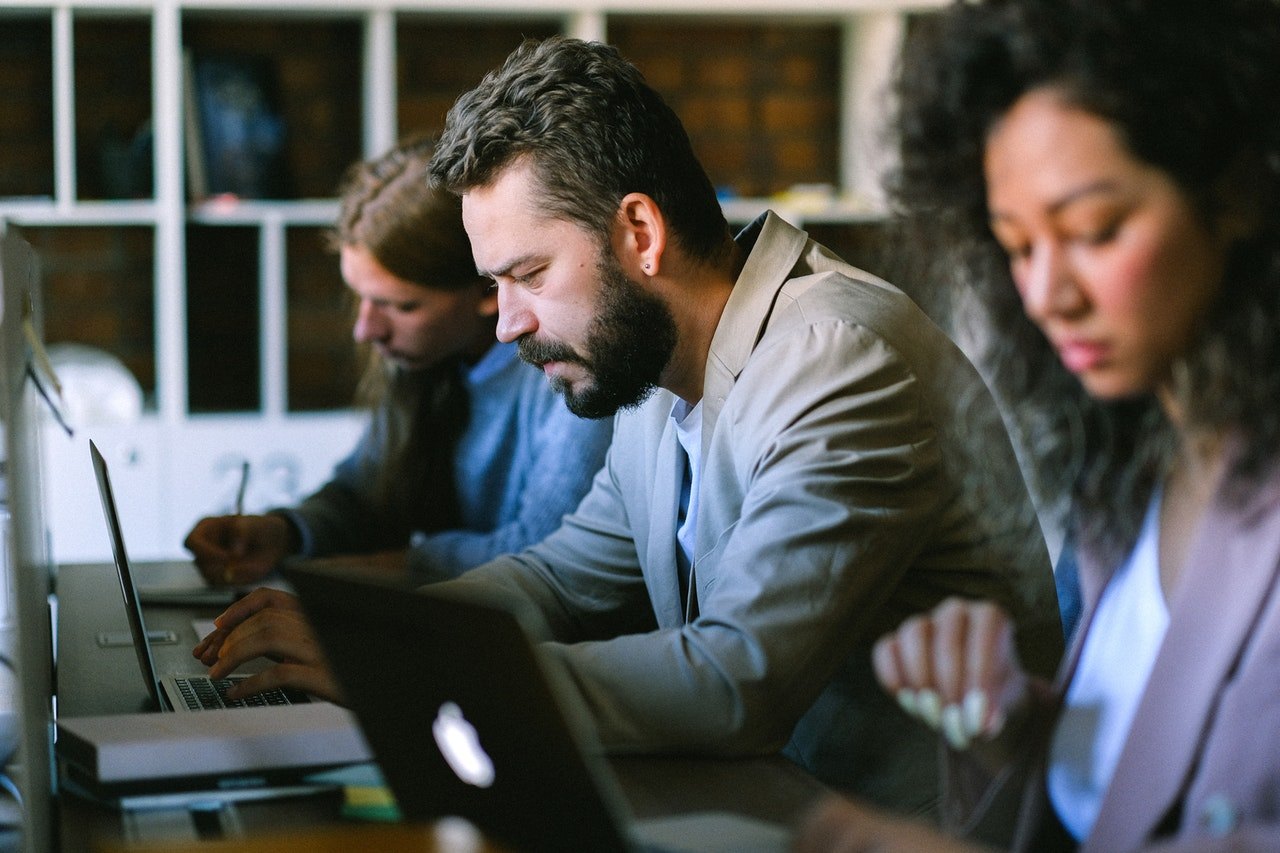 The Jobs tab can be found on the upper left part of the screen. Here, the site lists all the related job vacancies based on my profile. It showed the jobs that may fit my skills, expertise, and location.
The listed jobs can be sorted according to recency, popularity, and proximity. I found it easy to look for the perfect job opportunity because I can filter the job postings.
The Search feature allowed me to manually type in the keywords related to the position I was looking for. The site is open for keywords specific to a job position, name of a startup company, or location.
Filtering the Job Searches
It is easy to find an ideal job opportunity for me on F6S through the use of their search filters. Job seekers on the site can filter by employment types like "Co-founder", "Employment", "Contract", and "Internship".
It was also possible to specifically filter the job postings according to a particular location. I was able to choose whether I wanted remote work or office work.
Another interesting filter on the site is the compensation which uses slide menus to indicate the desired salary and minimum equity ranges. Job seekers may also sort the job vacancies according to their relevance to the ideal role and skills.
Checking the Job Descriptions
The list of job vacancies on the F6S site gives an overview of the position. It includes the name of the job position, company name, office location, and salary range per year. Some companies indicate whether they are implementing remote work.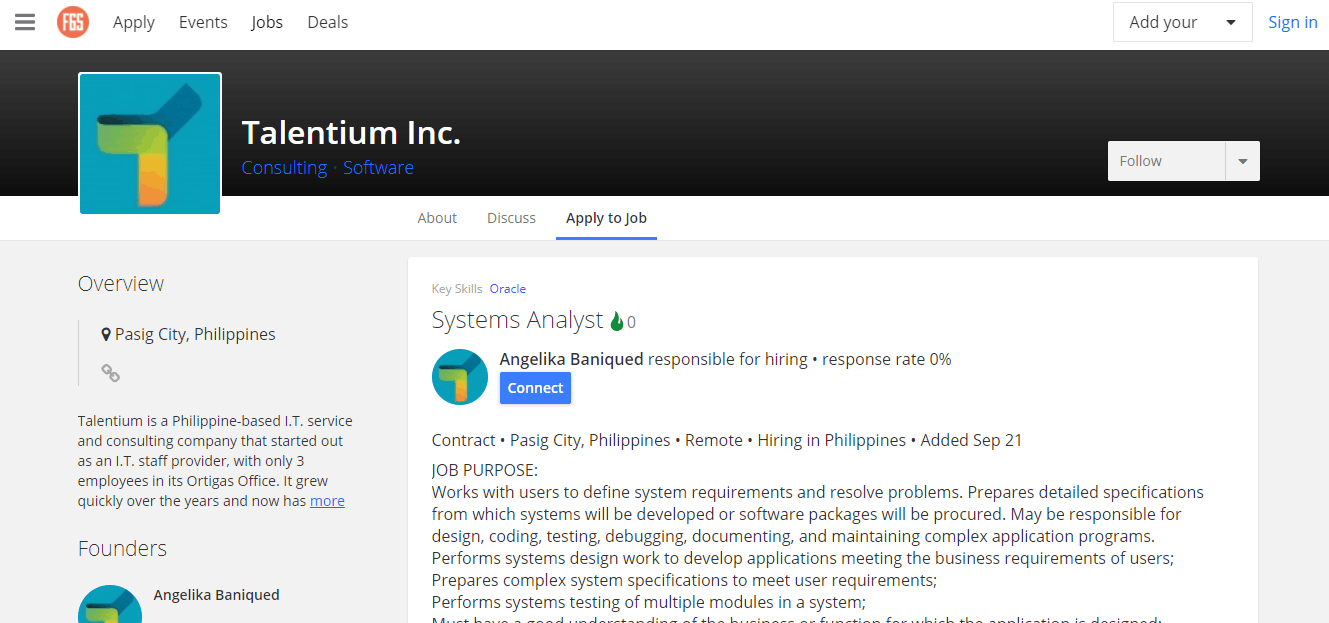 When I click on a job posting that grabs my attention, the site leads me to the company's profile to learn more about the job description and the company.
This helps me decide even further if I am interested in the position while also being able to check if I met their requirements.
The detailed job description includes the job purpose, expectations, assigned responsibilities, key deliverables, core competencies, education requirements, and relevant experience.
Knowing the Company
F6S provides a way to get to know the company before applying.
This is important for me because I like to check whether the company I'm applying to has a good reputation and reputable employee management and whether its ideals were aligned with mine.
The site shares the company's profile, covering its history, mission, vision, and current work conditions, among others.
Applying for a Job with F6S
After doing a background check on the company and deciding to apply for the opening, I did not have to leave the F6S site. F6S operates as a medium for the application process by connecting the company and me.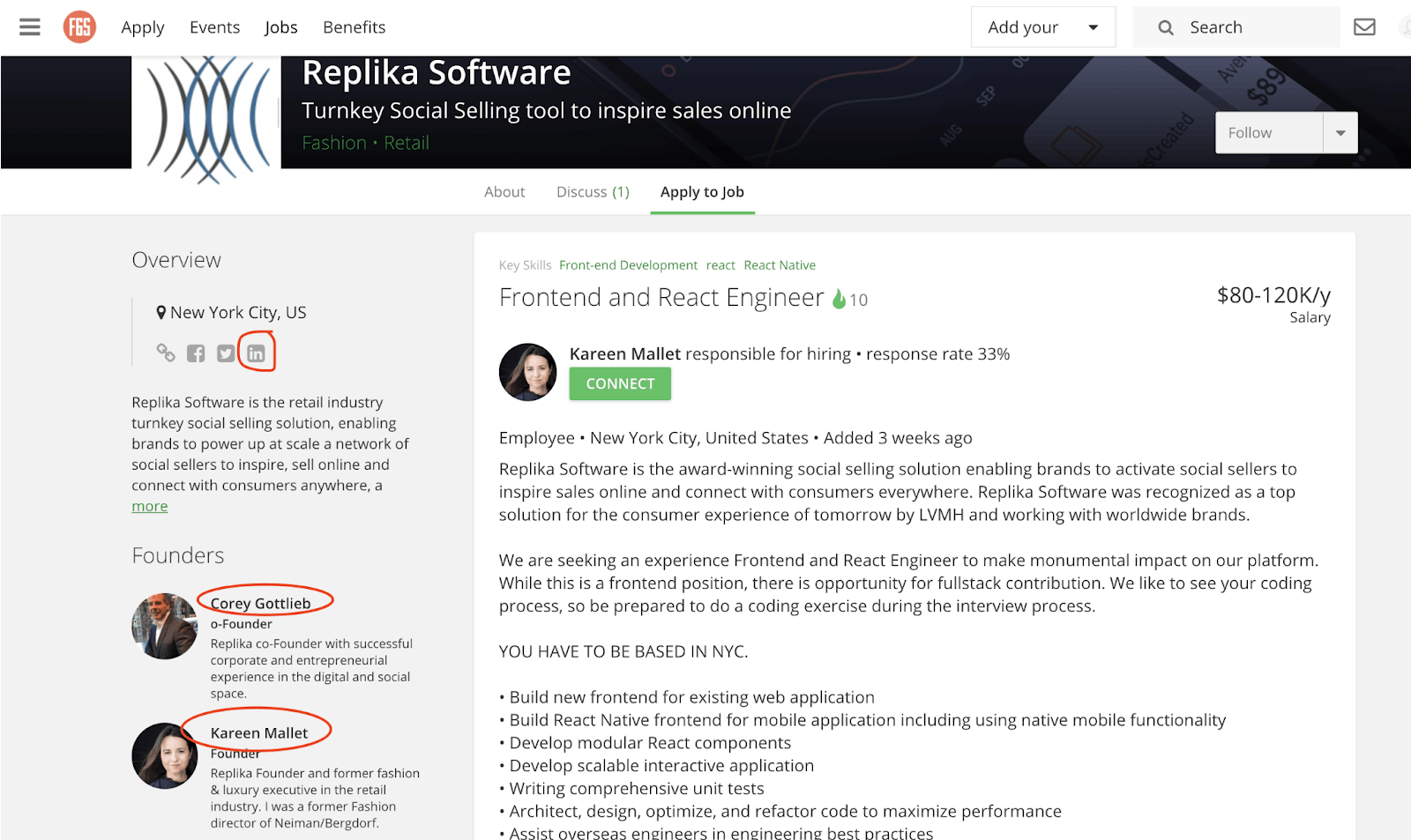 On the job description page, I can click on the Apply to Job tab. I was then redirected to a page that asked me to write a short answer on why I am interested in the company and the position.
The answer was sent directly to the people who are responsible for the hiring process.
The answer determines whether the job seeker will be shortlisted for the position. Besides this, the hiring process differs for each company.
Learning About the Other Application Processes
Even though many companies utilize the F6S platform for the hiring process, some still have unique procedures that will be done outside the F6S site.
Some companies asked me to send the application requirements to their respective company email. Meanwhile, some companies do not ask for the short answer because they want interested job seekers to go directly to their websites.
Lastly, some startups directly message the job seekers who are qualified for the vacancies.
Conclusion
F6S is a great community for individuals who are interested in finding jobs at startup companies. The site is an avenue where job seekers can search for job opportunities and directly apply to them. Whether it's tech jobs or business jobs, there's a wealth of opportunities waiting on F6S.