Early in my career, I realized that I was not suited for a typical office job. I wanted the freedom where I could work on my own time, in my own place, and at my own pace. So, I started working as a freelancer for remote jobs.
During that time, it was difficult for me to find vacancies because only a few job search sites cater to remote jobs alone. Fortunately, I discovered Jobspresso that curates remote jobs for different fields and industries.
Jobspresso helped me look for available remote positions with trusted employers screened by the platform. Learn more about Jobspresso's services and features below.
Discovering the Site for Remote Jobs Seekers and Companies
Exploring the Jobspresso Site
Browsing Jobs on Jobspresso
Learning More about the Job Posts on Jobspresso
Uploading Resume on Jobspresso
Finding Candidates on Jobspresso
Availing the Jobspresso Packages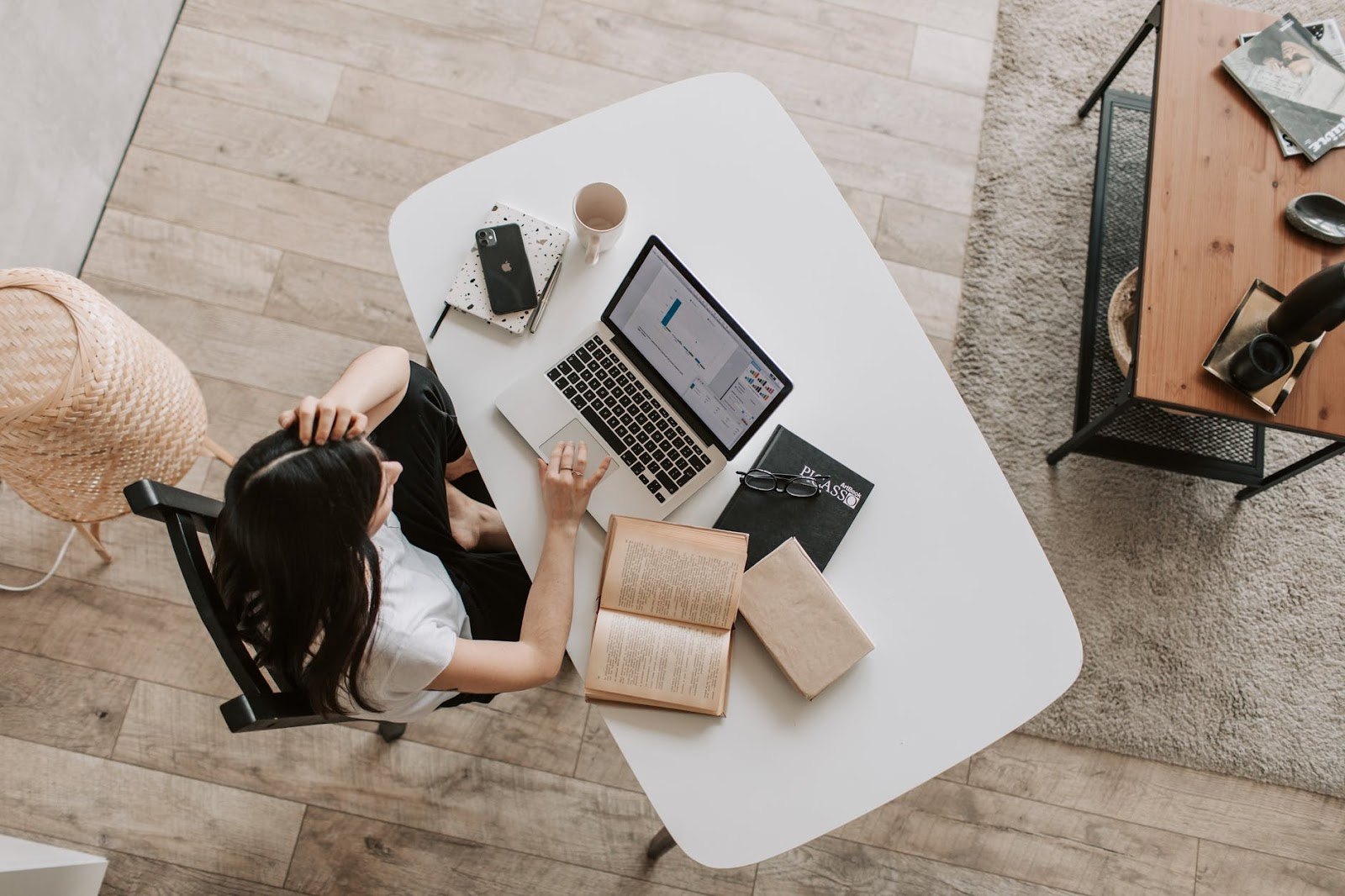 Discovering Jobspresso for Remote Jobs Seekers and Companies
When I first learned about Jobspresso, I immediately did a background check to assess whether the job posts were legit and credible.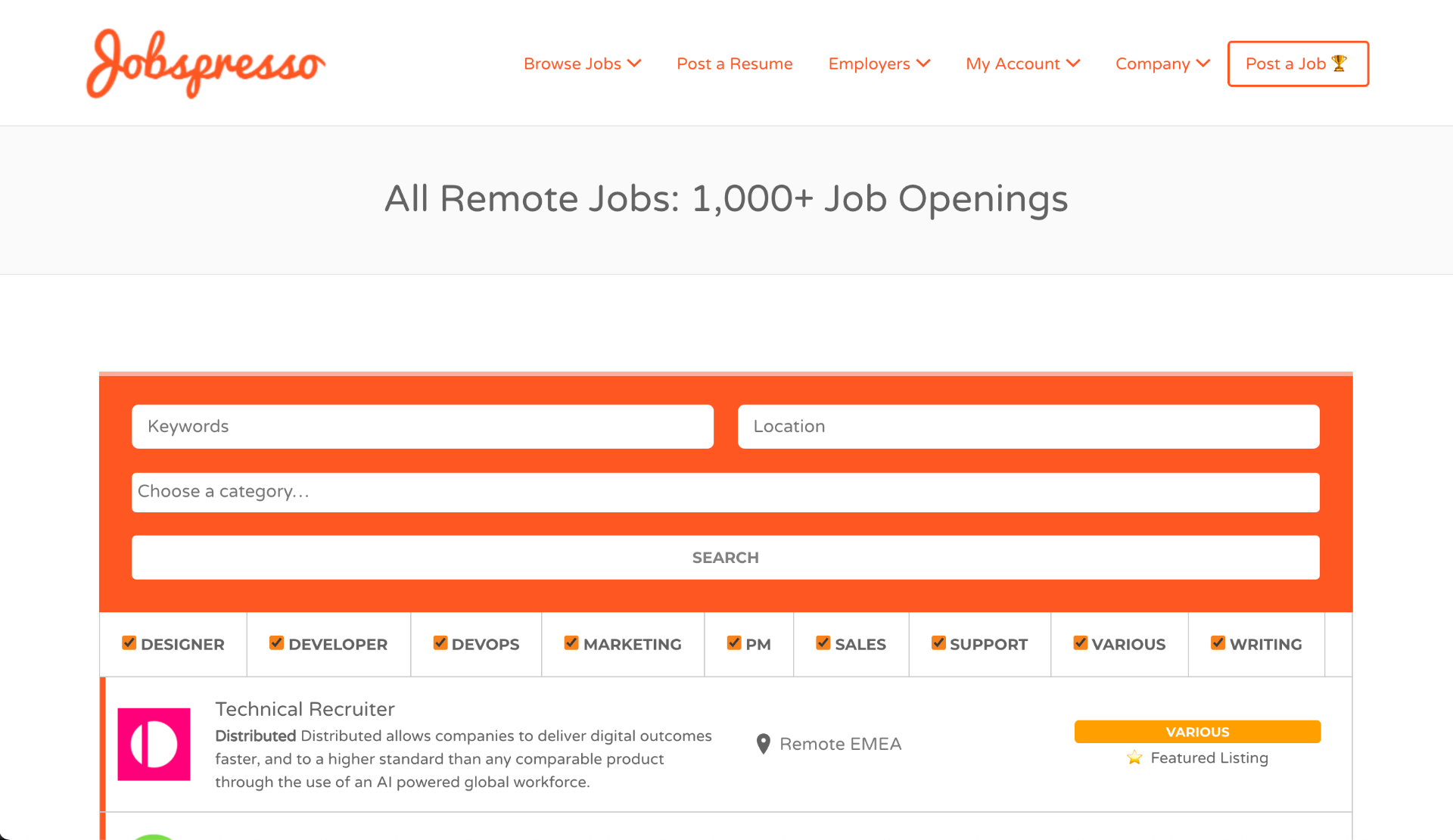 I didn't have to spend much time searching because I quickly discovered that it was one of the most trusted sites for startups and remote companies.
Jobspresso aims to be the hub for remote job seekers and employers, and because of this goal, it provides one of the easiest ways to find a job and hire employees.
The site covers many fields such as technology, customer support, and marketing. The wide variety allows us to find the perfect position for us.
A Trustworthy Job Site
Jobspresso ensures that all of the companies on their site are manually reviewed. They have experts who curate the job postings.
Jobspresso reviews an employer's website, social media accounts, and general reputation. This gives us, the job seekers, confidence and trust in the companies featured on the site and that the jobs are legitimate and of high quality.
Thus, Jobspresso now has thousands of remote workers and hundreds of companies active on the site.
Exploring the Jobspresso Site
As mentioned, Jobspresso is a job search engine focused on remote jobs only. On the Jobspresso website, the companies can post job vacancies in which the job seekers can see, filter, and read more about them.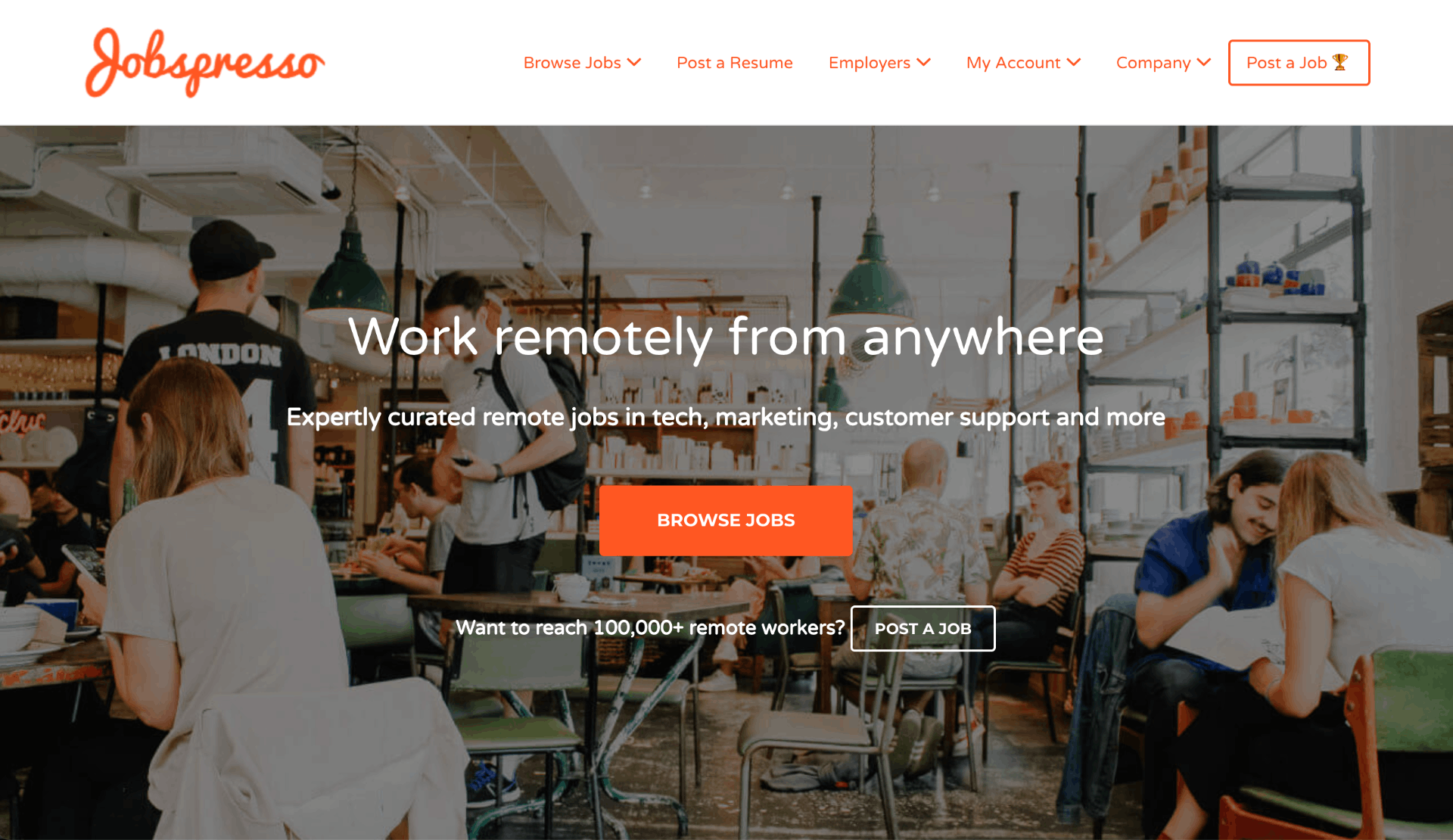 The website is neat and organized, which makes it easier for us to browse for a job. On the home screen of the site, we can find six primary tabs that we can explore.
These tabs are Browse Jobs, Post a Resume, Employers, My Account, Company, and Post a Job.
Some tabs are meant specifically for job seekers, and some specifically for employers.
Latest Job Postings and Other Relevant Information
When scrolling through the home screen, I could find some of the latest job postings and a list of the world-renowned companies that trust Jobspresso.
At the bottom, there is information about the site like the company support, social media accounts, prices, and FAQs.
We can also find links to their social media accounts and can get daily updates by following their Twitter and Facebook accounts.
Browsing Jobs on Jobspresso
We can find the curated job openings in the Browse Jobs tab. Jobspresso categorizes the jobs to be able to easily filter and focus on posts related to our career. This is consistent with its neat and organized user interface.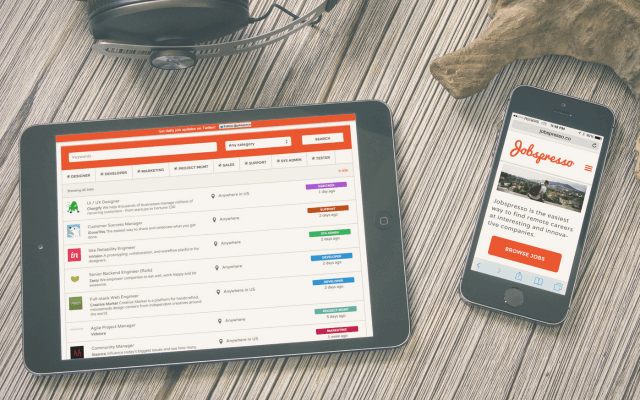 The range of categories includes Software Development, Marketing and Product, Customer Service, Design and User Experience, Sales and Business Development, Development and Operations, Content Writing, Product Management, and various other remote jobs.
We can access everything in the All Remote Jobs category.
Advanced Filter Option
Jobspresso provides an advanced filter option for users to find the job they are looking for. First, type the keywords related to a job, position, or role that you're looking for.
You can filter the job vacancies by providing the company's location, but the majority of job seekers leave it blank because they work from home.
You can also choose a category for the type of employment desired, such as contract work, freelance, full-time, internship, or part-time work. The last step is to click the "Search" button, and the site will show the list of job openings that meet your conditions or criteria.
Learning More about the Job Posts on Jobspresso
After opening a job post that interests us, we can find the information that Jobspresso provides about the position. Details will include if the company is looking for a remote worker, if there's a location requirement, and when they posted the vacancy on the site.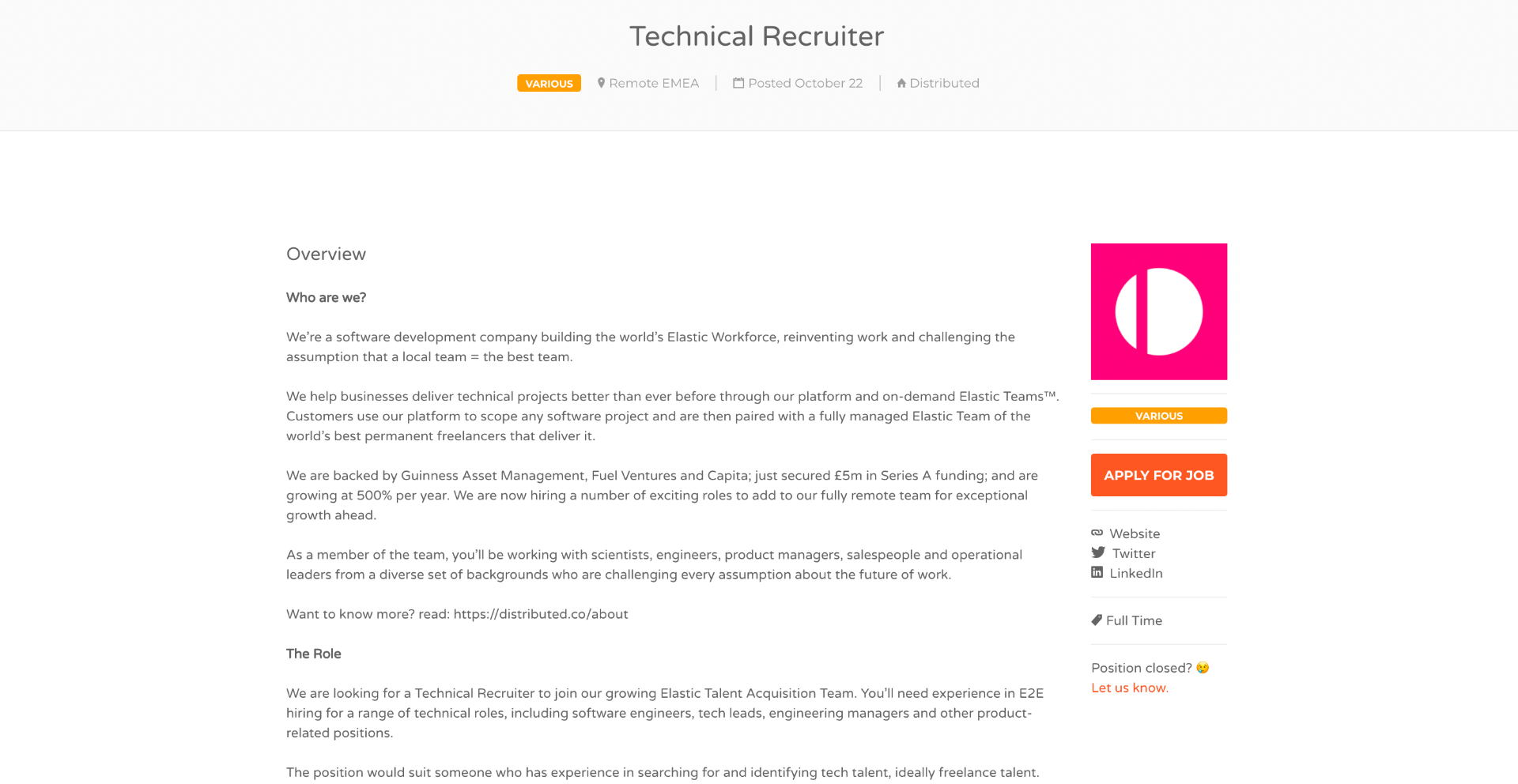 Then, there will be a comprehensive overview of the job position and the expectations, requirements, and qualifications. There is also an explanation of why job seekers should apply for a job in the said company.
Aside from the job position overview, we can also find the company overview to get to know them better. Since Jobspresso manually reviewed the companies on the site, we can immediately check the company's website and social media accounts.
Some companies even provide video introductions. When we are done checking everything, we can click the "Apply for Job" button.
Applying for a Job on Jobspresso
There are two main ways to apply for a job through Jobspresso. The first one is by applying directly to the company by following their application process on their website.
Meanwhile, some companies prefer to find the data and resumes of the job seekers on Jobspresso, so they just sift through the resume database and look for potential candidates.
In order to be sought out by an employer on Jobspresso, you need to create an account. You must register by providing your whole name, valid email address, and preferred password. Then, you can post your resume to be accessed by potential employers.
Uploading Resume on Jobspresso
Jobspresso mentions the advantages of posting a resume to the site, one of which is that many employers solely use the resume database to recruit for positions quickly.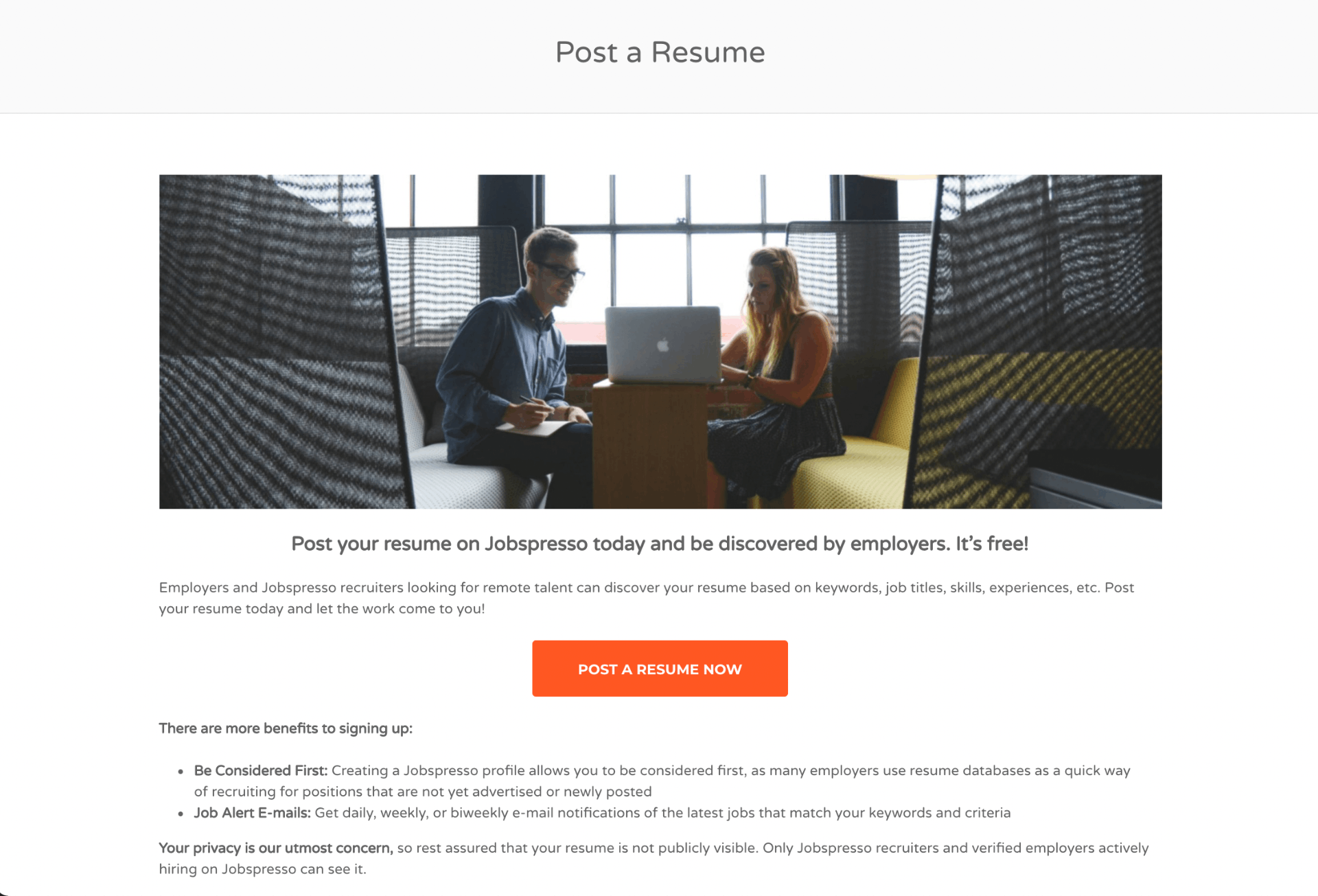 Some companies even consider candidates before the job position is advertised or posted.
This makes the job search much easier if the jobs are searching for us!
Advantages of Uploading Resume
In addition, we can get job alert emails daily, weekly, or biweekly to stay updated on the latest job postings related to our keywords and criteria.
Jobspresso expresses that we must not be afraid of uploading our resume because they treat our privacy with utmost concern by assuring us our resume is not visible to the public.
Creating Our Resume on Jobspresso
You don't need to spend time crafting your resume because Jobspresso has standard questions about the information included in our respective resumes. In this case, we just need to provide the information and documents on the site.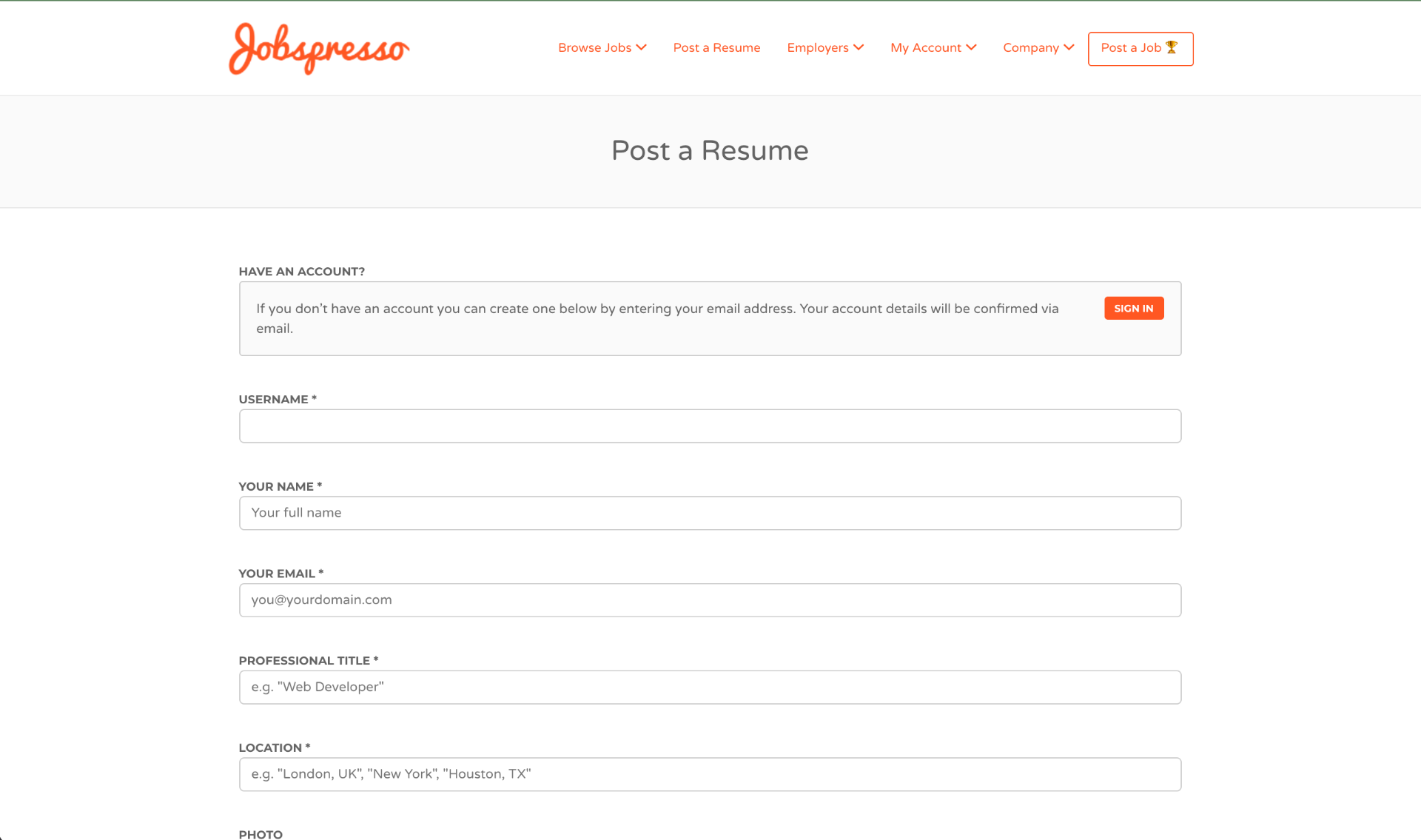 It is important to give our complete name and active email address so that companies can contact us once we meet their requirements.
There is also a need to provide our professional titles like web developer, copyeditor, etc. Location is still necessary because some companies have location requirements for their employers.
Final Touches in Creating Resume
Jobspresso requires us to upload our recent photo and updated resume if we have one.
We also need to write a professional summary showcasing our years of experience, accomplishments, and professional interests.
We must provide other information about our skills, educational background, experience, and links for our websites or social media profiles.
Finding Candidates on Jobspresso
As mentioned, Jobspresso is not only for job seekers but also for companies and employers.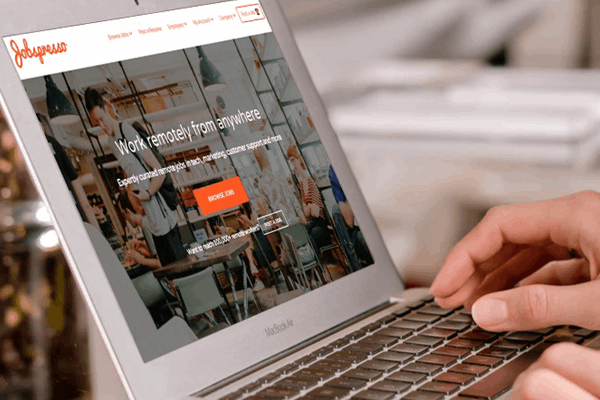 The companies create a profile on the site, which will serve as the representative posting for job vacancies.
Those companies who intend to post a job vacancy on the site will have to go through the review process of Jobspresso. Since experts are the ones who review the companies, it may take time before the post will be approved.
Managing Job Posts and Collating Information
Employers can easily manage their job posts on the site as Jobspresso will collate the resumes of the job seekers who have applied for the job.
With this, companies will immediately have the data to process for their hiring application. Aside from managing their job posts, verified and reviewed companies will have the privilege to access the resume database of Jobspresso.
They can personally tap on the candidate they think is fit for the position based on the set requirements and criteria. The companies will have a shortlist of names even before the job posting is done.
Purchasing the Jobspresso Packages
After companies are approved, they must purchase a package to have access to all of the features offered by Jobspresso for employers. The four options available include the Basic plan, Featured plan, 3 Pack Bundle, and 5 Pack Bundle.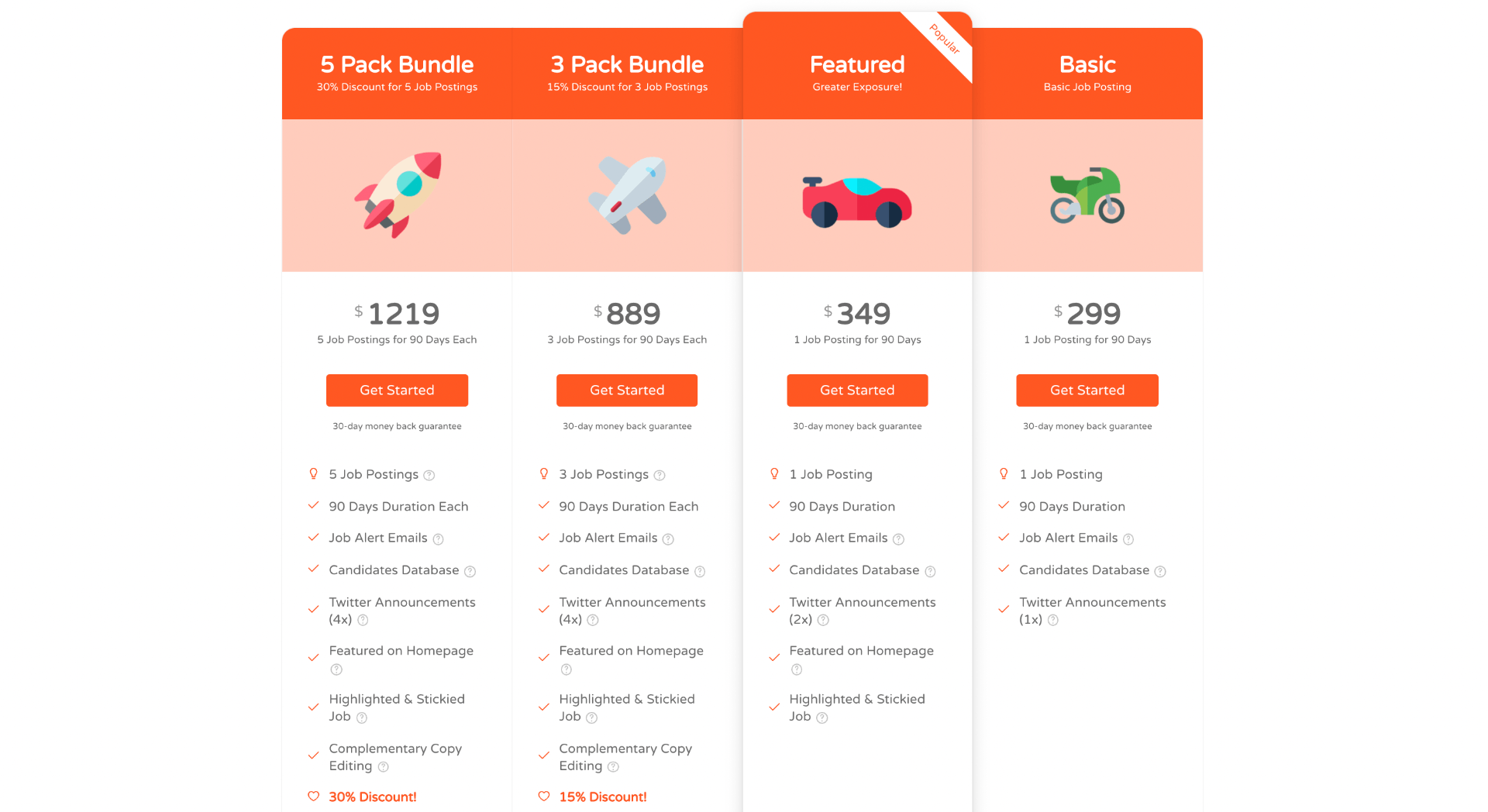 The Basic plan is $299, covering one job posting for 90 days, job alert emails, candidates database, and one Twitter announcement.
The Featured plan is the most popular one, which costs $349. It includes the features of the Basic plan but with two Twitter Announcements, being featured on the homepage, and being featured as a highlighted and stickied job.
3 Pack and 5 Pack Bundles
The 3 Pack Bundle entails additional three job postings for 90 days each, four Twitter announcements, and complimentary copy editing. It costs $889, at a 15% discount.
Meanwhile, the 5 Pack Bundle's difference from the previous one is five job postings for $1,219, a 30% discount on the posting price.
Conclusion
Jobspresso helps job seekers find remote jobs by providing a curated list of job vacancies. Post your resume today and let great jobs from vetted companies find you!