Gone are days when job hunters were racing to the newspaper stand to see if their dream job is in the classified ads section. Job sites like ComputerJobs make job searchs efficient, comprehensive, and result-driven.
Whether you're seeking a career or promoting a job in the field of technology, ComputerJobs offers different services that aim to produce results. It's where talent and human resources professionals connect and set off career milestones.
Read on to discover how to increase your chances of getting hired through ComputerJobs.
About ComputerJobs
Services for Job Seekers on ComputerJobs
How Employers List Job Openings on ComputerJobs
How to Search and Apply for a Job on ComputerJobs
Tracking Your Job Applications on ComputerJobs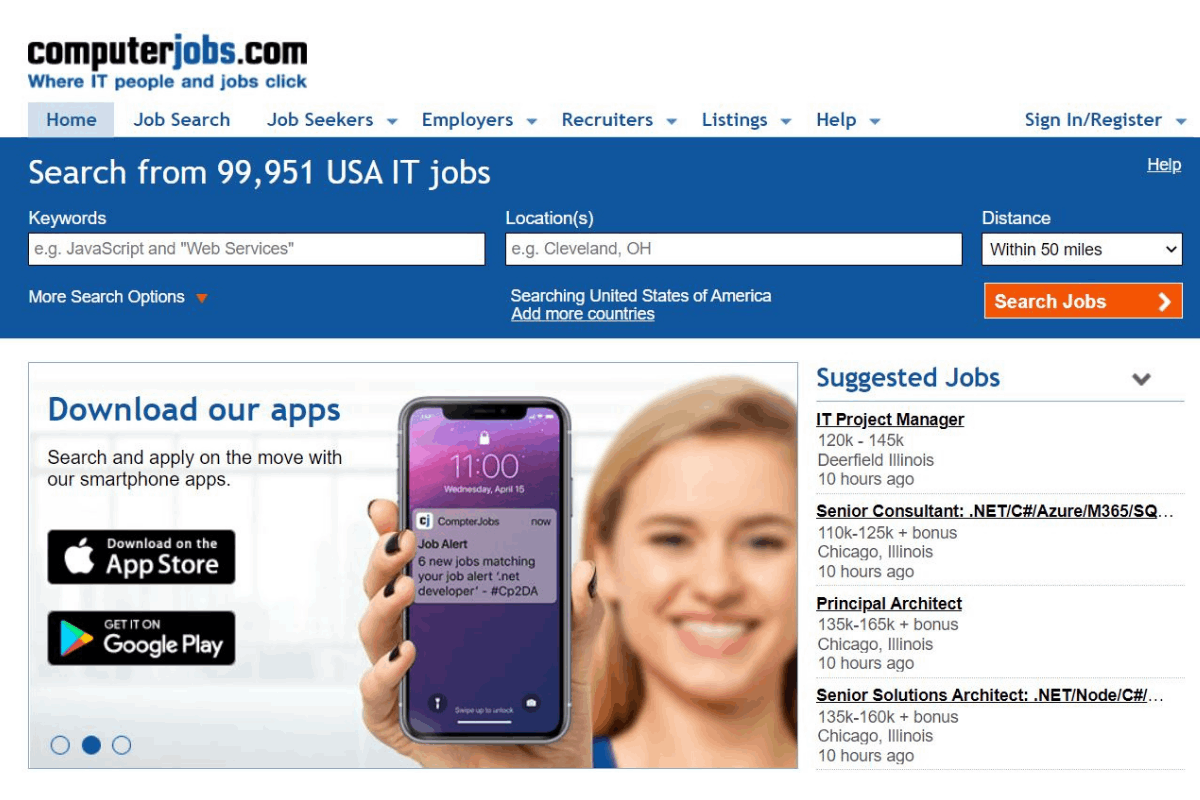 About ComputerJobs
ComputerJobs has been dubbed the internet's top IT employment website across the U.S. It offers job seeker services and posts job vacancies submitted by companies and recruiters.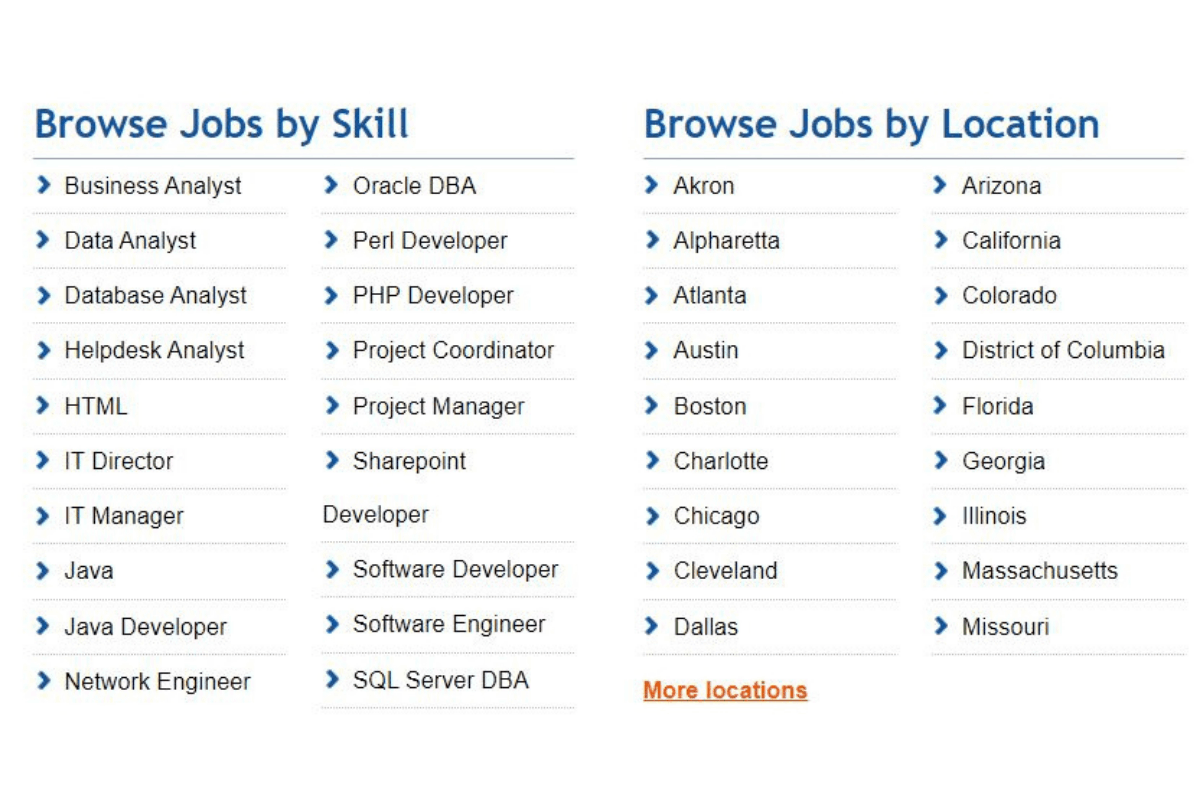 JobServe Limited, the world's first internet recruitment site, acquired ComputerJobs in 2007. It started catering to IT professionals seeking employment in the computer field. The platform became one of the UK's most successful businesses, with job openings across many sectors.
With a strong user base in the U.S., ComputerJobs is free to use for job seekers who can browse through thousands of new positions every day. On the site, they can view job recommendations and make their resume searchable for employers.
On the other hand, employers and recruiters may contact them if they are deemed relevant to a job opening.
Keeping Your ComputerJobs Registration Secure
To sign up for ComputerJobs, go to the Job Seeker registration page. You will be asked to provide your personal information, including your name, email address, and password.
Since you will be using the platform often, you must keep your account secure and safe from any unwanted contacts and scams. Opt for two-factor authentication (2FA) to strengthen the security of your account.
When you set up the authenticator app method, you can scan the QR code on your preferred devices. Meanwhile, some authenticator apps may present features to sync your keys across different gadgets.
Services for Job Seekers on ComputerJobs
ComputerJobs works like a personal assistant for job seekers. The search engine filters their search and identifies the jobs that best suit them.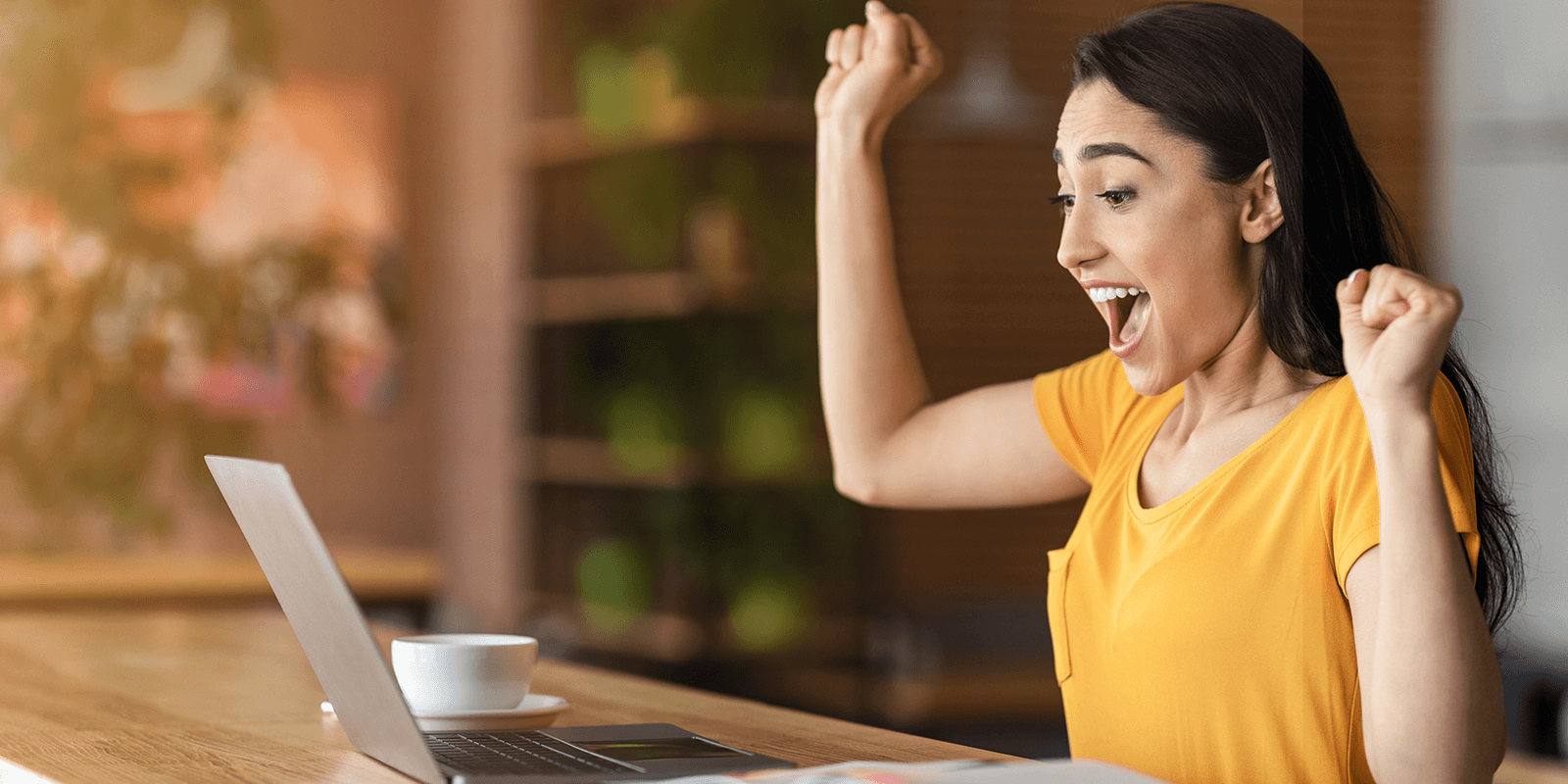 Through its huge database, ComputerJobs provides the latest openings to job hunters. As they look for a job, they can save their criteria as a Saved Search. Once you have chosen your search criteria and conducted a search, tap on the Save icon at the top of the list of results and fulfill the rest of the instructions.
Users can also set up job alerts that inform them about new opportunities. Job alerts, including email alerts, RSS feeds, and notifications, suggest that a certain opportunity matches their qualifications and credentials.
An advantage of having a Job Seeker account is that users can upload their resumes to the website. Another advantage is receiving job suggestions that match one's skills or an invitation to chat with a recruiter.
Managing Your Profile and Resume
ComputerJobs users can store up to 10 resumes online and make one of them searchable to recruiters. The system supports .doc, .docx, .rtf, .txt and .pdf formats. A profile should display one's employment history, skills, and educational background.
It is important to use a professional-looking headshot for your profile picture. Moreover, you must constantly update your profile so employers know you are actively seeking new opportunities.
You can rearrange the skills you display on your profile. Simply click and drag the round icon in the top left of each skill to the area you want the skill to be placed. You can sort your skills by experience or by niche.
How Employers List Job Openings on ComputerJobs
Companies use ComputerJobs to search, connect with, and recruit professionals seeking IT and computer jobs.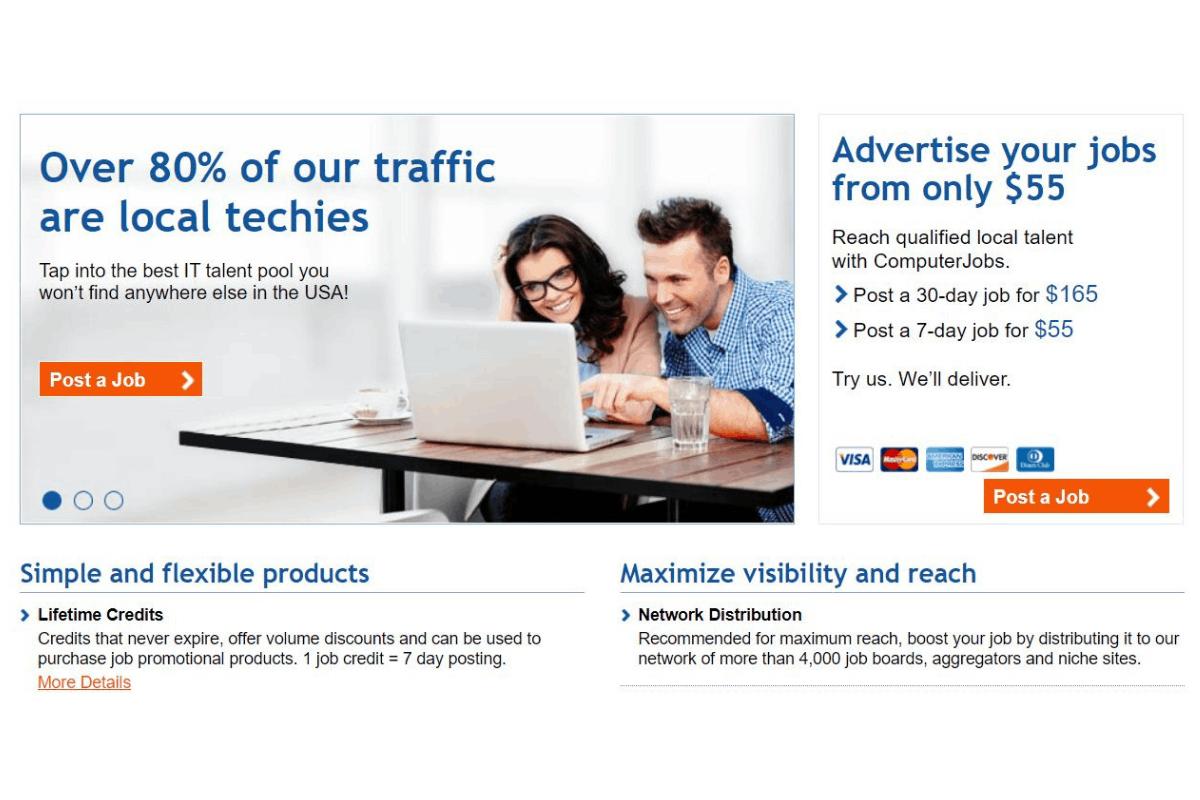 Learning how the site benefits them can make job seekers understand the frequency of job postings, how they target skilled workers, and any promotions they may encounter.
Employers have different recruitment demands, and ComputerJobs offers postings credits based on the number of postings they need. There are two credits plans they can choose from: Lifetime Credits, which has no restrictions on usage or expiry date, or Monthly Credits, where they will be charged a monthly fee and given a monthly allocation of credits
As for Monthly Downloads, companies can enjoy affordable monthly Resume Search product with contracts for three, six, or 12 months. The prices vary depending on contract length and required monthly downloads. They can also purchase the Quick Resume Access product for one month with 50 to 125 downloads.
How Recruiters Promote Jobs on ComputerJobs
Employers and recruiters distribute job vacancies to ComputerJobs' network of over 4,000 job boards, aggregators, and niche sites. They have the option to have their advertisement prominently displayed on all matching searches whether their desired audience is job seekers within or outside the country.
ComputerJobs is equipped with a patented Alchemy matching system that boosts increased responses to jobs. Alchemy pioneered the use of Job Seeker behavior to ensure the match between job requirements and a candidates' preferences. Meanwhile, Featured Jobs shows your ideal job so that it is matched more often.
Recruiters can add an Exclusive Email Campaign to their job posting. This program sends out a company's job posting in an exclusive, targeted HTML email to registered job seekers who are qualified for the job.
How to Search and Apply for a Job on ComputerJobs
Searching for a job on ComputerJobs is easy because it has a dedicated section where you will find different job opportunities.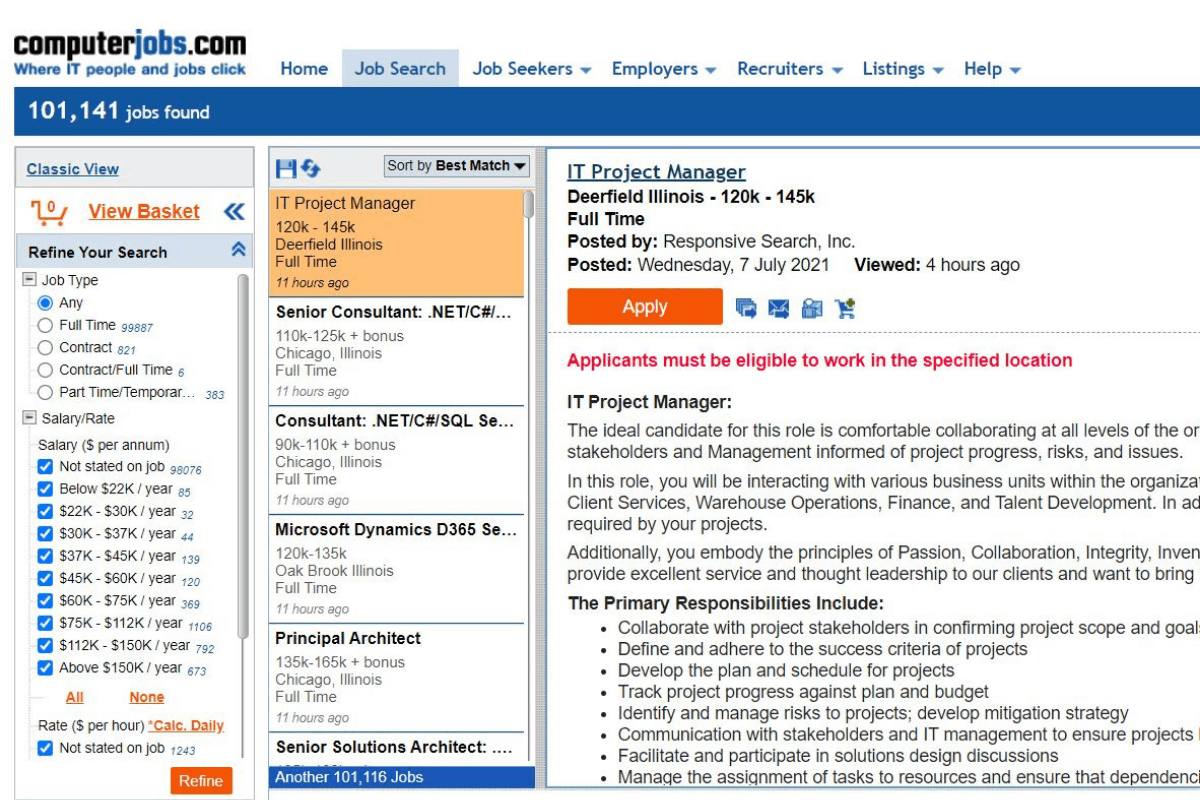 Each job opening comes with a job description, which covers primary responsibilities and qualifications. You will also get basic info on the company you are applying for, including its location, industry, and contact person.
You can refine your job search by ticking off your preferred qualities of the job under categories like Job Type, Salary/Rate, Rate Per Hour, and Job Age.
When you search the platform, you will be able to view jobs in your home country. You can expand that to see openings in other countries by choosing "Add More Countries" or "Consider Another Country" in the search criteria panel.
Applying for a Job
When you have found your ideal job, click on the Apply button. A form will pop up and ask you to attach your resume and cover letter alongside your application. Note that some jobs may indicate a telephone number or email address that you should contact to apply in a more traditional manner.
To make the application process more efficient, create an account on ComputerJobs. It will automatically prefill a new application form with your past answers. You will also be able to monitor the status of your applications.
Users can apply for up to 25 jobs at a time. With the Job Basket, you can save or collect the jobs you are interested in. You can also apply to them using only one application form.
Tracking Your Job Applications on ComputerJobs
The most nerve-wracking part of job hunting is the waiting game. But ComputerJobs can ease that with its job application tracking feature.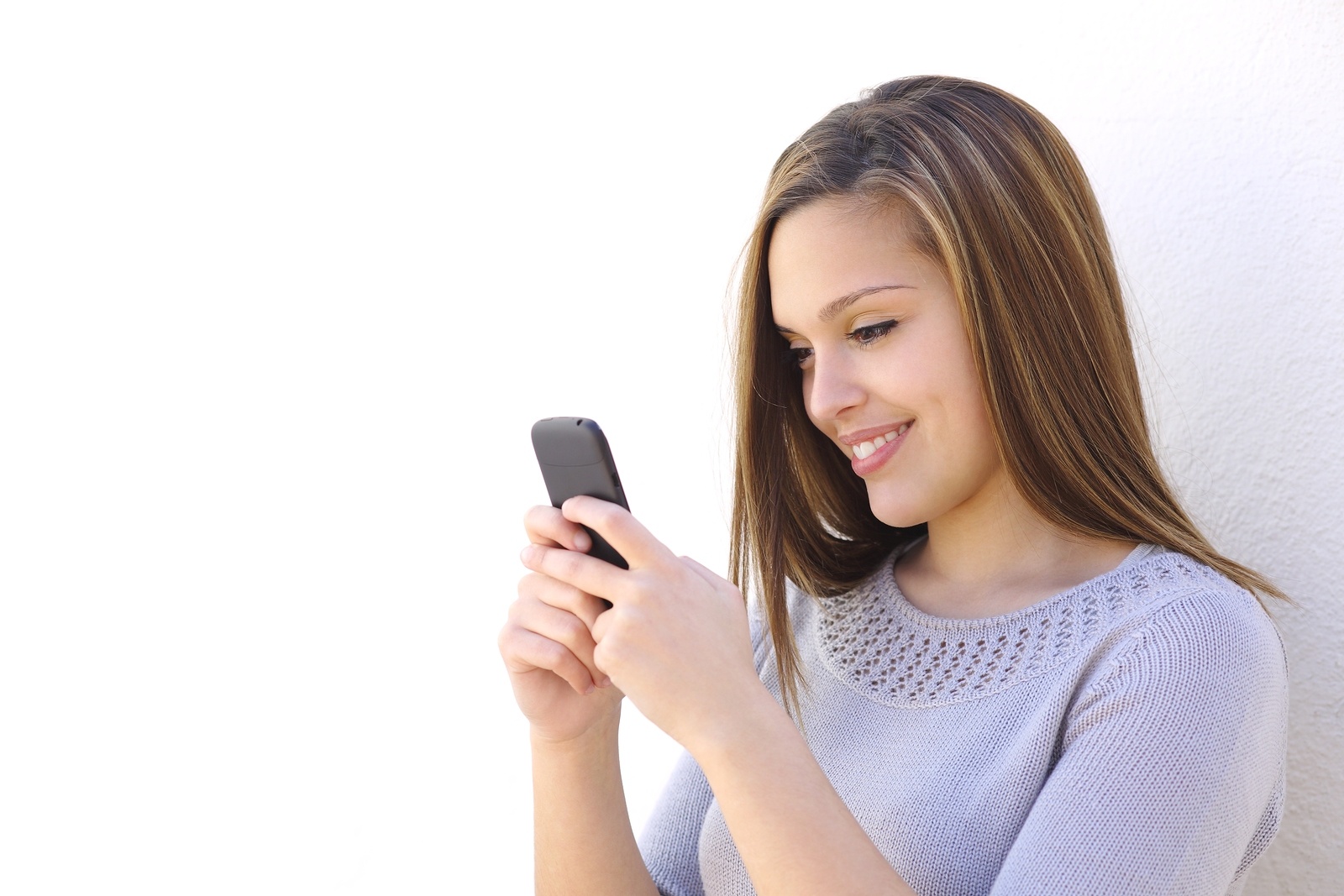 Users can set and monitor the status of their applications using the Job Applications manager. With this feature, one can enter notes, contact details, and activities, such as reminders for interviews. They can download events to their own calendar.
Note that recruiters will send you an email to confirm if your application was successfully made. You can access your successful applications on the Job Applications page, which is located in the My Account menu.
If you choose to remove your application, you can use the delete function on the Job Applications page. However, note that the employer can still view your application. You must reach out to them if you want your application to be removed from their systems.
Controlling Who Views Your Details
The visibility of your job application and other details will depend on your preference. You can choose from three options.
Visible means your details are viewable by recruitment agencies and employers. Restricted means your info is viewable but your name, contact details, or profile photo are not without your permission.
Lastly, Private means your details are not viewable at all. You will receive an email when an employer wishes to see your details. You can either grant or reject the request.
To Conclude
With its dynamic features and simple functions, ComputerJobs is efficient to use for both job seekers and recruiters. From registration to refining the job search, the system is designed to make job applicants more confident in the process. Companies can enjoy reasonable credits and reap accurate results too.
Whether you are seeking better opportunities or building a pool of top tech talent, ComputerJobs is worth putting on your radar.