If you're an IT professional looking for work, it doesn't make sense to go from office to office in person to submit your application to companies that you want to work for. With all the job sites available online, you should be the first to take advantage of these platforms.
However, the number of job sites that you may find online may be a bit overwhelming and sometimes repetitive, especially since recruiters oftentimes post the same job ads on multiple web sites. It made me wonder whether there's a job site that particularly cater to IT professionals.
This is when I learned about the TechFetch job site. In this article, I will share with you what the platform is, its features, and how to use it as a job seeker and as an employer. If you want to find out more about TechFetch, continue reading the article below.
Finding a Job Using Job Sites
Types of Job Sites You May Encounter
Introducing the TechFetch Website
Examining the Features of the TechFetch Service for Employers
How to Sign Up for a TechFetch Account as a Job Seeker
How to Post a Job on TechFetch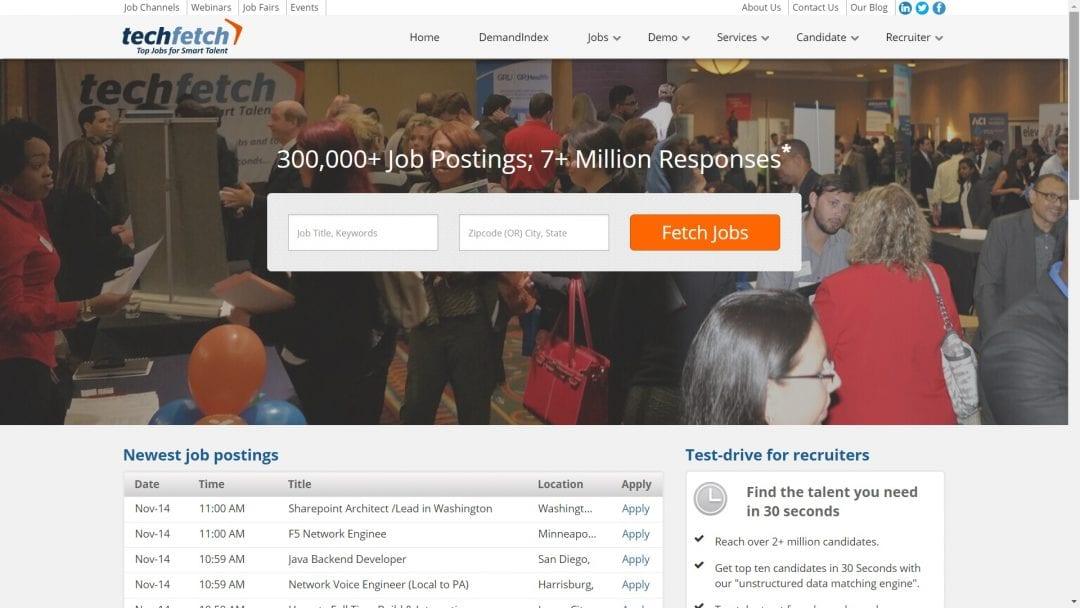 Finding a Job Using Job Sites
Job sites, also called employment websites, are online platforms created to help connect employers looking to fill vacancies in their organizations with job seekers who qualify for these positions.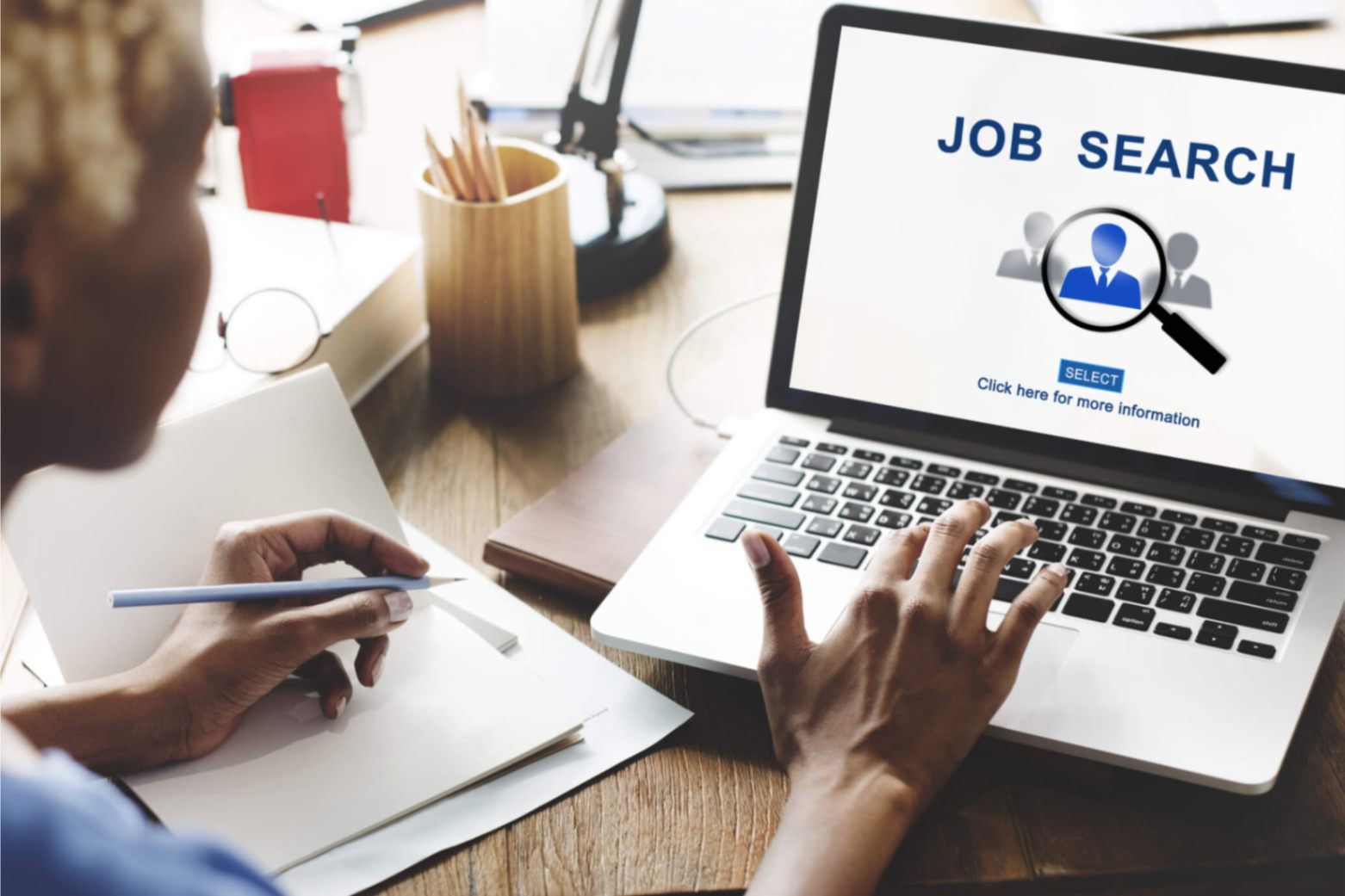 Through these websites, hiring companies are able to post the required skills and experience needed by applicants to qualify for their job postings, potentially saving time and resources for screening unqualified applications.
Meanwhile, these platforms provide job seekers with the ability to make faster submissions to hundreds of companies without having to leave their homes to go from office to office.
Benefits of Using Job Sites
As a job seeker, using job sites will not only save you time and energy by staying at home but will also give you the opportunity to be strategic about your submissions. You can even write multiple resumes depending on the positions you will apply for.
On the other hand, employers will be able to implement advance technologies and software to make their hiring process more efficient. Most of these job sites offer services to integrate their platform into companies' hiring systems.
Overall, job sites are able to close the gap faster and more efficiently between a recruiting company and a job seeker that fits the profile they're looking for in their vacancy.
Types of Job Sites You May Encounter
Personally, I have used different types of job sites in the past, each having different functions, features, and tools. The job board is the most common type of job site that you would come across.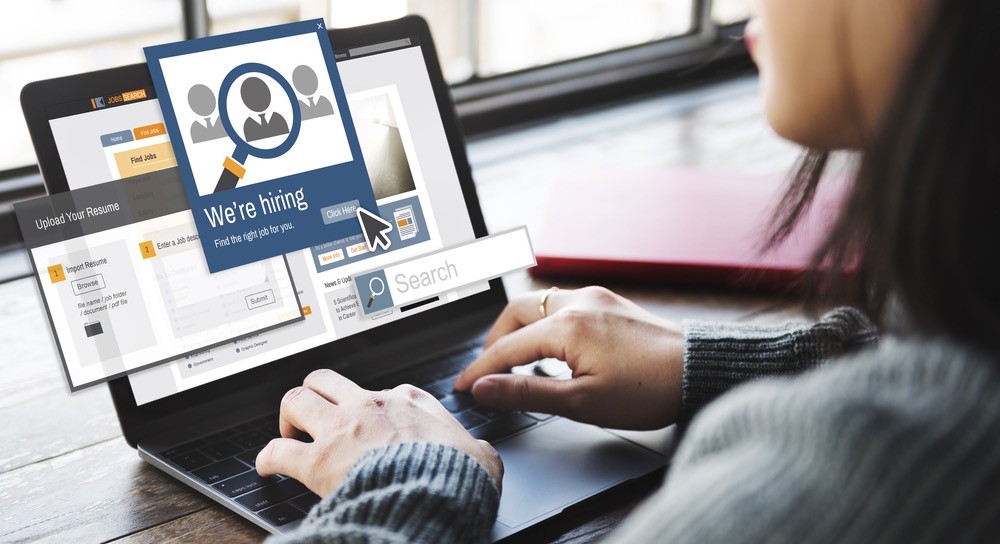 Basically, job boards are the most comprehensive among job sites, allowing employers to post vacancies and job seekers to apply for them. These sites cover almost all types of work and industries.
Since they are the most common, job boards are also the most popular and most saturated. They contain hundreds of thousands of posts since they cover a wide range of industries.
Other Forms of Job Sites
There are also job sites that you might encounter which look similar to search engines but instead of general information, you use them to search for job posts. These are called job search engines.
Most job search engines or metasearch do not have their own content of job postings but instead generates a list of links to other sites, including job boards, company websites, and professional associations.
Other job sites function like Yelp with reviews for employers and companies. They allow former and present employees to post a feedback about their experience working for their employers.
Introducing the TechFetch Website
TechFetch is a global technology job website that caters to IT firms and helps them find the best candidates that fit their open positions, jobs, or projects.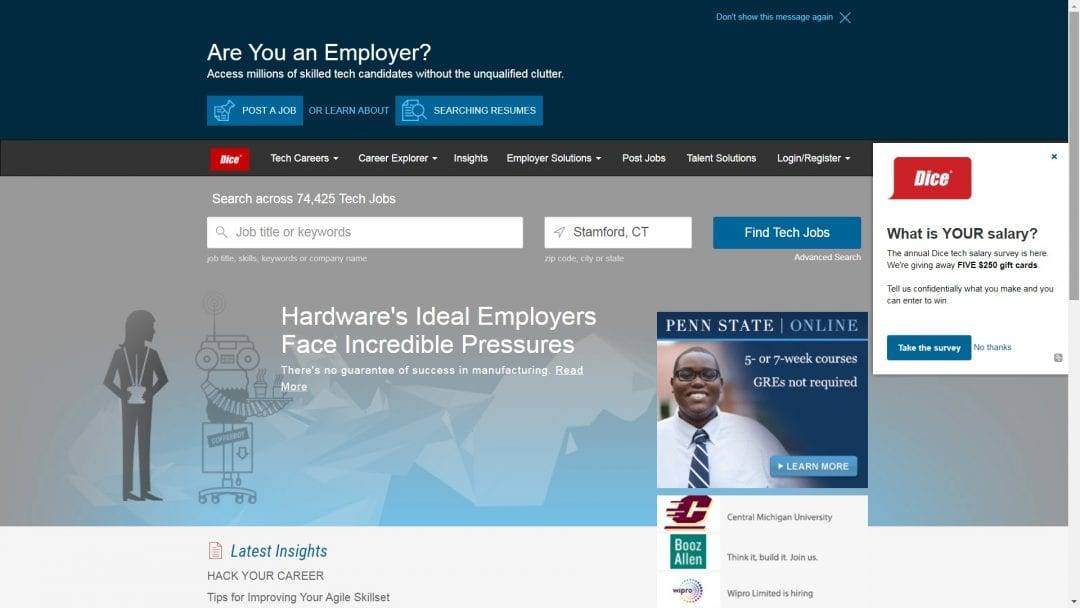 According to the company, it is able to reach more than 2 million tech professionals on an annual basis and receive thousands of new job posts daily.
TechFetch allows job seekers to upload their resumes to the platform and send their applications to vacancies for free. However, employers need to pay for a subscription to post their job ads.
About the Service
IT consulting companies, staffing agencies, enterprises, and independent recruiters can use TechFetch to post job vacancies and to access resumes of over 1 million tech professionals through the website.
Using the service, these organizations will be able to hire direct employees, contract-to-hire professionals, independent contractors, and corp to corp third party consultants.
In addition, TechFetch also offers consulting, development, and support services to integrate its matching technology to businesses' existing HR processes when looking to fill positions internally or externally.
Examining the Features of the TechFetch Service for Employers
According to the company, it uses its TechFetch proprietary QFetch technology to statistically analyze and match active candidates with the position to be filled in as fast as 30 seconds.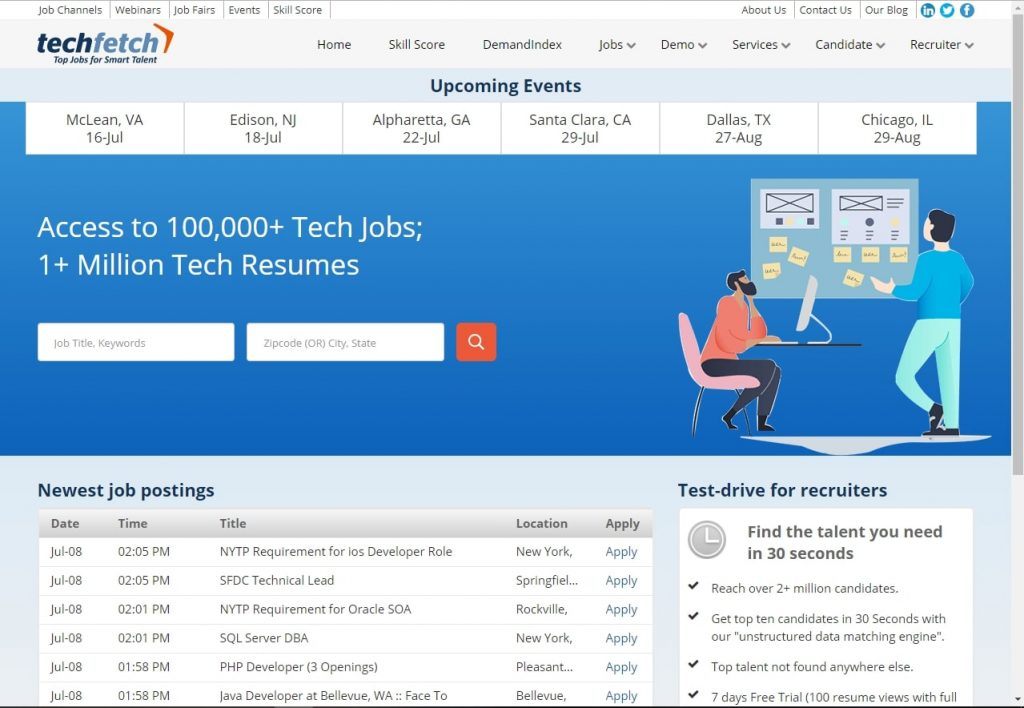 Searches can be simplified using the websites search filters and they can also be saved.
If a company has social media accounts, they can use TechFetch's social job feature to post share their job ads on Facebook, LinkedIn, and Twitter.
Subscription Costs for the Service
Like I said earlier, job seekers are free to use the website to upload their resumes so they can be included in employers' searches and to send their applications through the website. However, employers must pay for a subscription to be able to make job postings.
TechFetch offers two subscription packages, namely the Premium Diamond and the Premium Platinum. The Platinum plan costs $1,799 a year while the Diamond plan costs $2,499 annually.
Platinum subscribers get 10,000 resume views and 500 total job posts or reposts, while the pricier Diamond subscription offers 12,000 resume views and 600 job posts.
How to Sign Up for a TechFetch Account as a Job Seeker
In order to maximize your use of the website as a job seeker, you will need to create an account with TechFetch. Its Candidate Signup page will require you to input your email, create a password, and upload your resume.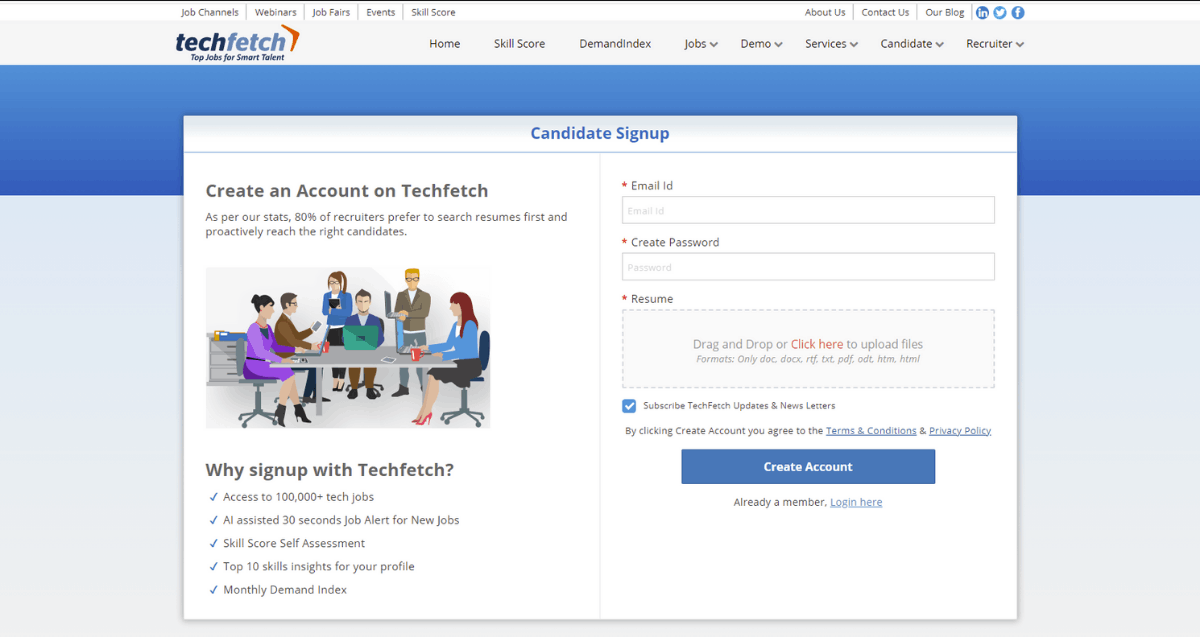 To go to this signup page, open the TechFetch website and look for the Candidate tab at the upper right portion of the Home page. You will see an arrow down symbol beside it.
Click on it and choose Post Resume from among the dropdown options. It will then redirect you to the Candidate Signup page. Fill in the required information and you're done.
Updating and Deleting Your Uploaded Resume
To edit or update your existing resume in the system, you should be logged into your candidate profile. Select My Resumes and choose Resume List. It will display all of your uploaded resumes on the site.
To start editing, click on Edit/Update on the title of the resume that you want to edit. You can maintain several resumes on your profile, which you can use for applying to different positions.
In case you want to delete one of your resumes, just go back to the Resume List again after successfully logging into your account. Choose the title of the resume you want to delete and hit the Delete button.
How to Post a Job on TechFetch
To post a job, you need to have a recruiter account on the website. The Recruiter Signup page will require information about the company for which you will be hiring or of which you already work for. Make sure that you're logged in to post a job on TechFetch.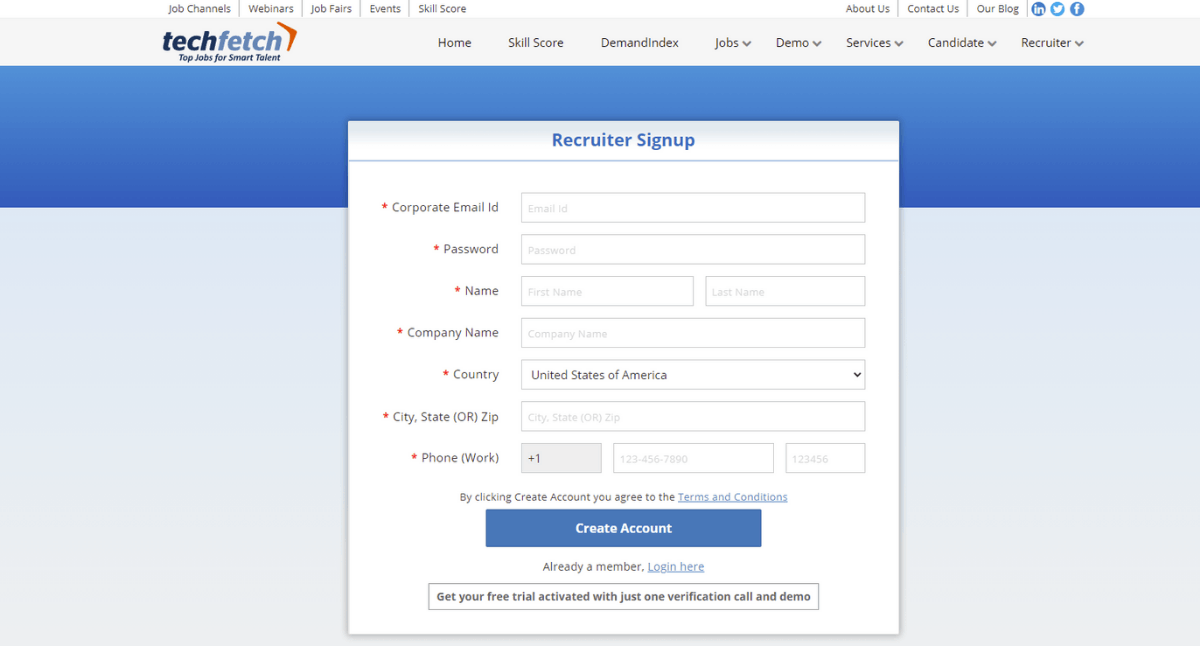 Since I've already discussed the subscription options for companies earlier, make sure that you've selected the subscription you want. Click on Jobs and press Post Job.
Make sure that you enter the complete and correct job details for your post. Review it once you're done filling out the form.
Once everything checks out, submit the job post.
Doing a Resume Search on the Platform
Similar to posting a job, you need to be logged in as a Recruiter on TechFetch in order to search resumes on the platform. On the Home page, click on the Recruiter tab and choose Login.
After signing in, you need to select Fetch Resumes and type in the keywords you want to use or the skills you are looking for in the text box. All fields with red asterisk marks need to be accomplished to start the search.
There is also an Advanced Search option which you can use to customize your search. Once you start searching, a list of resumes and CVs will appear on your screen. Use Zip Fetch to filter by location and Smart Fetch to show candidates with multiple skills.
The Bottom Line
Overall, I found the TechFetch website for IT professionals very useful for both job seekers and hiring companies. Access to such niche job sites is very rare these days and I think such a model for employment website should be used for other industries.
Meanwhile, I feel that even with the paid subscription, employers will get their money's worth in using TechFetch's matching system. Being able to hire quality recruits with little effort thanks to the site's technology gets motivated candidates employed faster.