With all the technological developments happening around us, it's not surprising that computers and computer programs are involved in most of our activities, from banking to education.
As a result, the software engineering profession has flourished and career opportunities in the field have grown in numbers over the last years. Software engineers only need to find the right platform to look for these opportunities.
In this article, I will talk about the Triplebyte job search platform for software engineers, its features, and how to use it to search for work opportunities. If you want to know more about Triplebyte, continue reading below.
Get to Know Triplebyte and Its Platform
Features of the Triplebyte Job Board
Using Filters for More Specific Job Search Results
Job Posts and Information They Provide
Applying for a Job Using the Triplebyte Job Board
Other Job Seeker Resources Available on TripleByte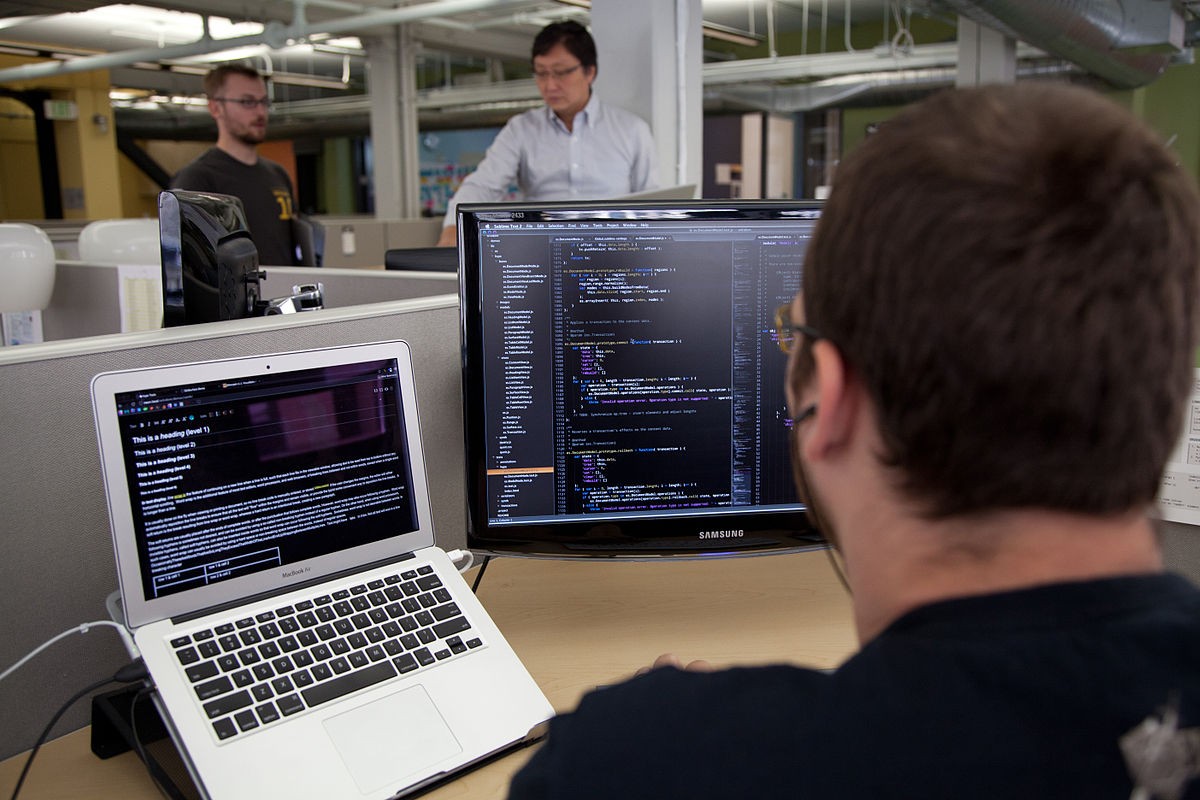 Get to Know Triplebyte and Its Platform
The Triplebyte website serves as a platform that allows software engineers who are looking for work opportunities to connect with business owners and companies looking to hire for vacancies and projects.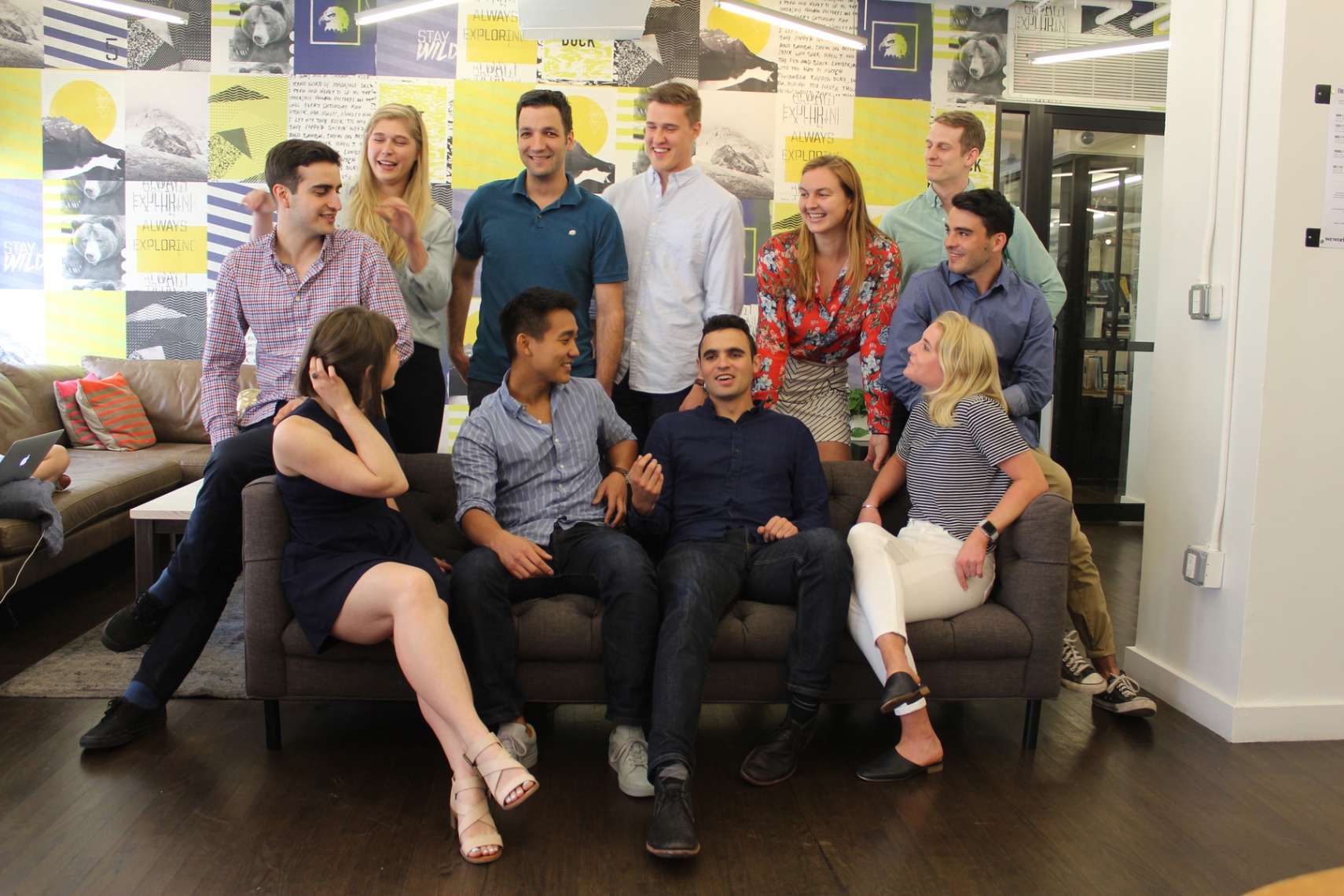 Although there are other existing platforms for engineering, Triplebyte tries to differentiate itself with its recruiting and screening process. The process is technically-intensive to eliminate inexperienced or unqualified candidates.
Triplebyte, as a company, emphasizes the importance of transparency in the recruitment process. It wants software engineers to learn about company culture and hiring practices upfront so they can make informed career choices.
About the Company
In 2015, the San Francisco Bay area company was founded by Harjeet Taggar, Guillaume Luccisano, and Ammon Bartram. Although an early-stage venture, Triplebyte is considered one of the fastest-growing tech recruitment firms.
According to the founders, they got the idea for the company from the struggles of their respective firms to find talent back then. They also believed that engineers are unable to show their strengths in existing technical hiring processes.
Since then, Triplebyte has become known for its ability to fast-track the hiring process even for small businesses. It is also known for its careful vetting of job candidates to ensure that they meet the highest industry standards.
Features of the Triplebyte Job Board
Software engineers searching for job opportunities may take advantage of the Triplebyte job board. I'd describe the platform as simple and easy to use yet comprehensive and informative.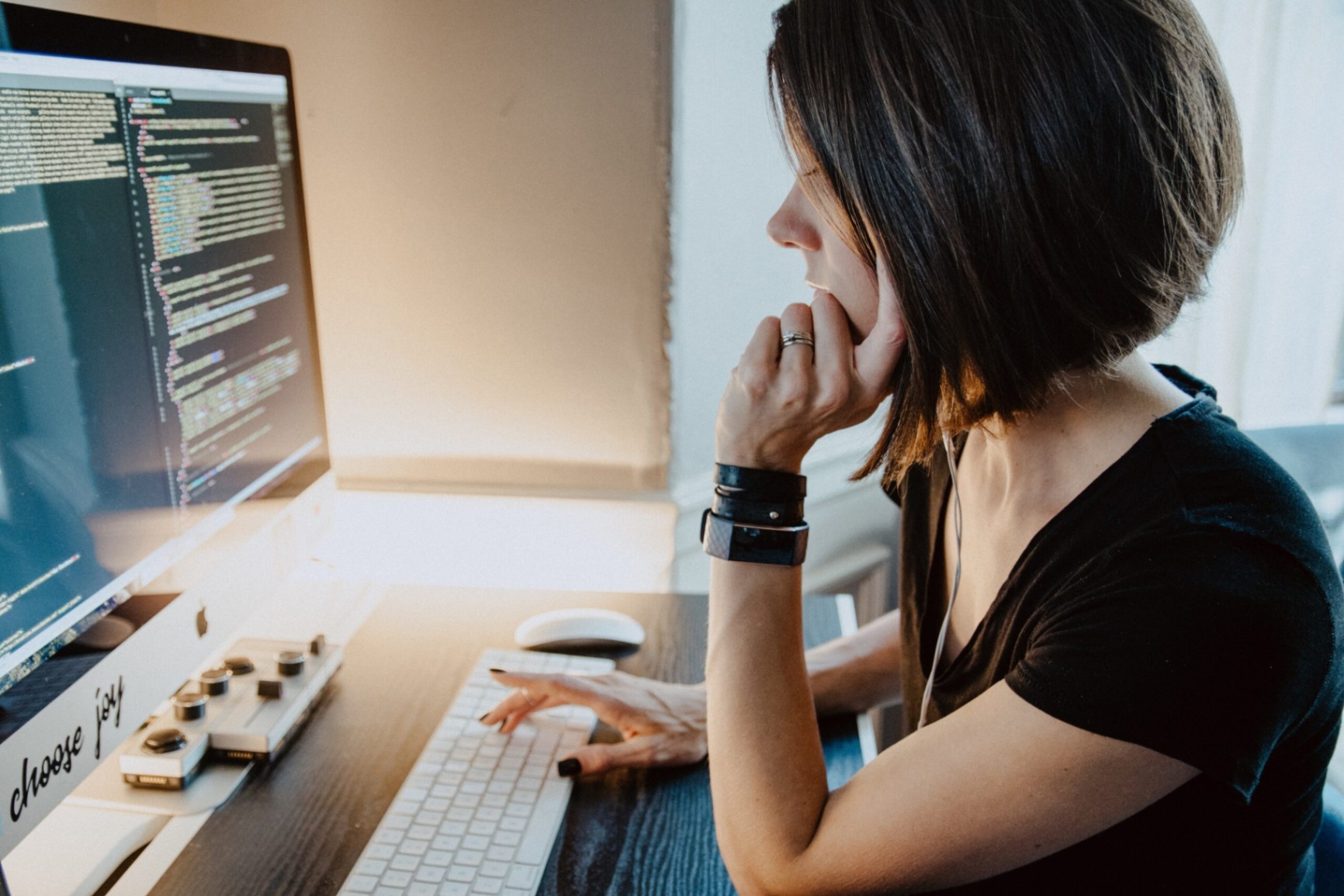 From the Triplebyte website's home page, I was able to access the job board by scrolling down and looking for the Find Jobs button. Clicking on the Job Search menu at the bottom of the website will work as well.
I did not get much information about the job entries from the results list aside from the position name, the hiring company, and a brief description of the employer. Some firms already indicate the salary range here.
Other Useful Features
Under the Job Search menu at the bottom of the website, I found several shortcut links to certain job categories. This is quite convenient since they immediately generate related results.
These are Featured Jobs, React Jobs, Ruby on Rails Jobs, Bay Area Engineering Jobs, Remote Engineering Jobs, Machine Learning Jobs. Clicking on any one of these options will open a new job results page.
There is also a toggle button on the upper right corner of the Triplebyte job board. If turned on it will enable job seekers to get job alerts on new vacancies related to their recent searches.
Using Filters for More Specific Job Search Results
When I did an initial job search without using the category links, the results did not have any active filters applied. The filters are located below the Software Engineering Jobs header of the platform.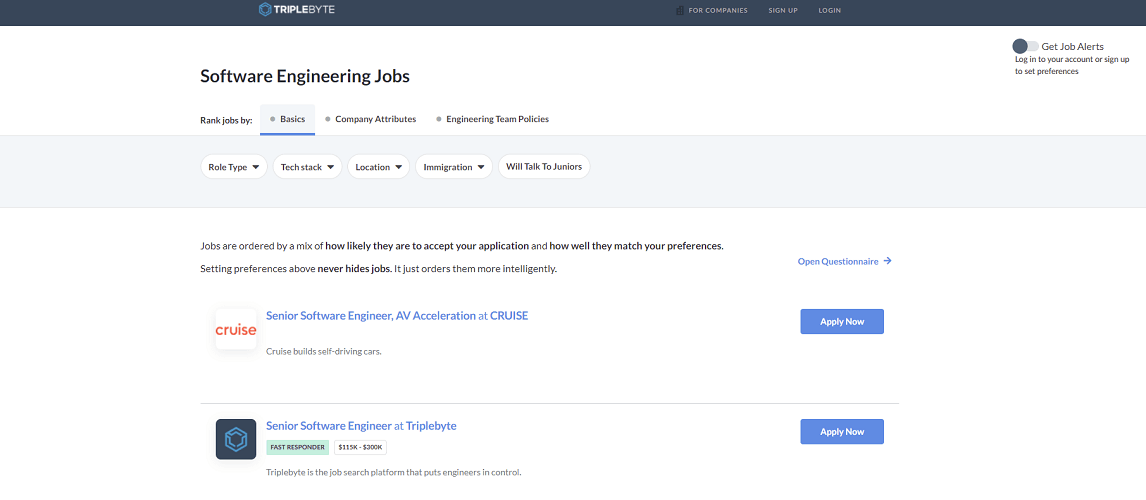 Jobs can be narrowed down using three types of filters, namely Basics, Company Attributes, and Engineering Team Policies. Under these main types, the filters will appear as drop-down buttons.
I just need to click on these buttons for the specific filters to appear. I was able to choose more than one filter by clicking on them individually.
Available Filters You Can Choose From
Under Basics, I found the Role Type, Tech Stack, Location, Immigration, and Will Talk to Juniors filters. The Tech Stack option filters jobs based on the software they involve while Immigration refers to visa and green card arrangements.
Meanwhile, Company Size and Engineering Team Size filters are found under Company Attributes.
Lastly, the Engineering Team Policies tab has several filters, including OS, Development Process, Remote Access, and Work Pace. Code Reviews, Office Environment, and Release Cadence are some of the other filters available under this category.
Job Posts and Information They Provide
After choosing a vacancy that I'm interested in among the search results, I clicked on the entry and it opened a new window to the main job post. It was headlined by the company name, logo, work location, and position.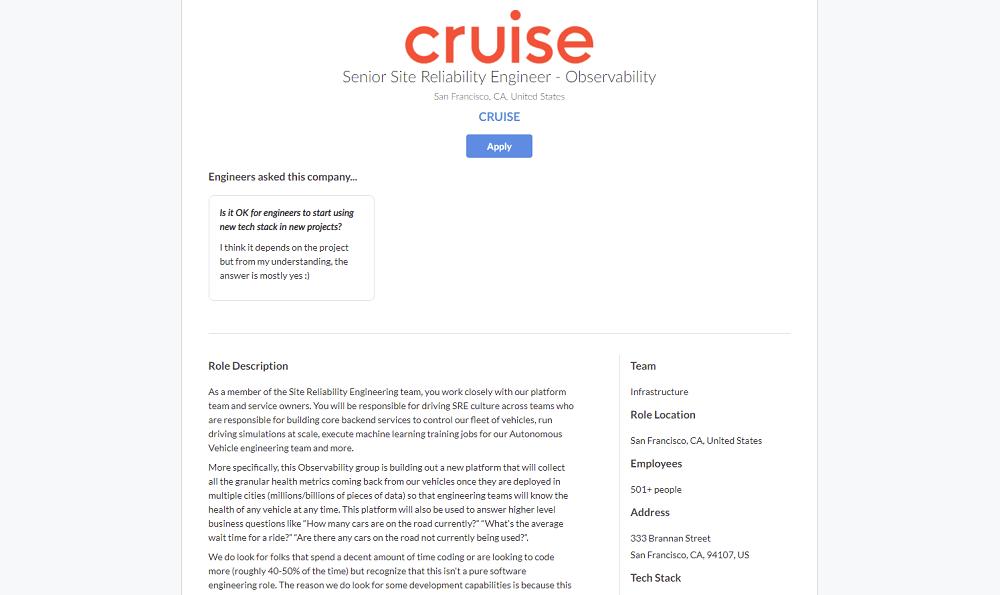 These are usually followed by a brief description of the job, along with details on the duties and responsibilities that the position entails. Some companies include objectives that the role tries to accomplish within the organization.
Most job posts also talk about the hiring company, the sector and industry it belongs to, and the products and services it provides. Some even discuss the type of company culture they promote to further entice applicants.
Other Included Details
Although not all hiring companies provide extensive information on their job posts, I saw some that offer an overview of the technical challenges and projects that successful candidates may work on in the future.
Some also discuss the different benefits and perks that employees enjoy while working with them, such as paid leave, retirement funds, and flexible hours.
Other firms offer gym membership, work-from-home arrangements, and health insurance. At the bottom of the job post, you may also find other vacancies available under the same company.
Applying for a Job Using the Triplebyte Job Board
There are Apply buttons on the upper part and at the bottom of the job post. I tried clicking on one but it redirected me to a page asking me to sign up for a Triplebyte account.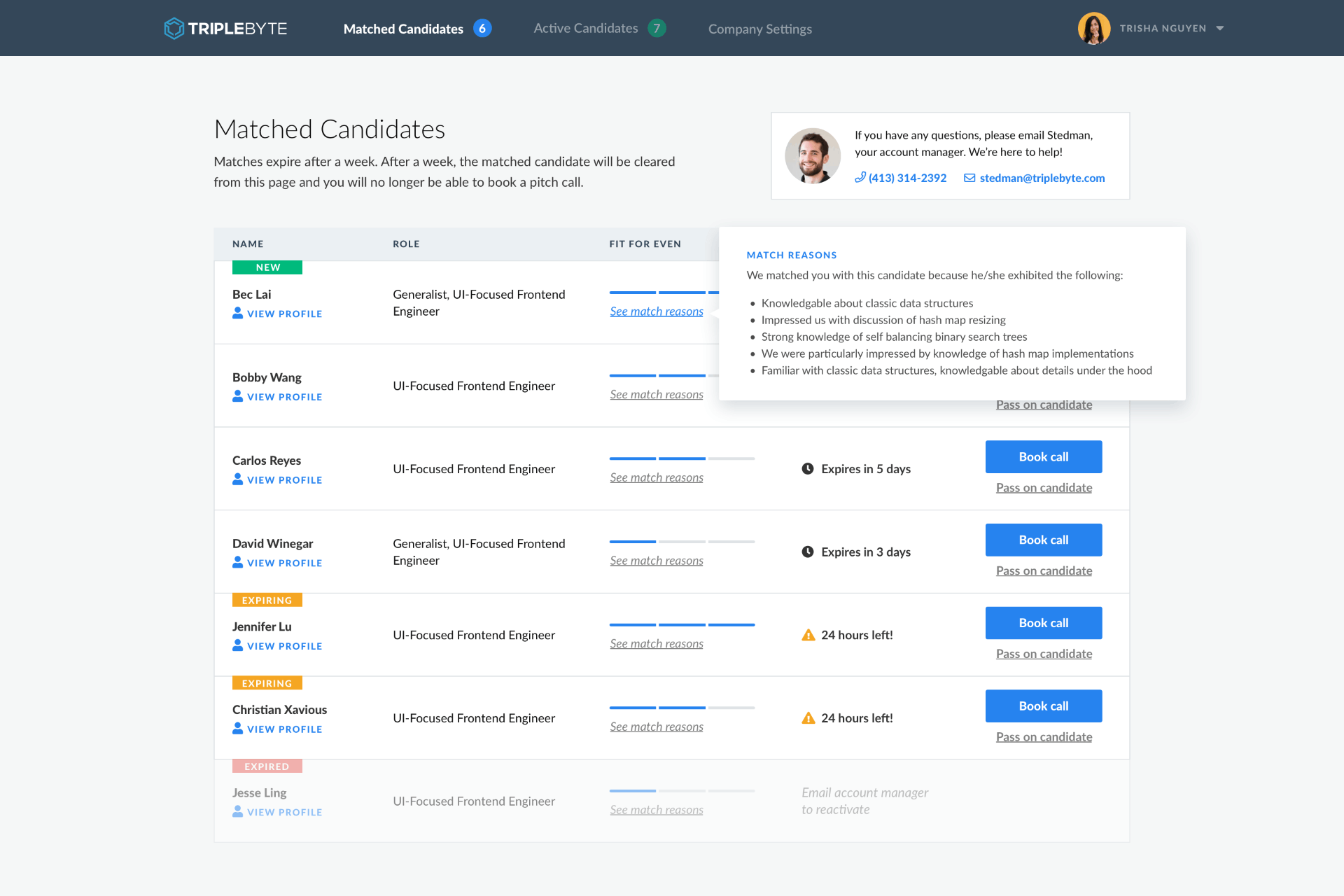 Since I didn't have one yet, I had to register in order to continue with my application. Signing up can be done using an active LinkedIn, Google, GitHub, and Facebook account or by providing your email address and full name.
After signing up, I had the option of completing technical quizzes to demonstrate my skills as a software engineer. Test results may be re-used on applications for other vacancies.
Understanding the Hiring Process
Triplebyte prides itself on the screening process it provides to hiring companies for engineer candidates. I discovered that it usually combines a 20-question online quiz, an online coding challenge, and a phone screen.
Most job seekers take a test wherein they must use a command line to design a simple game. Before they get to the final interview, applicants may also need to answer networking and system design questions.
After passing the screening process, the job seekers may now be included in the pool of talent that the hiring companies will consider to fill in their engineering vacancies.
Other Job Seeker Resources Available on TripleByte
Aside from using the job board to search for career opportunities, I found other tools that job seekers may find useful. Beside the Job Search menu, there is a For Engineers menu and underneath it is the Triplebyte Compiler.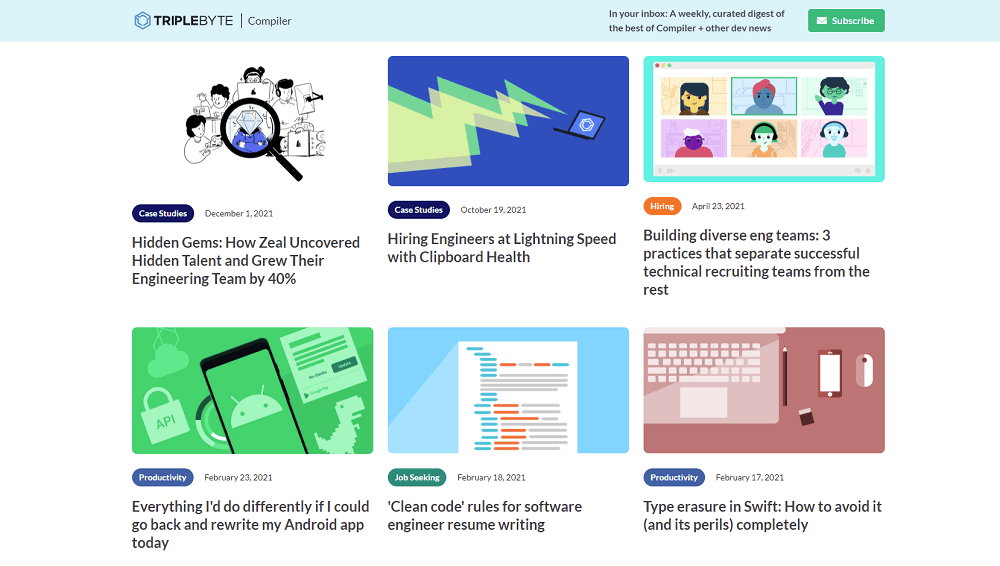 The Triplebyte Compiler is the company's online blog that features a variety of content related to software engineers. It includes career advice, case studies, hiring practices, and product announcements.
Some topics I found interesting were resume writing for software engineers, product manager tips for engineers, and tips for maximizing interviewing hours to hire engineers faster.
Using the Triplebyte Salary Tool
As a job seeker, one of the things that I pay attention to is the salary range being offered for the position I'm applying for. That's why I was thrilled when I learned about the Triplebyte Salary Tool.
According to the company, the average salary of a certified software engineer in the US is $151,663 per year, with the 25th percentile earning $130,000 and the 75th percentile of professionals getting $170,000.
The salary tool allowed me to determine the average salary for a job based on roles, experience level, and company size. Choosing the qualifiers on the left side of the screen will make changes to the salary graph.
The Bottom Line
Software engineers who are looking for job opportunities online must not pass up on using the Triplebyte job board as a resource. Competitive and skilled candidates will surely be able to take advantage of the platform's screening process to demonstrate their skills.
I found the website to be easy to use and navigate and the resources beyond the job board are also worth checking out. I highly recommend Triplebyte not only to job seekers but also to companies looking to hire skilled and highly qualified software engineers.