Finding a job in the tech industry is not an easy feat, especially in a world filled with skilled people who come from different backgrounds. However, with the abundance of start-up companies that need team players, getting a job could be more efficient if we had the right platform.
Fortunately, I came across VentureLoop, a great platform that lets me easily search and apply for jobs at venture-capital-backed companies. The platform is simple and helps me find the right company to apply my skills and grow within the tech industry.
In this article, I'm sharing some of my best tips for finding jobs with VentureLoop. Try this out yourself, and you might find the dream job you've always wanted.
Working for Venture Capital-Backed Companies
VentureLoop – Get in the Loop
Registering for VentureLoop
Creating a New Job Agent
Job Searching with VentureLoop
Site Performance for VentureLoop

Working for Venture Capital-Backed Companies
The great thing about working in the tech industry with a venture capital-backed company is the endless possibilities and potential for growth. Venture capital companies love tech start-ups and businesses because they see so much potential in the tech industry.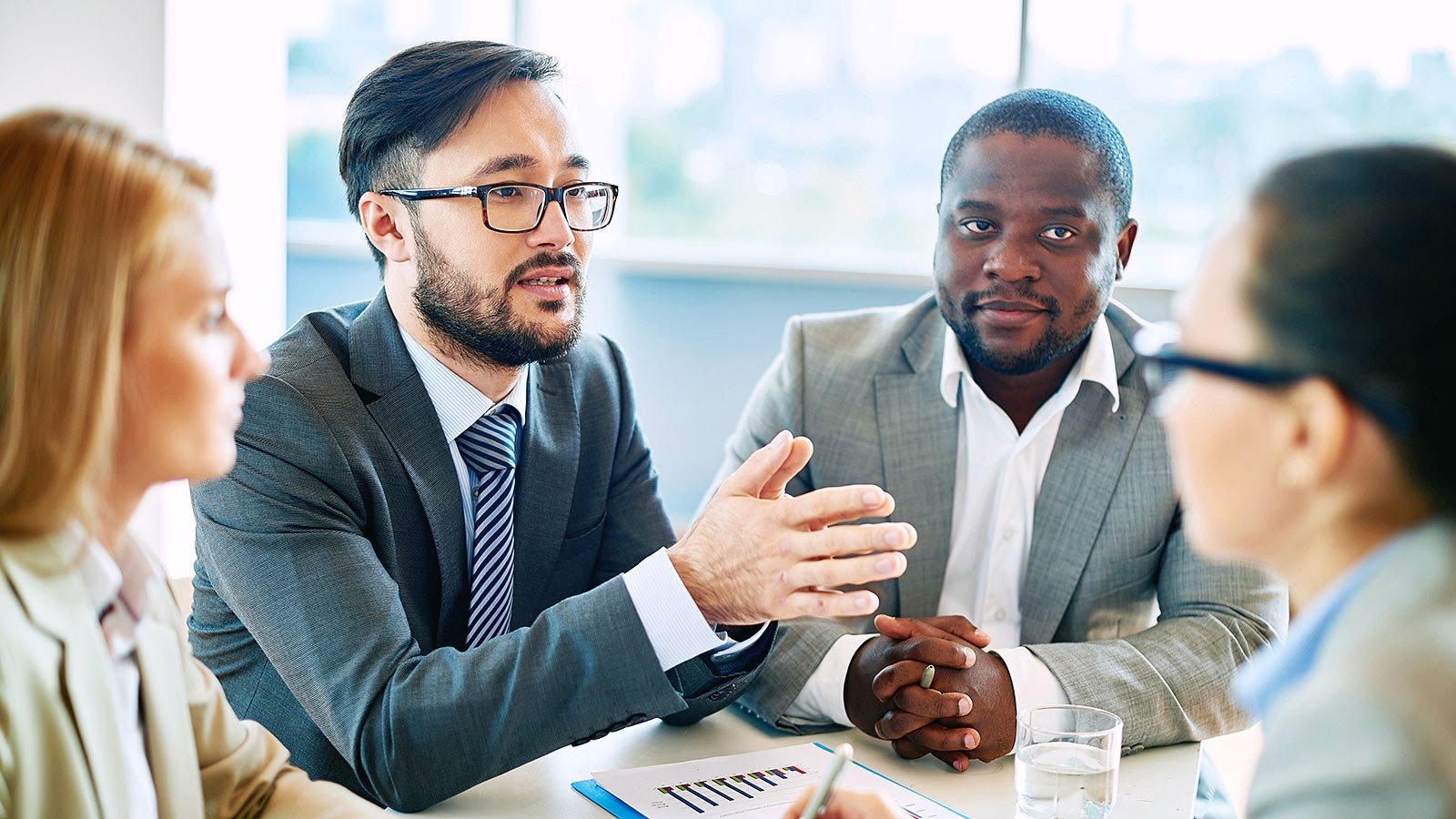 As a tech worker myself, I am always on the lookout for higher-paying jobs that challenge my creativity and innovation. With this outlook on my profession, I switch jobs often. Platforms such as VentureLoop have made it easier for me to find companies to work with.
VentureLoop is a global platform in job postings, with a focus on venture-backed companies. To date, I have been able to find three jobs using VentureLoop, all of which were in great companies that were really serious about advancing technology through innovation and hard work.
I am not kidding when I say there are tons of tech jobs on VentureLoop. Some of the categories available include Engineering Hardware, Engineering Software, IT, and Web/Graphic/Internet.
Great Pay, Great Stability
I've been working in the tech industry for almost 10 years now. The reason I continue to work in the industry is that tech companies offer great pay and great stability.
Once my skills are at a level where they're considered valuable, tech companies, especially venture-backed start-ups, really see value in their people and do not hesitate to offer a pay raise to keep me.
But I prefer to be more nomadic and live in new places, so I seldom stick to one company. That is why VentureLoop is a great tool because I have access to many tech companies that need people.
VentureLoop – Get in the Loop
VentureLoop offers exclusive job opportunities that cannot be found in other job-posting platforms. This is because of its unique and unparalleled long-term relationships with venture capital firms and entrepreneurs.

Candidates like me can search the website for jobs at start-ups and growing companies, while companies can also advertise job openings directly on their venture capital company's website through VentureCareers.
Founded in 2000, VentureLoop provides access to thousands of jobs. VentureLoop has over 4,500 venture-backed companies and over 88,000 jobs available from these companies.
Although VentureLoop has over 125,000 monthly visitors, I am amazed at how the site manages its traffic and provides job results to all job seekers out there.
Tech Jobs at VentureLoop
As I've mentioned, tech jobs are abundant at VentureLoop, given the potential of the tech industry and its relevance to the world.
Giant venture capital firms such as Index Ventures, Venture Capital Fund, First Round Capital, are some of the big names which finance tech companies and start-ups, to name a few.
Registering for VentureLoop
Upon accessing the website, I was asked to register for an account and was given the option to either use my Facebook account or sign up using my email.

I opted for the latter and filled in my basic information. Then, I was asked to check my email address for confirmation.
After verifying my email, I was asked to nominate a password for my account. After setting up my account, I was directed to My Account, where I could either enter my resume or create my custom Email Job Search Agent.
Under the My Account tab, I can check my Saved Jobs and My Job Applications. It is also in this tab where I can change my password, change my linked email address, as well as view or edit the resume that I have uploaded.
A Simple Interface
VentureLoop has a clean and minimalist interface that makes navigating the site low-maintenance and easy.
There are not a lot of unnecessary and complex buttons, headers, or options that can easily confuse people and deter them from using a site's services.
Job seekers who will be using the VentureLoop platform for the first time will have no problem navigating the site.
Creating a New Job Agent
One of VentureLoop's most awesome features is the Job Agent, which is a job finder that automatically sends me jobs based on the keywords and work details that I enter. This is a great feature because I can search for multiple jobs at once.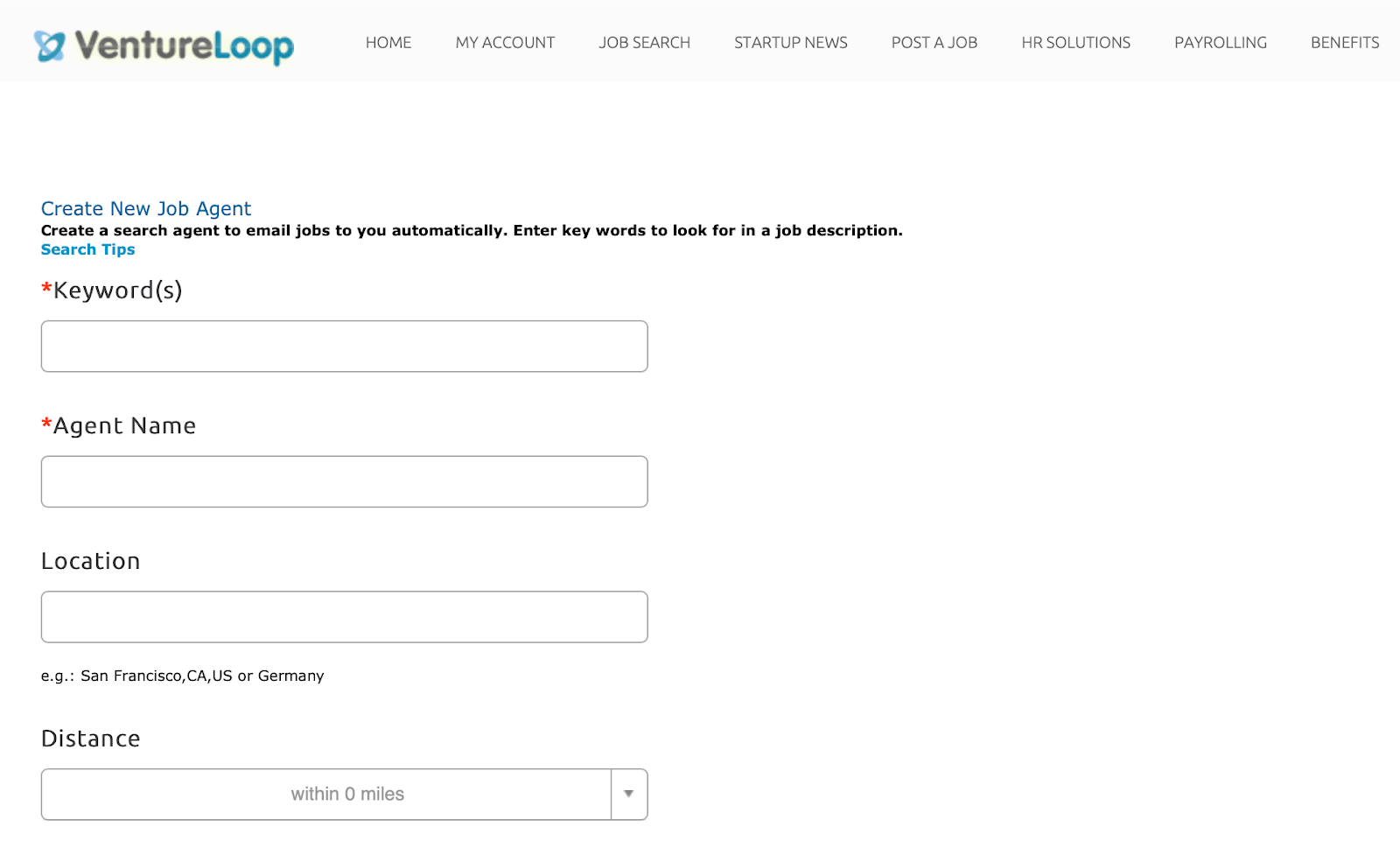 Moreover, I can customize my job search depending on the industry or job position that I want to apply for, the job location, distance, and category. I can also include searches within the job description, company name, and job title for a more thorough search.
To create a Job Agent, I have to indicate the keywords and provide a name for the specific Job Agent that I am creating so I can easily identify it from other job finders I have created.
While the only required fields are the keywords and agent name, I usually fill in the other fields such as job location, distance (up to 100 miles), as well as the specific category of the job I am searching for (Accounting, Finance, Sales, etc.).
Receiving Job Agent Emails
The Job Agent feature does the job hunt for me. When I open my email inbox, I am notified of job opportunities that the Job Agent finds.
This is a time-saving feature because I no longer have to stay on my computer 24/7 to see if new listings have been posted.
This smart feature truly makes VentureLoop stand out from other job searching platforms.
Job Searching with VentureLoop
Job searching with the Job Search function is similar to the Job Agent. The only difference is that with the Job Search function, what will appear is only a one-time search, unlike the recurring searches when using a job agent.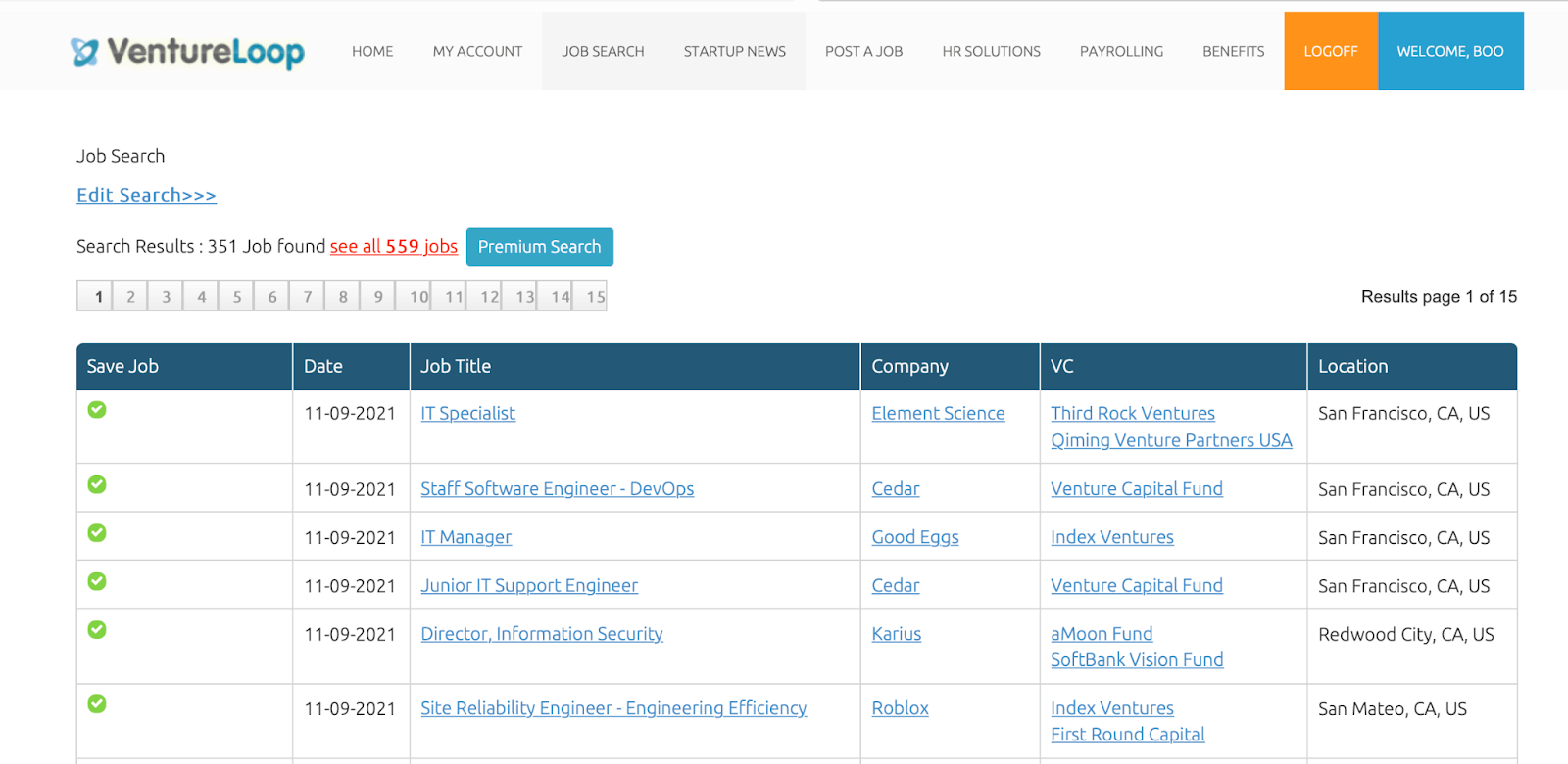 I like using the Job Search function on VentureLoop when I want instant results. The results appear on a table with details about the date the job was posted, the job title, the company, as well as the job location.
What I like about this feature is that all job offers come in hyperlinks, which means I can easily click a job posting and see other details that I need to know. Moreover, I can also edit my search if I want to add, delete, or change details that I keyed in.
I also like how the results show the venture capital company which the start-up company or hiring organization is under. Because I prefer to work for venture capital companies, I appreciate the fact that I can see which company the job I am applying for is funded by.
Site Performance for VentureLoop
I can say that my overall experience in job hunting with VentureLoop has been nothing but great.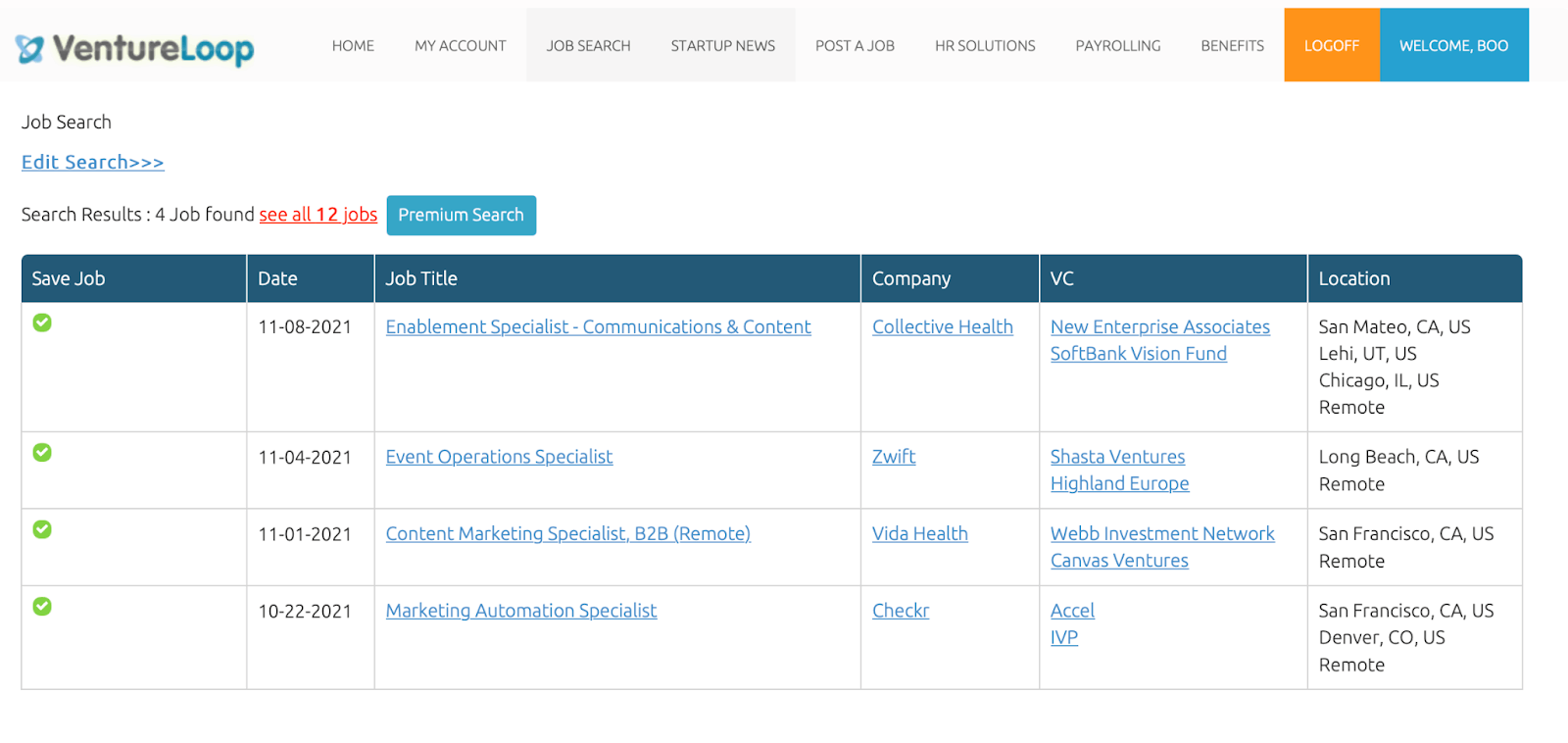 There are no major issues encountered, and if there were, the issues had nothing to do with VentureLoop as a job searching platform.
VentureLoop's partners include Intel Capital, Highland Europe, Obvious Corp, Optum Ventures, Fifth Wall, Canvas Ventures, Bain Capital Ventures, Berkeley SkyDeck, Cota Capital, Summit Partners, Swisscom, among many others.
I've never had issues with the job searching platform itself. While some job offers did not meet my standards, I think that comes down to personal preference.
Area for Improvement
It would be nice if VentureLoop developed an application for smartphones so that I can search for jobs from anywhere simply by using my phone.
I have a lot of downtime during my train commute to my current place of employment, and it would be a great time to check out the site.
Having a smartphone application would mean that I could be less reliant on my laptop or desktop computer to use the website.
Conclusion
Finding a job doesn't have to be a difficult and draining process, as long as you have the right platform helping you. VentureLoop is one of those platforms that can turn job-hunting into a simple and efficient task and avoid wasting resources and time.
With VentureLoop, I was able to find jobs that are the right fit for my passions. I count on VentureLoop to help me find tech jobs every time.