Why Search does not work in The Philippines?
What is required to make search need to make Search work –
An On-Line community
A good Search Engine
Responsive Websites…. websites that have been Optimised to Rank..
This is the break in the chain … the Google algorithm is proven, Filipinos are obsessively on-line….
The problem is the websites. The Websites are not Optimised. Google does not understand the purpose of the websites, the purpose of each page, and does not know where to rank them.
I don't mean the way the websites look, it is more to do with programming, content, popularity… linking with other websites.
However we are not going into the technical side in any detail today, but I can give you some more idea toward the end of todays presentation.
So what is wrong here??   So why don't Filipinos use Google search regularly?…. because it has not really worked very well for you .. your unconscious opinion of it is that it does not deliver useful results.
Let's take a look on :
Signage Brisbane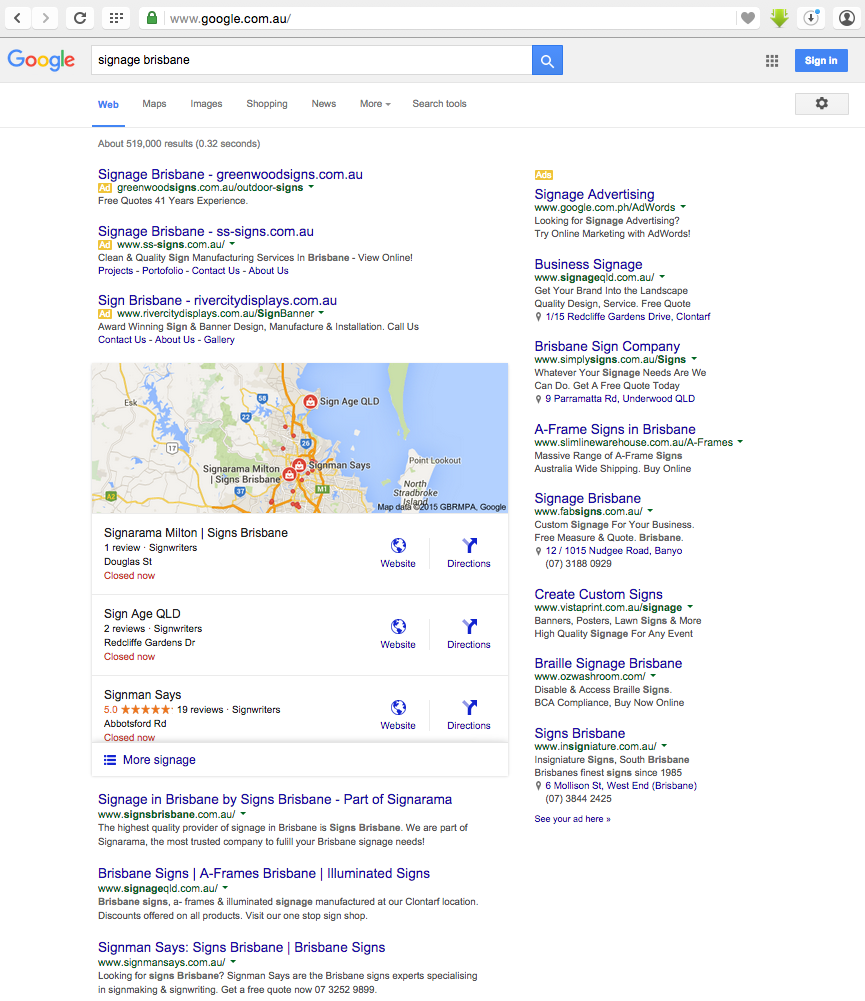 Here is the result for a search for Signage Brisbane, near home in Australia –
There are 3 types of results on this page –
These are advertisements by Google I will tell you a bit more about later.
These are the Google Map Pins we can talk about a bit more soon.
These are the most powerful, the algorithmic Organic Results
These people in the top of the algorithm generated results attract the majority of the traffic.. most of us click here, well a little over 40% click on #1, and 20% on #2 …10% of traffic landing on this page click on #3.
The remaining 30% click on lower down on the page here, and on these Google advertisements here.. sharing around 2 to 3% each of that remaining 30%.
I once did a search on Google for 'Signs Subic' or 'Signs Olongapo' and the result I got was an Ocean Adventure article saying 'the sick dolphins are now showing signs of recovery'. (what a joke!)
So what I am telling you about is what are Google doing about it?
At home if we feel like a coffee we pull out our smart-phone and type or say 'Search Coffee Shops', we look at a map as dozens of pins drop around us offering directions..
"Oh yes, and on the way home I need to look for a new bed for the kids room, and paint for the ceiling, and oh yes the chlorine …" (Google Google)
How does Google do that..?
Who here knows about the Google Camera cars mapping the streets?
This car maps the streets and then Google places their Pins on every business it has discovered after cross referencing it with the local telephone directory.
Where I come from our streets have been mapped and Google had placed the pins around 7 years ago. This happened in Manila only late last year! I noticed one day there were no pins and the next day the whole of Manila had pins placed all over it.
As a business you can see your Pin, claim it through a short validation process you can take ownership and then begin to manage and optimise your Pin yourself.
This is just an example of one of the things Google are moving quickly to do to stimulate people of The Philippines to move to the internet and use Search Engines to find what they want.
How else do we know Google is getting serious in The Philippines?
Google are Fitting out 10 Story of Offices in Manila 
One of our existing customer, Hugh, from I.F.I insulation has been in charge of doing the soundproofing of the entire Google Philippines office.
If you would ask Hugh on how did Google get in touch with him?
Hugh – "they found me on their own search engine Google … I am at the top, thanks to OptiMax®".
And what is that insulation job worth to you Hugh?  "about 3 million Peso"
Anyway back to my point –   Google are doing some very serious investing to make sure their Search Engine starts working here in Philippines.
It all just, about, to happen!
The Philippines is about to adopt SEARCH, just as the rest of the world has done before us.
So we know this is starting now, where is it going to ??…….
Here is another great reason people migrate to internet search…
Use Search, Use Reviews – It is easy to find business you know you can trust without having ever met them before!
Philippines needs reviews more than any country I have done business in… as it can be hard to find people to trust.   Soon you will not need to believe in what a salesman is telling you, you will not have to believe in what a business is telling you…   Don't listen to them, listen to their customers… read the reviews, and add your review!
Apple Mac centre Pin, I was the first person in the Philippines to review this business the constantly delivers terrible service for full retail because of their monopoly.
Car Car Auto Mechanical, absolutely ripped me off P60,000, now how can I warn people if we don't use search and benefit from being able to read and leave reviews?
Where can I post reviews?
Google maps
TripAdvisor
Just Google "Reviews on …." and find a review site, or start a review site, it is still that early here!
JUST HOW do OptiMax® Optimise websites?
Many of you will be asking "How do they do it, or can I do this myself? For some small businesses the answer is Yes! to some degree… You can set up your Google Pin and ask people to review it, that is free!
Like that store illusive that sold chlorine and janitor supplies. They could claim their Pin, write some short sentences about what they sell and it will instantly rank on Google.   If all businesses did this then Google will immediately start to work.
Get such great returns that it wont be long before you come to me asking for more…. more more and more web optimisation. Avail the service of Website Optimisation Brisbane.
In short there is no single thing that makes a website Optimised for a good ranking.
Correctly Coding, Programmed to show Google the purpose of each page
Rich managed Unique Content
Fast Loading
Mobile Compatible
Attracts Links from other websites
Positive Visitor Behaviour
Start with a Keyword Rich Domain name
Have a Keyword Rich Domain Name –   If you don't already have a good website, start by selecting a domain name with rich 'Key search words' in it. For example if I had websiteoptimisation.com.au it would have been a lot easier for me to get the result we have anyway.
I am always amazed at what is still available here in Philippines and particularly Philippines.   I own websiteoptimisation.asia that we plan to soon Optimise to rank throughout all of Asia at the top of Google for Website Optimisation.
Lets have a look at what kid of domain names are still available here in the Philippines …. lets try a big one, say Lending or Car-Sales…..
Keyword Rich Domain Names
How Good are we at OptiMax®?  We are talking about Website Optimisation right..?   When competing in search with Website Optimisation companies there is less restriction of the cost, we use internal resources… it is so important to rank highly ourselves that all Website Optimisation companies invest huge amount of time and internal resources into it.
Therefore it may be fair to say the hardest search to rank highly for is the term Website Optimisation itself, right?
The people at the top of Google Australia for Website Optimisation are THE BEST people in Australia at doing it. That is US, OptiMax are at the top of Google in Australia for the hardest search term equal to real estate, finance, gambling etc.
We get enquiries every day, emails phone calls… people see us at the top of Google and contact us… we can hardly keep up!
So why am I doing this? I am doing this for YOU.   Because we are here.   I cant sit back and watch strangers take up opportunities of good people I know … you will all ask me "your in this business Peter, why didn't you tell me??"
I have two Website Optimisation companies that together turn over millions of dollars a year in Australia, in just labour only.   I have no real need to divert our attention to The Philippines whatsoever. We can perform Website Optimisation for any of the countries around us that I mentioned.
Our customers are all in Australia, New Zealand some in England. But now through our newly formed Philippine company Linkocity, of whom the General Manager Maricar Sze is right here, we are making an initial offering to Philippine business starting right here with you in Freeport Subic Bay.
The room is full of staff, if you would like to contact us for a free consultation just indicate that to anyone of us in the room here.   I don't carry 'calling cards'…. if anyone wants to call me I say 'Just Google us, we are easy to find!"
The drinks are available at the bar until 7:00pm so please relax and enjoy a chat with some of the others here, Thank you.