Our kids are important to us, and that is why their protection comes first. From the kind of healthy food we provide them, to the amount of screen time we allow, all the way to the gadget they use, our focus is their safety.
That is why the Verizon GizmoWatch is suited for kids, as it comes with the whole package. It offers a variety of fun and useful features while keeping your child's safety as the priority.
Keep reading to find out more about the Verizon GizmoWatch.
What Is The Verizon GizmoWatch?
Battery, Water Resistance, And Charging
Preparation For Smartphones
Managed Screen Time
Fun And Games
How To Download The GizmoHub App
How To Use And Set Up The Verizon GizmoWatch For Safety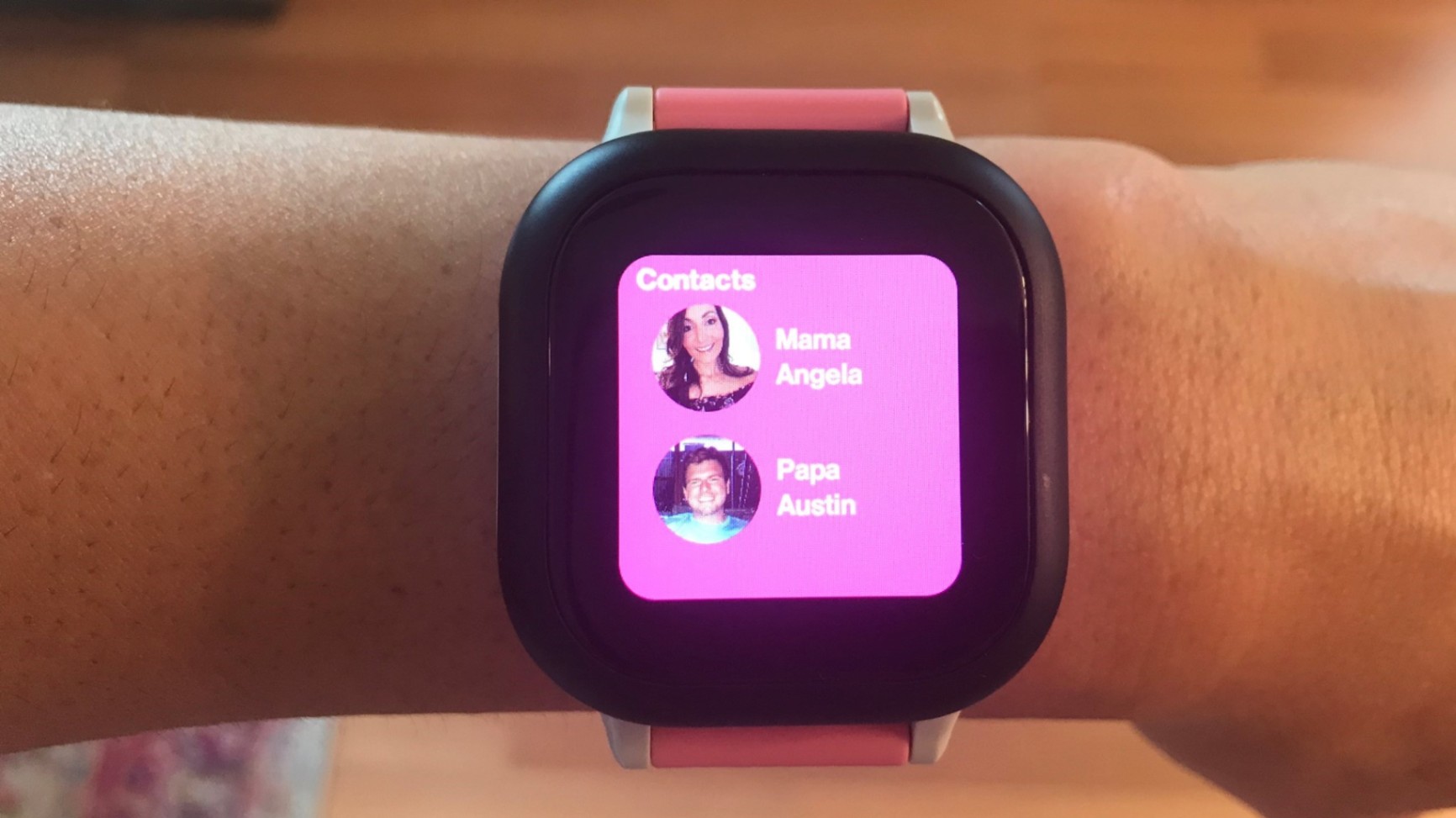 What Is The Verizon GizmoWatch?
The Verizon GizmoWatch is a smartwatch built for children between the ages of 3 – 11. Its main function is for protection as it keeps kids connected with their parents and other trusted contacts in case of emergencies.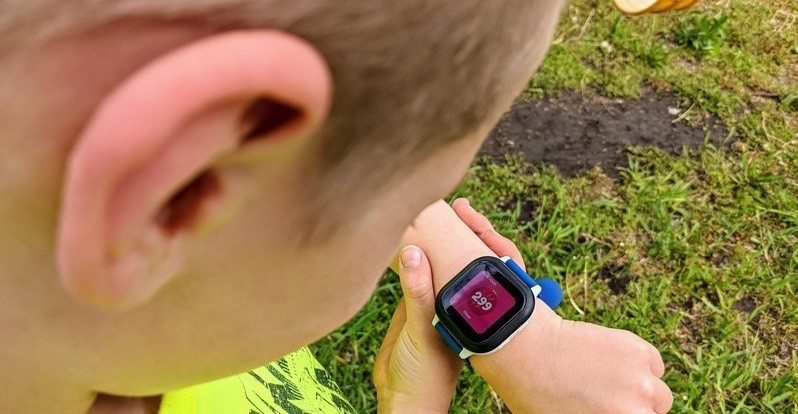 It has great features like GPS and LTE connectivity on Verizon's network, call and text-enabled, and basic fitness for kids. The kids should wear the watch, and the monitoring is done by the parent or trusted wards through the GizmoHub app.
The app lets you stay connected with your kids, and it is your version of the smartwatch. The watch comes in cute designs suited for kids and specifications adjusted for children within this age range.
Specifications Of The Verizon GizmoWatch
Now let us get into the specifications of the watch. The watch is compatible with iOS and Android devices, which cuts through limitations of the type of device used by parents.
It is a 1.4-inch square touch screen watch, which comes with a rubbery blue or pink strap, typical for boys and girls. It measures 0.53 inches thick and weighs 1.94 ounces, making it light and comfortable for children to wear.
It has a GPS for accurate tracking and Verizon LTE connectivity. It comes with a bright and colorful display, with a resolution of 303 pixels per inch. It also has 4GB of RAM, a Qualcomm Snapdragon Wear 2500 1.2GHz quad-core processor.
Battery, Water Resistance, And Charging
The battery is a 500mAh battery which Verizon mentions can last up to four days with typical use. When tested, the battery had more than 50 percent left after 24 hours of use, so their data is accurate.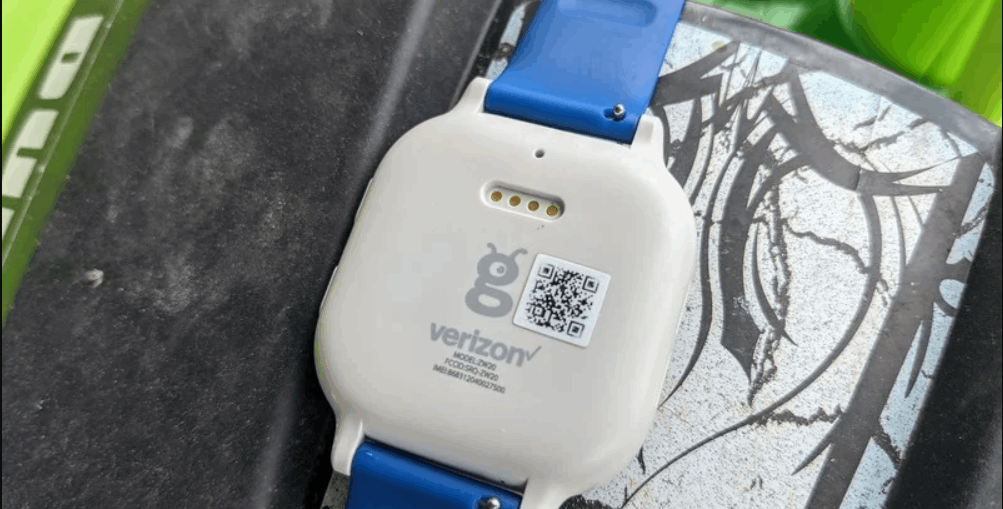 The GizmoWatch is a fairly water-resistant watch. It is rated IP67, which means that it can withstand up to 3.2 feet of water for 30 minutes. Try not to put the watch under much water pressure for an extended time as this can reduce the water resistance in the long run.
The charger is easy to use and comes with the watch. It has four small gold pins at the back of the watch that you connect to the charger. The points at the back of the watch magnetically connect with the charger for easy charging.
Kids Protection
The GPS feature of the smartwatch allows you to accurately track your kid's location in an attempt to guarantee their safety. Whether it is a visit to a friend's house or a school's field trip, you can rest assured and check up on them as long as they have the watch on.
It provides your kids some feeling of independence and gives you peace of mind to monitor their whereabouts by setting healthy boundaries.
Setting boundaries is essential as there might be locations that your child should not go to or some locations that you would want to know about if they are there. Setting boundaries gives you alerts whenever your child exceeds these set boundaries.
Preparation For Smartphones
Having a smartphone is a huge responsibility for a child. As much as the world is very digital at this point, which is a good thing, there are still several cons to giving your child a smartphone at a young age.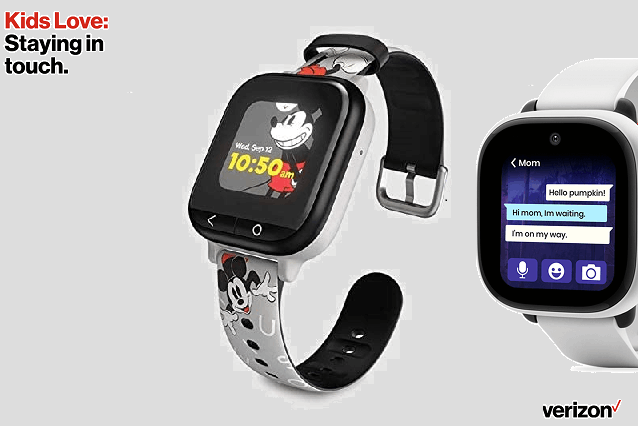 Having a mobile phone too early can leave kids exposed to different types of digital hazards, leading to discipline problems at home.
With the GizmoWatch, however, you can let them explore monitored access to the digital world while grooming them for when they get their first mobile devices.
Voice Calls And Messaging
The ability to make phone calls and send text messages are some of the monitored access to digitalization mentioned earlier. The GizmoWatch gives your kids the ability to reach you or other trusted contacts quickly if there is a form of danger.
You can safeguard your child with this feature as it allows you to have up to ten contacts. The limited range of contacts they can reach out to through calls or text messages leaves you assured of their safety.
Even better news for you as a parent is that you can control this contact list through the app.
Managed Screen Time
We all know how kids get excited about new toys and gadgets. This may not be a television program or a movie, but just like smartphones, this little gadget packs features that can make them over engaged with it.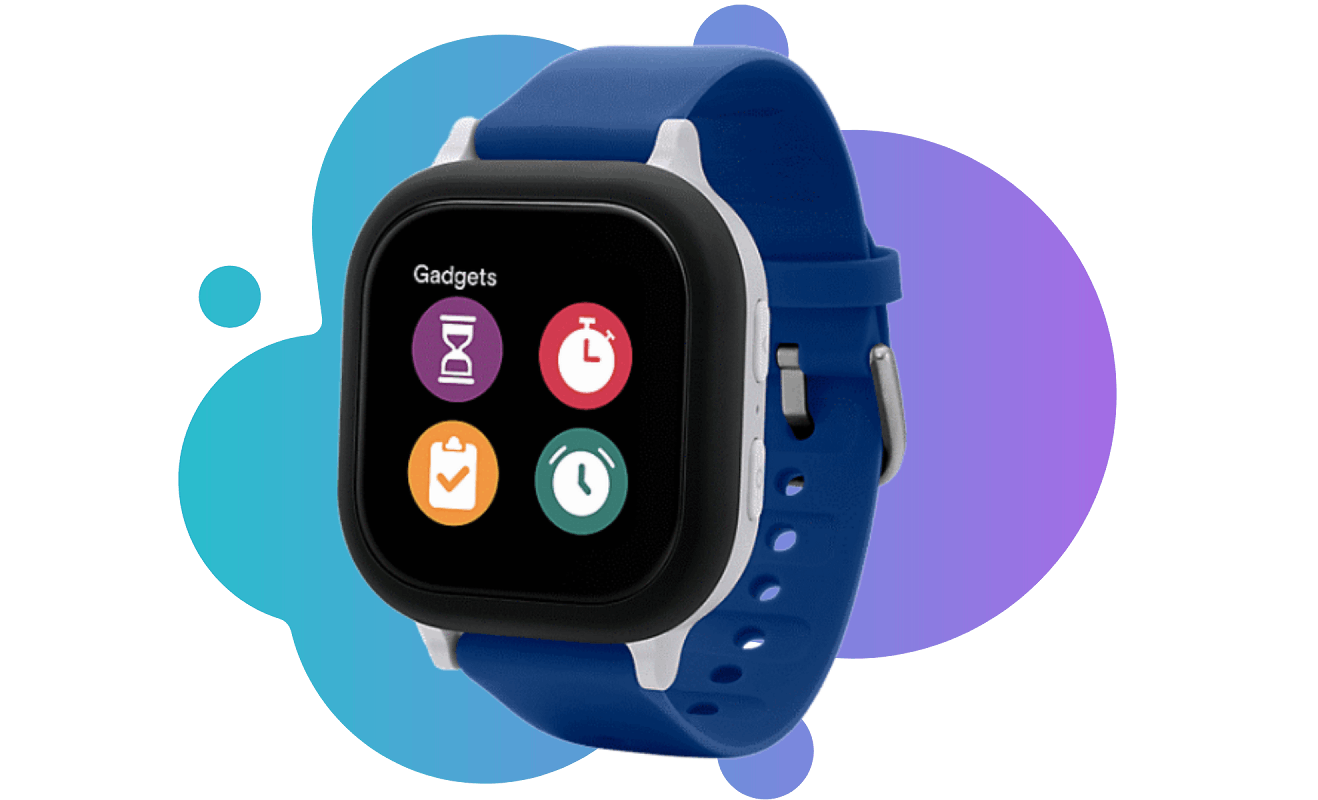 Even though the watch is focused on keeping your child safe and staying in touch, there is a gaming function built-in for the kids. There are, however, times where they shouldn't be glued to their new smartwatch screen and during these times, controlling their screen time becomes important.
You can adjust the settings of the GizmoWatch from the app. You can set it in Quiet mode, turn on Auto-Answer, or even switch it off when necessary. That would let your kids know when they are not allowed to use the devices and prepare them for smartphones.
Built For Kids
The Verizon GizmoWatch is made for kids and built for them as well. From the blue or pink rubber band selection to the lightweight of 1.94 ounces, down to the bright and colorful display, every element of the watch was crafted with children in mind.
With its ringtones, the fun game section, and the water resistance, you can be assured that this is a durable watch that kids will fall in love with.
Fun And Games
The watch comes with a basic fitness tracker. Not too advanced like the features of our regular fitness apps containing a heart rate monitor or a sleep tracker. Our kids may not need any of these functions yet.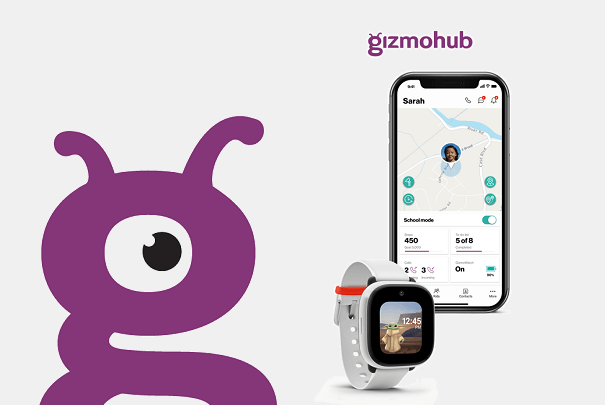 The basic fitness tracker can track the steps of your child, and you can set certain fitness goals for your child. This keeps kids engaged. You, as parents, can even set up scheduled fitness events that show on the watch's display.
Easy Setup And Charging
With the app, you have all the controls. And to get the app, all you need to do is download it on the App Store or Google Play Store.
With the app, you can customize the theme on the GizmoWatch, change ringtones, and adjust several other settings. You can turn off the device and set up a PIN for added security.
Charging the smartwatch is also really easy and can be figured out and taught to anyone, including your kids. That way, without our help, they can charge the battery when it is low.
How To Download The GizmoHub App
As mentioned earlier, downloading the app is easy.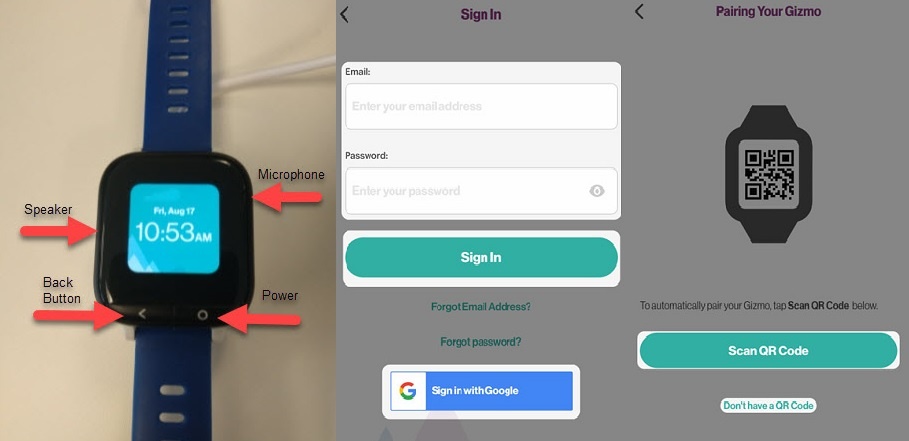 From the App Store and Google Play Store links, you would be directed to the installation page, where you can download and install the GizmoHub app on your respective iOS or Android devices.
Cost Of The Verizon GizmoWatch
The Verizon GizmoWatch costs $180 and can be purchased on Amazon. To see more details about the cost of the smartwatch, check out the Verizon GizmoWatch website. It also contains additional details of the watch.
How To Use And Set Up The Verizon GizmoWatch For Safety
To start the watch, you press either button on the side or tap the screen. The main screen shows the date and time, and swiping down from the clock face brings up other icons on the watch for navigation.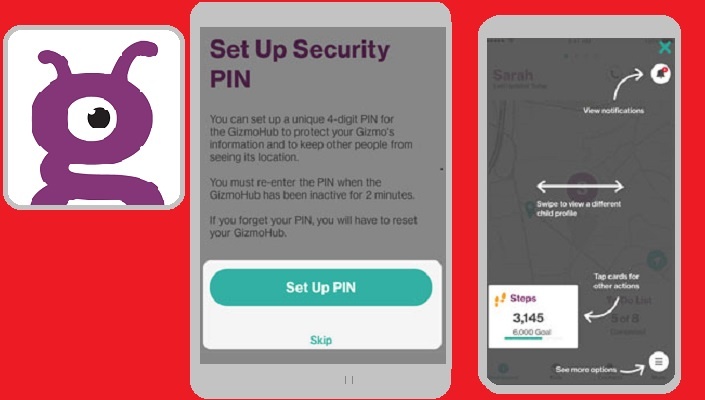 To access these other icons, swipe left or right from the clock face to see Contacts, Fun Activities, Gadgets, and Settings.
Tracking Functionality
If your child presses the Check In button, an alert is sent to your phone with the time and their location. If you as a parent want to see your child's location, you can press the arrow icon from the app's dashboard to know where your child is.
You can use a real-time tracker, which may become necessary. Also, when you enable this feature, the GizmoWatch battery will drain faster. Just like a real tracker, you can monitor your child as he or she moves.
Alerts can send to you when your child leaves a certain area. You can set your alerts based on a timer; for example, every day at 10 am; you will receive a notification on where your child is at a particular time. All of this can be done through the GizmoHub app.
Conclusion
The GizmoWathc provides you with a fun, healthy way to ensure the safety of your kids while making sure that your kids enjoy it as well. The smartwatch allows customization for you as a parent and gives your kids several options to have fun, get active and contact you in case of emergencies.