When I was considering a career in tech, I was overwhelmed by the opportunities coming my way. Online job applications also took up a lot of my time. When I found out about ComputerWork, my career possibilities seemed endless, but the job-hunting process was refined.
With ComputerWork's huge database and organized layout, exploring tech jobs is more efficient. Sending my resume and tracking my applications can be done with just a few clicks.
Whether you are a job seeker or a recruiter hoping to find top tech talent, it is free to use ComputerWork. Read on to learn how you can make this job portal work for you.
What Can ComputerWork Do For You?
Uploading Your Resume To ComputerWork
Enabling Job Alerts On ComputerWork
Search For Your Dream Tech Job On ComputerWork
How To Apply For A Job On ComputerWork
Tracking Your Applications On ComputerWork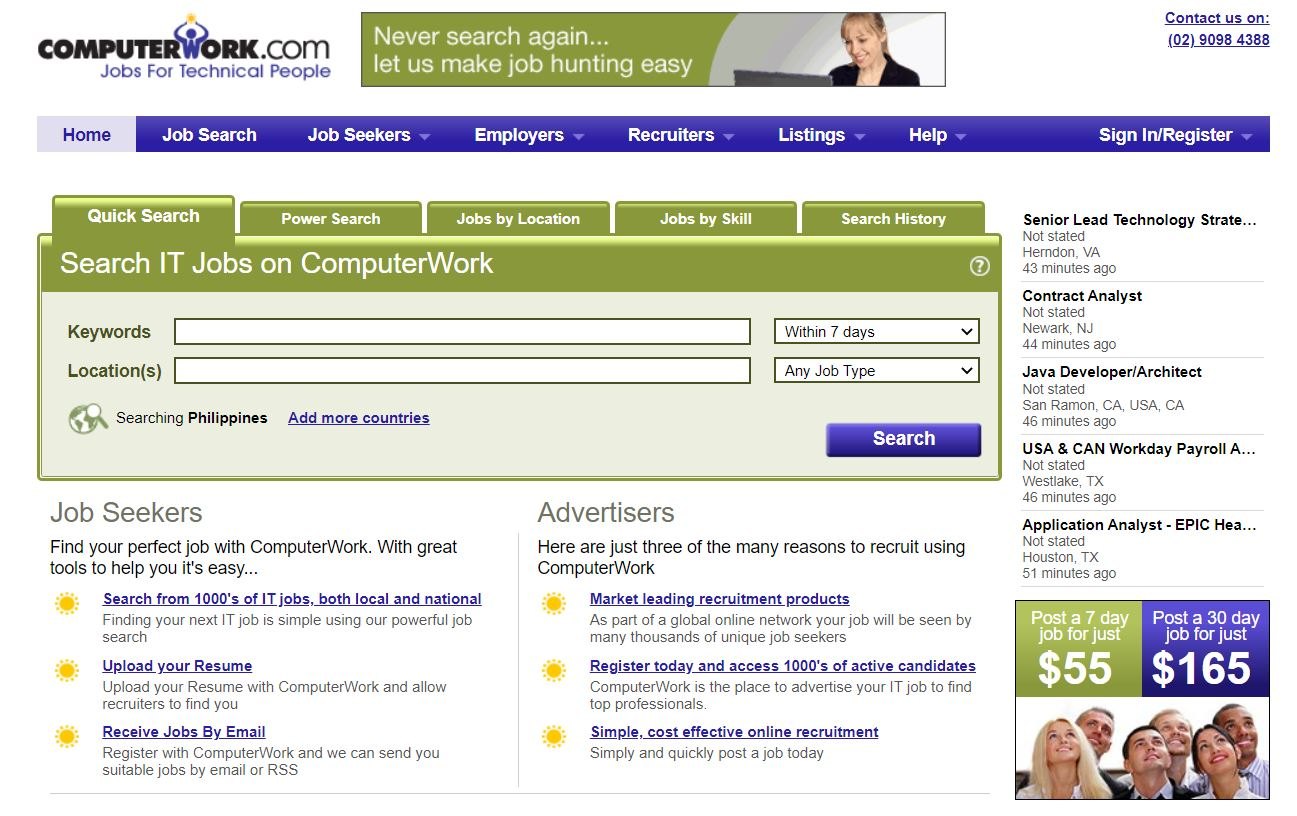 What Can ComputerWork Do For You?
ComputerWork is one of the top-rated online platforms for finding employment in the field of IT.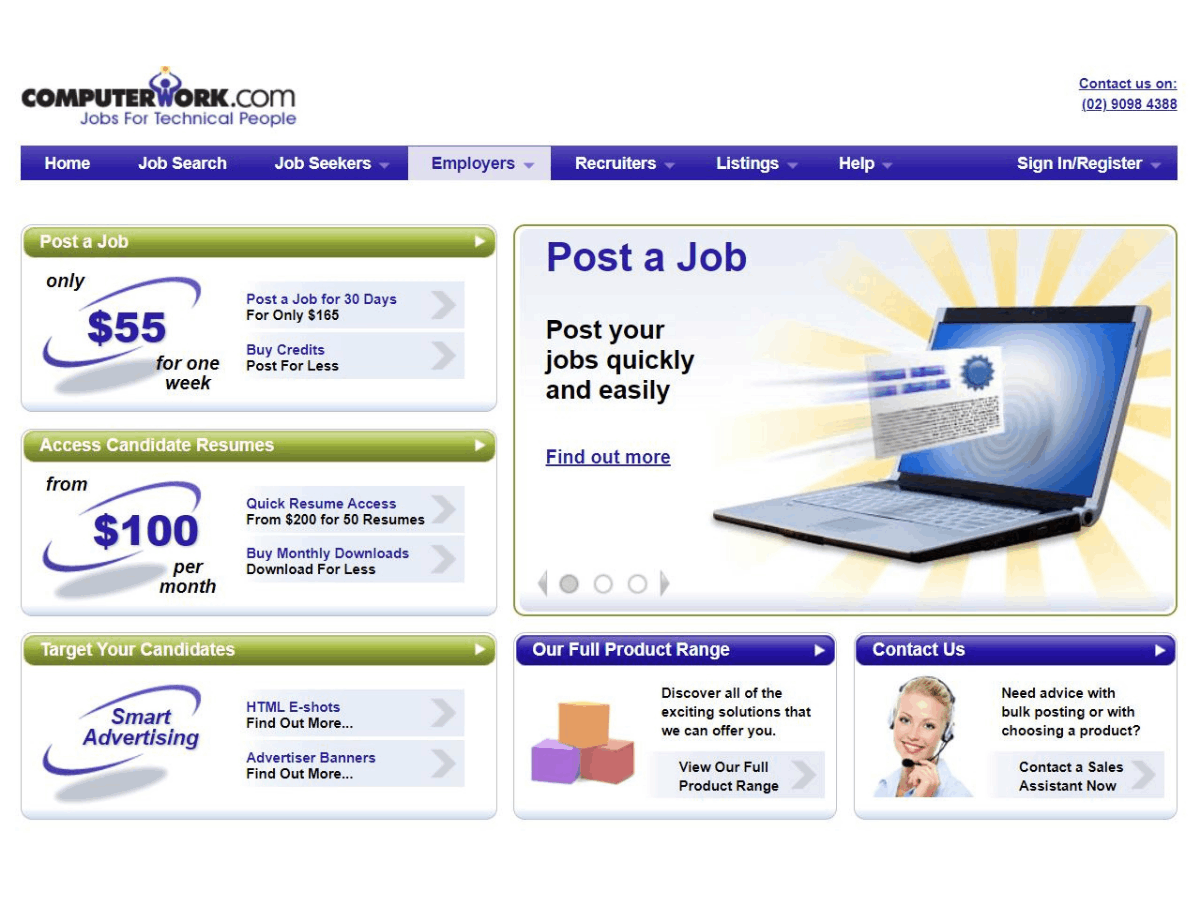 ComputerWork, founded in 1995 in the US, was acquired by JobServe Limited, the world's first Internet recruitment site, in 2007. The job board offers services to job seekers by publishing job vacancies listed by employers and recruiters.
I find ComputerWork's search feature and application process simple and efficient. ComputerWork sets off career paths for tech professionals with thousands of new jobs to explore every day.
ComputerWork also makes recruitment easy and rewarding for companies and organizations. They can enjoy affordable packages and incentives for listing their job openings.
Services For Employers And Recruiters
When ComputerWork attracts more employers and recruiters, there would be more opportunities for job seekers. Companies and agencies can post a 30-day job for only $165. Their posting can reach five million candidates worldwide.
Job seekers can be assured that employers have access to their resumes. Employers and recruiters have the option to access the comprehensive Resume Search, where they can find active and passive local, national, and global candidates. With the Quick Resume Access feature, employers can download between 50 and 99 resumes and pay $4.00 per download.
Meanwhile, the Exclusive Email Campaign allows firms to increase their visibility to relevant job seekers. ComputerWork sends out a job posting in an exclusive, targeted HTML email to up to 500 registered job seekers who match what companies are looking for.
Uploading Your Resume To ComputerWork
Uploading your resume to ComputerWork is fast and straightforward. Just make sure you have an account on ComputerWork and prepare your updated resume.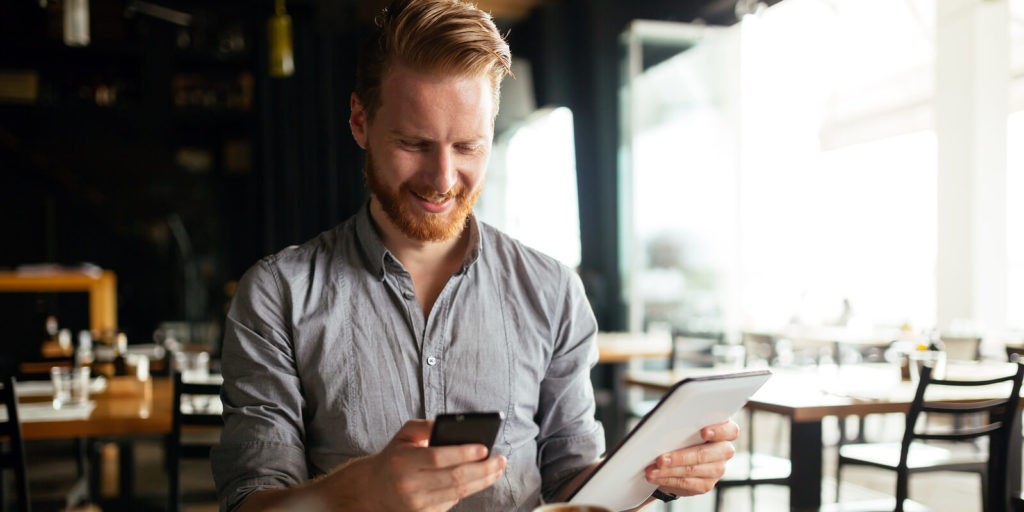 When I set up an account on ComputerWork, I was given job seeker access and started receiving job suggestions that match my skills. The account can be updated or deleted at any time. I also have the freedom to set my preferences when it comes to job seeker features and emails.
I uploaded my resume to the Quick Post Resume page of ComputerWork. Note that when you also upload yours, ComputerWork will collect and use your information to provide you services that will aid your job application.
ComputerWork will store your resume until you remove it or for a maximum of five years. Its system supports .doc, .docx, .rtf, .txt and .pdf format resumes. ComputerWork allows its users to store up to 10 resumes online.
Making Resumes Searchable
I made my resumes searchable and accessible to recruiters during the job search. When a resume is searchable, a candidate will appear in CV Search. Their resume will be sent to the recruiter if the job seeker is a perfect match for the job posting.
You can make yourself searchable through the Searchability page located on your Dashboard or the Resumes page. There are even options for how visible you want your details to be to recruitment agencies and companies.
When I was looking for a job, I selected Visible, which means my details can be viewed. Restricted means one's info can be viewed, but the candidate's name, contact details, and profile photo are not available without their permission. Private means one's details cannot be viewed at all.
Enabling Job Alerts On ComputerWork
ComputerWork makes job-seeking more convenient with its Job Alerts feature.
I created a job alert when I was searching for a job in the Job Search section. After choosing my search criteria and running a search, I tapped on the Save icon at the top of the results list.
I also made sure I would get different types of alerts. These include daily and instant email alerts, RSS feeds, and notifications. I set these up on the Job Searches & Alerts page.
One of the benefits of enabling job alerts is being the first to know about an opportunity or to apply first. I was able to receive alerts the moment a position that matched my credentials is published.
What Are Notifications?
Notifications refer to alerts shown in the top right of the page when signed in and on the Dashboard and Homepage. They alert me about new matches to my saved searches.
These notifications also show up on a candidate's iPhone or Android device, allowing them to view and apply for a job wherever they are.
When I felt like I have sent too many applications already, I switched off the job suggestions. You can disable it using the links in the footer of the emails you get. Job Suggestions are helpful because they present the kind of jobs you are searching and applying for.
Search For Your Dream Tech Job On ComputerWork
Searching for jobs that fit my tech background and experience was not a challenge on ComputerWork.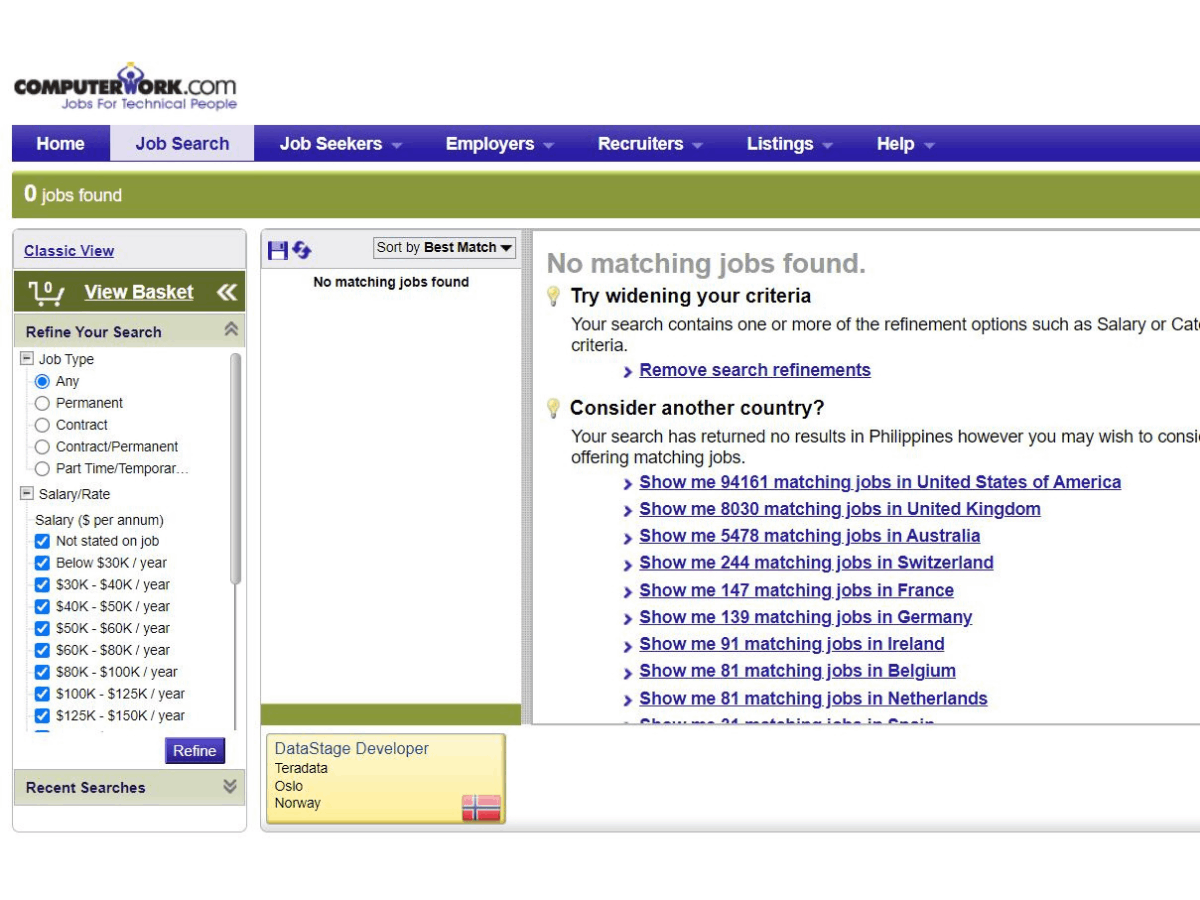 Paired with the Saved Search and Job Alert feature, ComputerWork's powerful search engine allowed me to simplify my search and get the jobs that truly match me. Everything on the Job Search page is neatly arranged and upfront.
The Refine Your Search section displays categories such as Job Type, Salary/Rate, Rate Per Hour, and Job Age. I only have to tick off my preferences under each category. Below the categories are the Recent Searches section, which shows my previous searches, and above them is the Job Basket, which stores all the job openings I saved.
If you are looking for a job outside your area, you can go to Consider Another Country which is below the Recent Searches section. When you click on it, you will find a list of countries alongside the number of jobs available in each country. Tap on a country, and the next column will automatically display the job vacancies in that country.
What's In A Job Description?
When you tap on a particular job opening, you will see details like the job location, when it was posted, and the company or recruitment agency that posted it.
On the same page, I can view information about the employer, the responsibilities of the role, and requirements from candidates. The salary range is also included.
Job postings contain an overview of the job application process, an equal employment opportunities statement, and any disclaimer regarding the job search. The last part is usually a summary of the details about the employer.
How To Apply For A Job On ComputerWork
When I applied for a job on ComputerWork, it only took a couple of minutes because the Apply button is already on the job posting.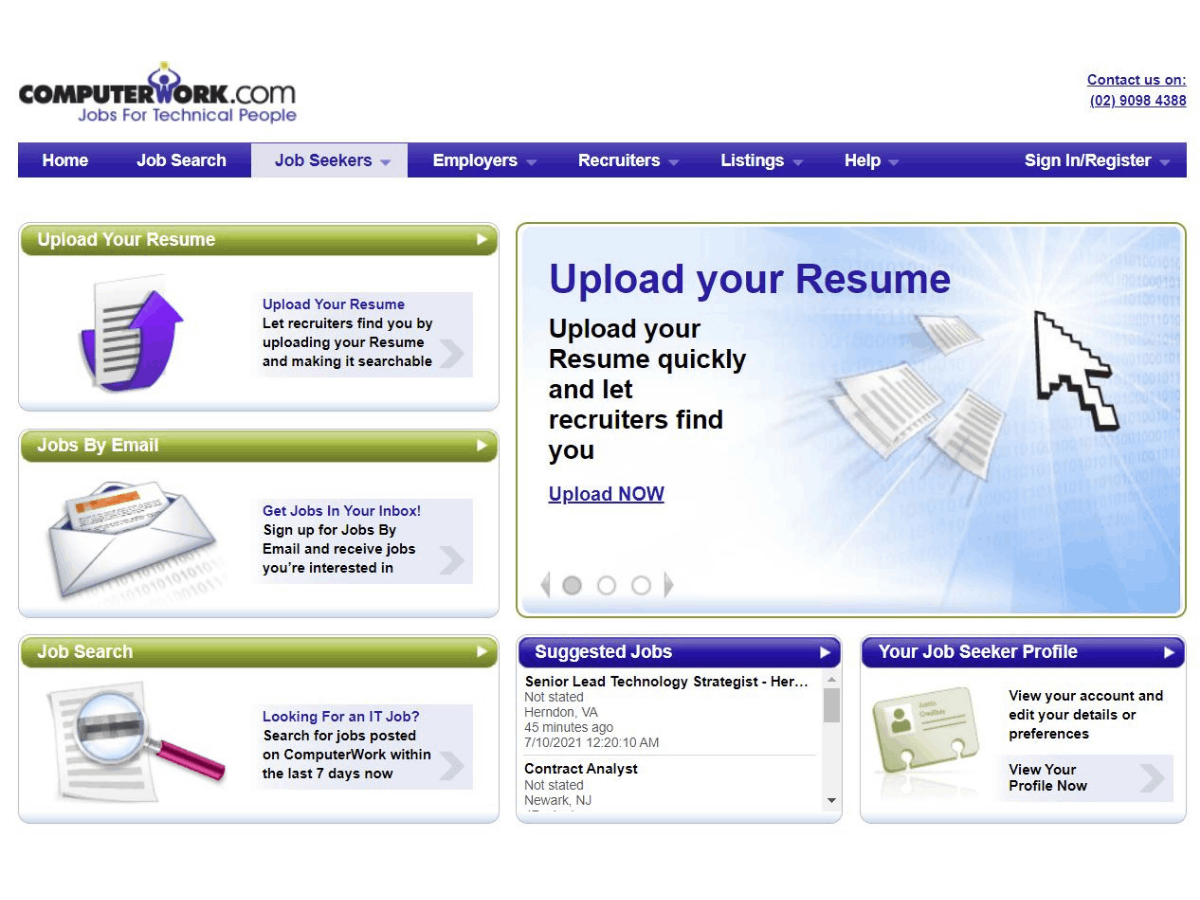 After clicking the Apply button, I received a short form and was asked to attach my updated resume and cover note alongside my application. Some companies post their telephone number or email address for the applicant to contact because they prefer the traditional way of moving forward with the application process.
When you already have an account on ComputerWork, you can prefill the application form with your previous answers. You also have the option to manage and track your applications.
ComputerWorks allows one to apply for up to 25 jobs at once using the Job Basket. You can also apply to all the jobs you saved in the Job Basket using one application form.
Tracking Your Applications On ComputerWork
I was able to monitor the status of my applications using the Job Applications manager. The section also allows me to add notes, contact details, and reminders for interviews.
I would receive an email confirming that my application was successfully made. I was able to view those applications as well on the Job Applications section, located in the My Account menu.
If you want to remove your application, you can use the delete function on the Job Applications page. However, note that your application will remain available to the employer, and you must contact them if you want your application to be removed from their own systems.
Conclusion
ComputerWork is a top-notch job application portal that provides not only job postings but also complete employment information. Its job search features make the process easier for job seekers and prove how reliable the system is even to recruiters and employers.
I recommend ComputerWork to those who are building or seeking new career paths in the field of technology.