Your Curriculum Vitae, or resume, is a critical paper for your career. This is how you showcase your talents, experience, and skills so that potential employers and feel confident in hiring you.
However, it can be challenging to come up with the right resume when you apply for a job in the IT industry. In fact, every industry typically has different preferences for how resumes should be formatted
A resume for IT must include some specific sections, and we are here to talk about that. Continue reading below to learn what to include in your resume.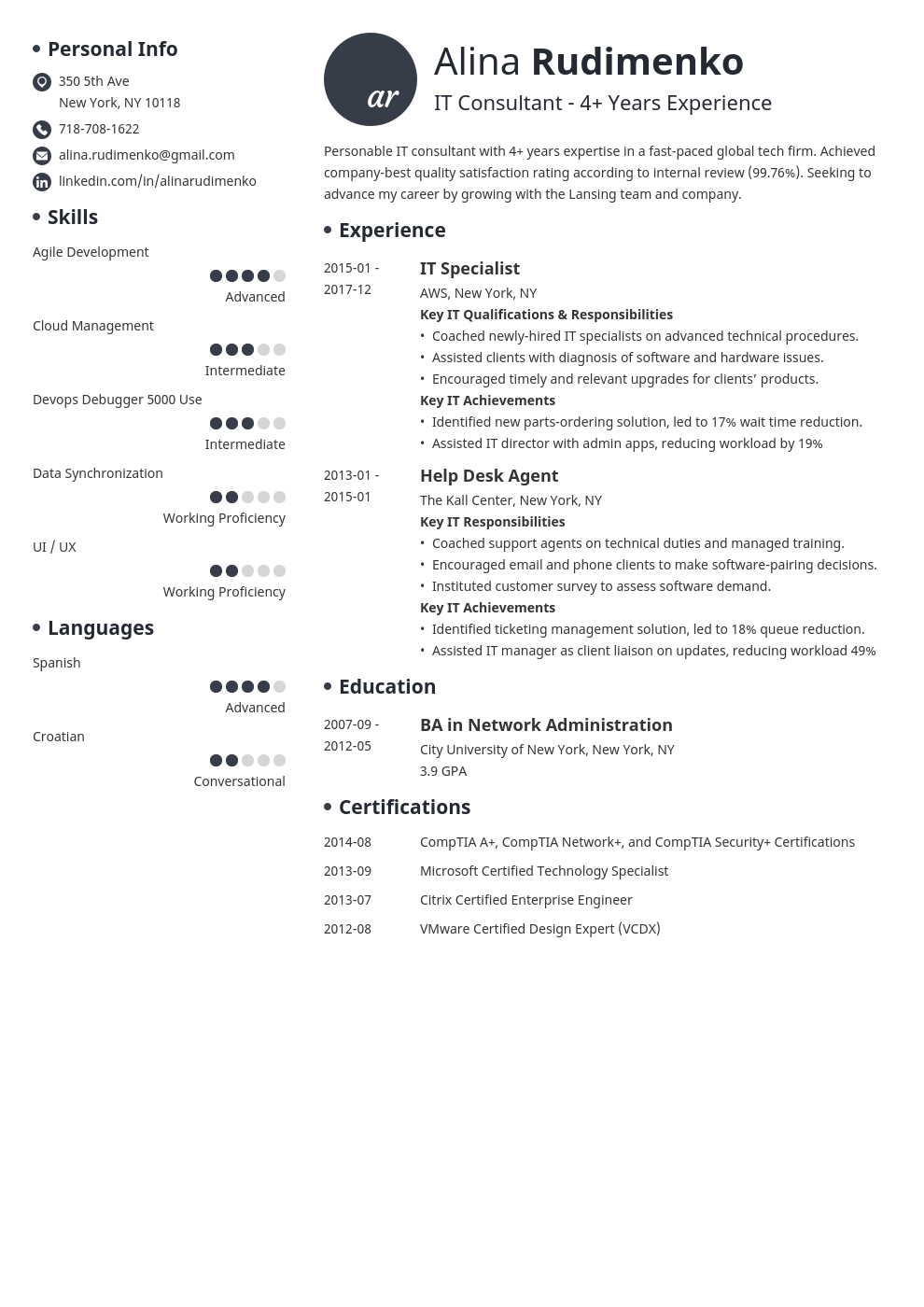 What Is a Resume?
A Curriculum Vitae is your career's summary explained in the simplest terms. Its primary purpose is to showcase one's working experience and education. It also highlights your skills, possible responsibilities that you might take, and more.
Your resume will help a manager or business owner make a decision between other possible candidates and yourself.
Human-resources personnel don't take much time reviewing an individual's resume. They target specific skills or experience to sort through the dozens of the Curriculum Vitae that they get. When your resume doesn't match the responsibilities or experience required for the job you've applied to, HR will decline it and opt for a more able candidate.
That would be a bummer for you, but you should not quit. Keep reading to learn what the best resume for IT looks like.
Utilize Professional Tools, but Don't Depend on Them
Of course, there is LinkedIn, a social network that can cover all your working experience and skills. However, a Curriculum Vitae remains your best asset to showcase your capabilities and professional experience.
On LinkedIn, you'll have to present your career, connect an email address, and phone number for possible employers to contact you. But, surprisingly, you will be asked to send your resume. That's the human-resources department's requirement.
So, regardless of the technological advancements and the social media evolvement, your CV is essential.
How Do You Write a Resume?
You may be one of those people who have never written a resume for IT before, even though you have the required skills to be part of the big companies in the industry. If so, don't worry since we'll be presenting the best ways to do so.
Of course, you can employ a resume writer. There are people who make good money writing CVs. They ask you for your data and professional experience, education, and so on, and they will compose a resume, accordingly.
If you're not okay with that, you can quickly write your own resume for IT using the pre-made outlines offered by these free Google Docs templates.
However, it's safer to open up a new document, a clean page, and start writing your own resume. You can quickly add work experience, training courses, and much more. Keep the following lines in your mind when writing your resume.
Professional experience
Non-work experience, which might sum up to involvement in non-profit organizations, community involvement, and free-paid projects
Education and additional training programs
Capabilities (you should mostly add hard skills in the IT industry) and your interests
So How Do You Format and Organize All of that Information?
The standard and safest method to work it out, specifically when you're not sure which track to follow, is the reverse chronological order. In English, you have to organize your professional experience from the newest to the latest one.
The working experience must be above the education section. As for a resume for IT, you should add your involvement in network maintenance, apps, games, software, and so on.
That would most likely help you overcome other candidates. You can also include your experience revolving around databases, HTML, WordPress, affiliate marketing, and so on.
However, the section regarding skills is also critical. As mentioned above, you should add everything that you can do, be it HTML, social marketing, etc.
Other Tips
If your working background is complicated, then you will have to pay attention to the skill segment of your resume for IT. That might get you to a well-paid job in the industry.
The best way to write your resume is to combine professional experience, skills, and education. Usually, the order doesn't make much difference. However, depending on your capabilities and background, you might have to highlight your skills instead of education and experience.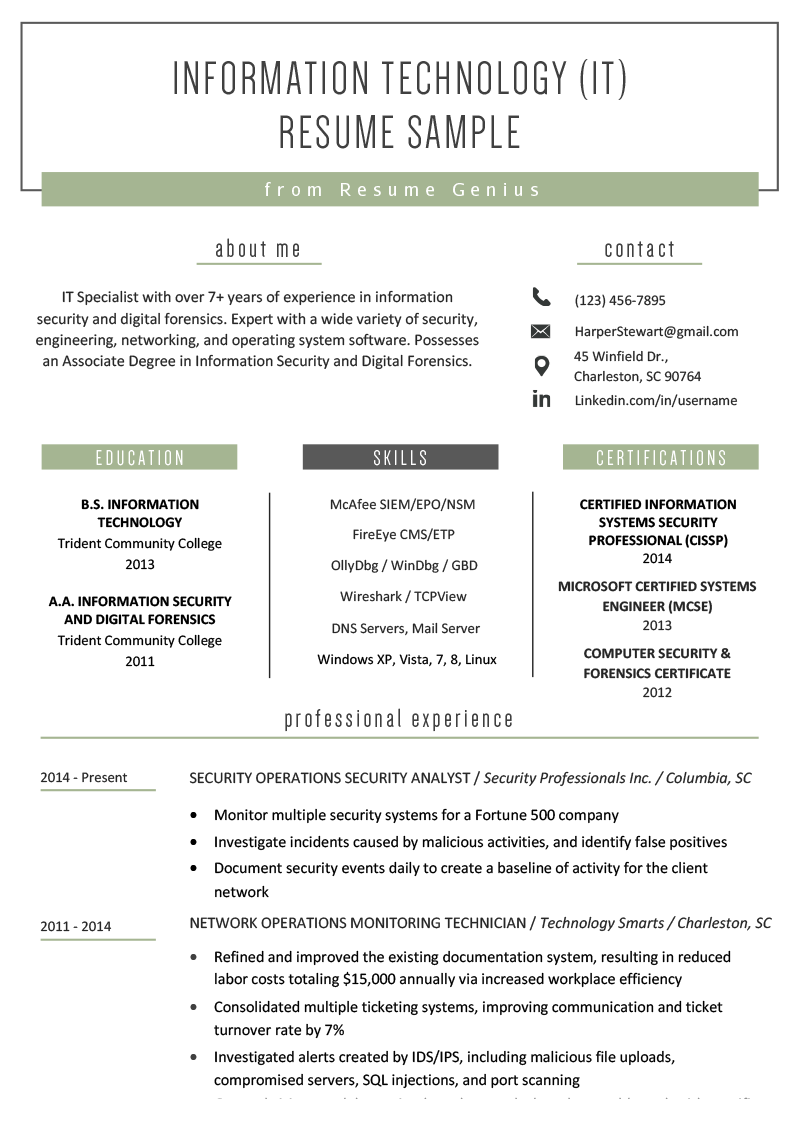 Summary
Your resume for IT should showcase your skills, previous projects you've been involved in, and so on. It is critical to highlight your capabilities!
Different from other jobs, the IT-based ones mostly focus on sorting out issues. Because of that, and many other things, your IT resume must underline your capacity to deal with the possible problems that may appear.