I never had difficulty finding an open position for a job. It is not because of my qualifications or the number of available vacancies, but because of the job search engines that helped me locate the best and most ideal job position for me. People need time to dig deep into these sites to find the best opportunity.
Most search engines cater to all kinds of jobs from different fields and industries. However, some sites focus on a specific industry like information technology, business, sciences, and many more. One of the well-known sites for the technology industry is JustTechJobs.
JustTechJobs offers us all the relevant information for job vacancies in the field of technology. However, it provides even more services and features to job seekers out there. Learn how you can land a job using the JustTechJobs site.
Discovering The JustTechJobs Site
Searching For Jobs On JustTechJobs
Filtering Job Postings On JustTechJobs
Getting Job Search Advice On JustTechJobs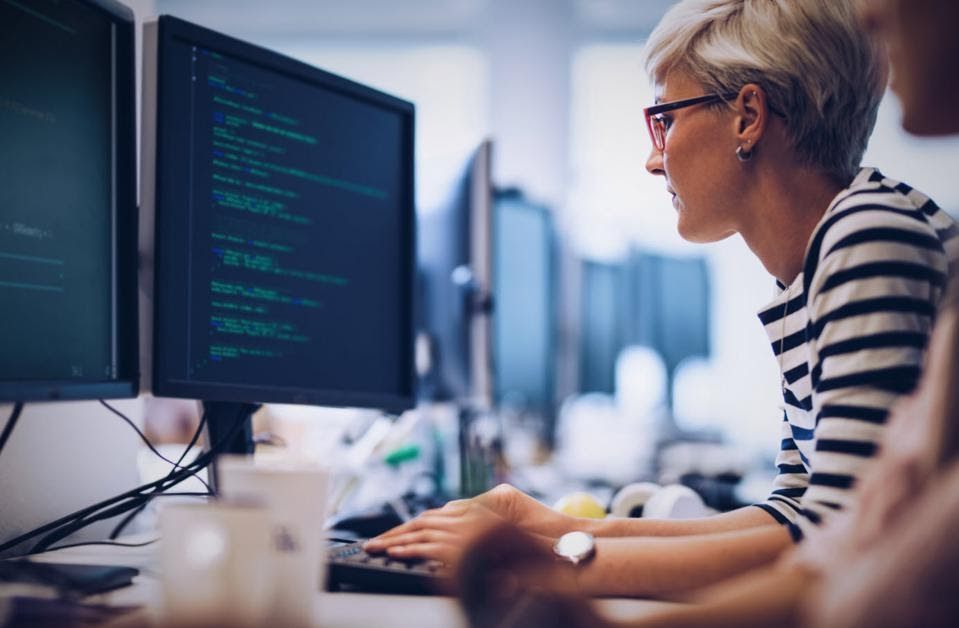 Discovering The JustTechJobs Site
Although job search sites that cover all specializations or fields are more popular, I still think the sites for a particular industry are more helpful. It is because I do not need to filter the content and the information as it is already focused on what I am looking for in a possible job.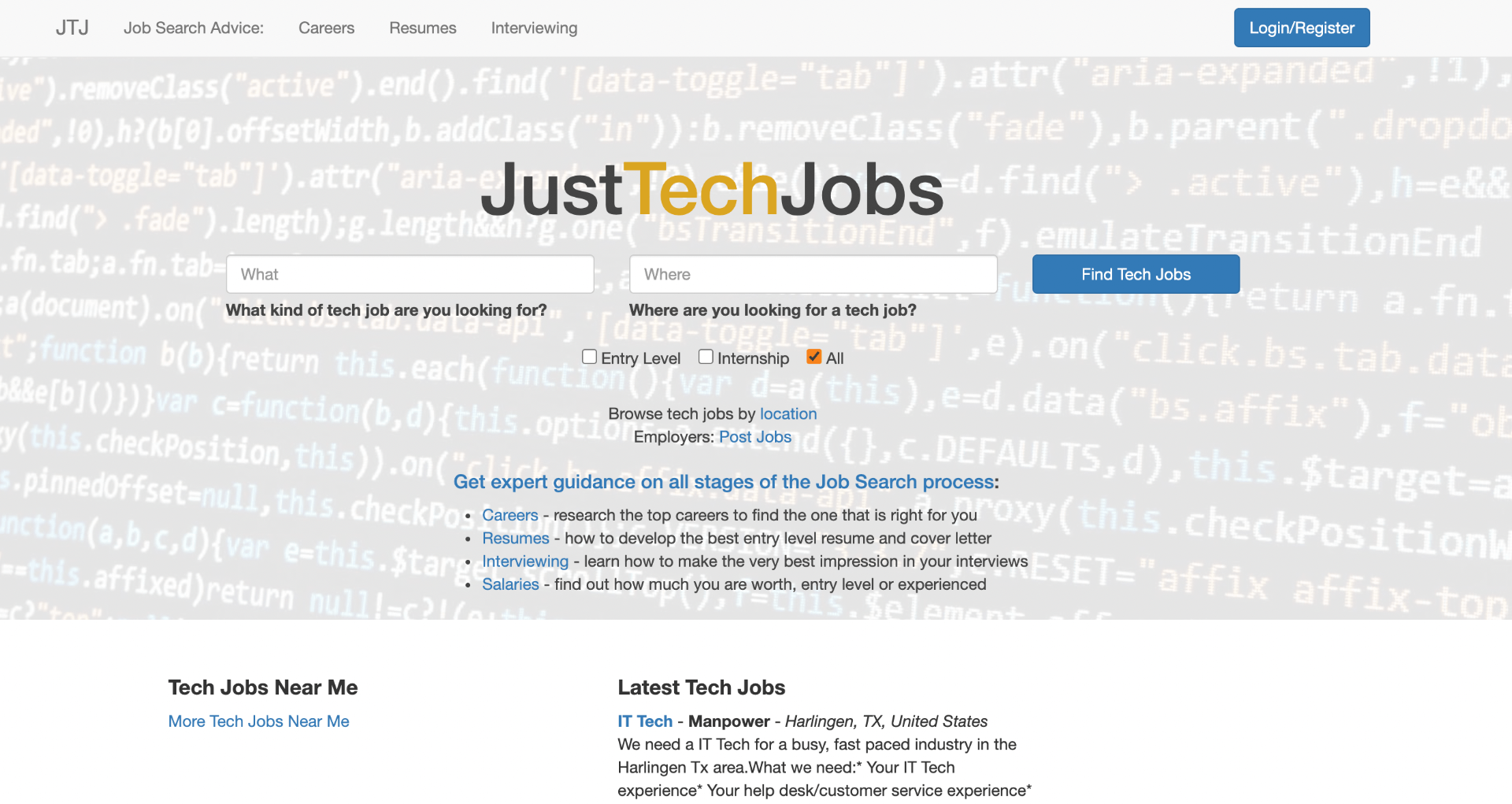 I spent hours just filtering the job postings and content on other job search sites because the filter feature is still not good enough. Fortunately, there are now sites focused on specific industries or fields so that job hunting will be much easier. In my case, I discovered JustTechJobs.
It is a site that serves as a platform for those in the technology industry. The companies can post job vacancies with the complete details of the role. Meanwhile, job seekers in the same field can check these job postings as the site updates the vacancies in real-time.
JustTechJobs is part of the JustMyJobs Network that manages and runs several job search sites that focus on different industries to help job seekers. I no longer had to spend time sifting through all the job postings from other sites that cater to all fields because I know that all information in JustTechJobs is relevant to what I was looking for.
Signing Up For JustTechJobs
Upon reaching the website, JustTechJobs will immediately show the basic features: recent job posting from companies, search feature, job search advice, and signing up or logging in button. Although the site does not require job seekers to sign up to find jobs, it is still advisable to create an account.
It is easy to create an account in JustTechJobs either as a job seeker or as a company. When I was still looking for a job back then, I needed to provide my email address, full name and set up a password with lower and upper case letters. Once done, I immediately completed my profile.
Companies can use the profile I am interested in to view my basic information, and completed profiles are required to send applications through the app. In JustTechJobs, my profile can serve as my digital resume as I need to provide my contact information, educational background, work history, and if I want, I can upload an updated resume.
Searching For Jobs On JustTechJobs
I liked the site because it is well-organized, making it easier for the users to navigate and search for positions. The interface is not flashy because of its almost minimal design but filled with purposeful content.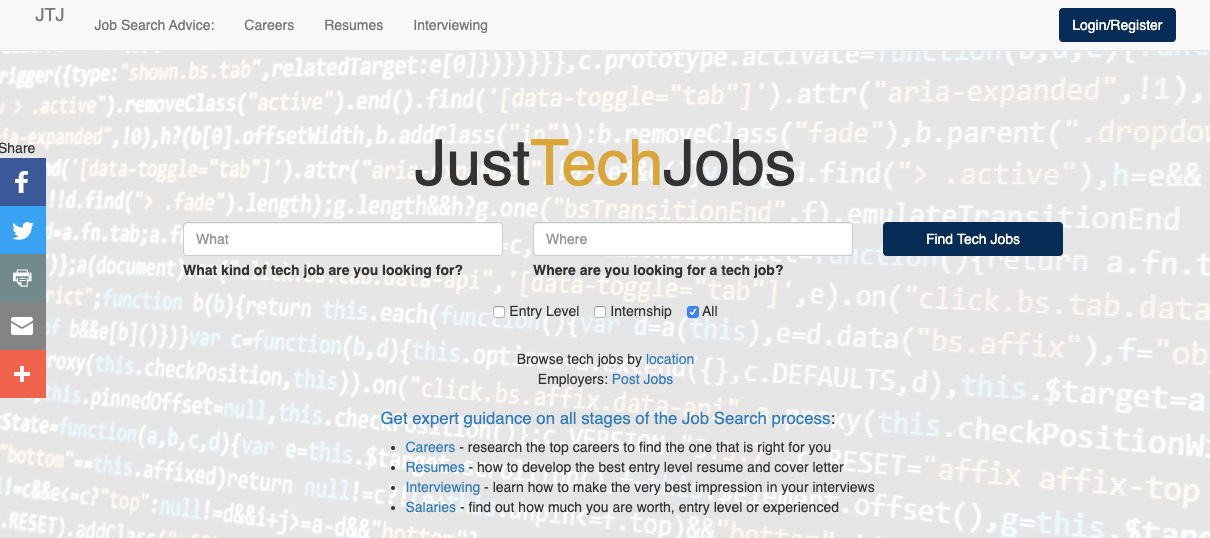 I think part of the site's user-friendliness can be attributed to the fact that registered or non-registered job seekers can immediately search for a job. Like any job search site, JustTechJobs gives importance to the search feature with its several ways to filter the available information or job postings.
Job seekers can type in a keyword for their desired position, and the site will list down all the related available or open job positions. The list provides the official job position or role together with the office or company location. Moreover, every entry on the list has an overview of their respective job description.
Initially, I thought the job postings on JustTechJobs are few, but I was proven wrong. When I searched for programmers, there were hundreds of posts from different companies and different places. It seems that JustTechJobs has already built a community among the companies and individuals in the field.
Learning More About The Job Vacancies
Even though there will be many job vacancies posted on the site, I need time to find the best one that I think fits all my preferences. I can click on an entry on the list, and JustTechJobs will lead me to an external website where the companies originally posted the open position.
Most of the time, the link led me to the official sites of the company. In this case, JustTechJobs serve only as a linking platform for the company and me. The website will then provide complete information about the job vacancy, including the full job description and expected roles.
Moreover, I can check whether I am fit for the job based on the indicated qualifications or requirements set by the company. The other details are also mentioned, like the work hours, shifts, salary, benefits, and many more. I can read the information of all the companies listed on the site.
Filtering Job Postings On JustTechJobs
I was overwhelmed with the number of available jobs on the site, and I know not all of them fit my ideal work condition and environment. JustTechJobs allows us to further filter the list of job postings according to location. I think it is important because some job seekers consider the area when applying for a job.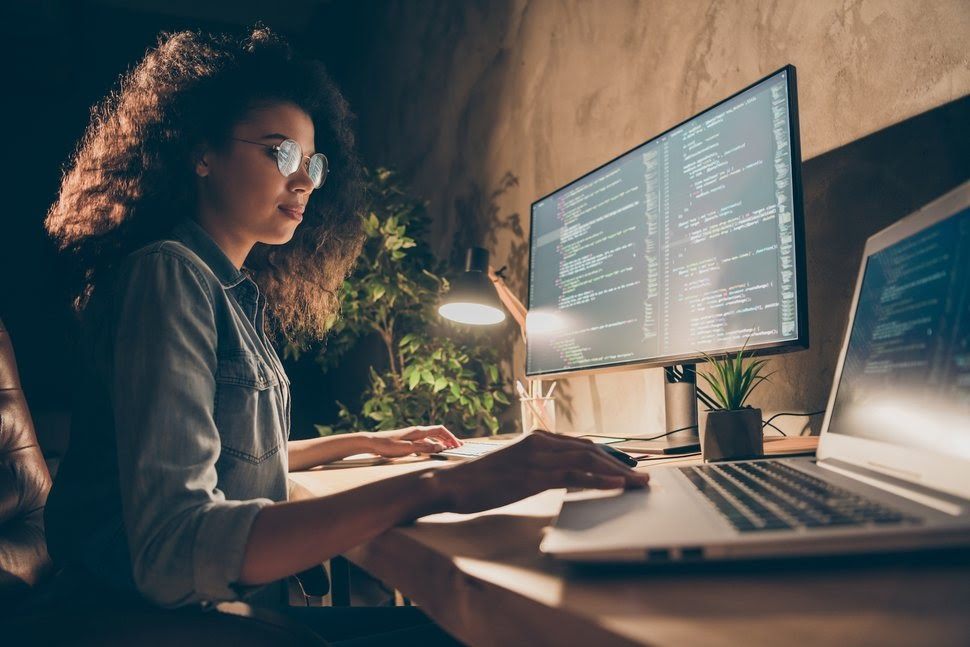 Personally, I do not want to move out from my present residence, so I prefer companies near my place. When I say near, I can drive back and forth in a day. However, JustTechJobs knows that not everyone is open to relocating to get a position they like.
However, I knew people who used this filter to find a company located in a place where they want to move, like to the city, suburbs, or even on the other side of the country. Nonetheless, this feature allows us to narrow down our choices while catering to our needs.
Another way to limit our potential interest companies is to filter the job search according to the type of employment we wish to apply for. Job seekers can indicate whether they want to look for full-time employment, part-time employment, or internships. In this way, I can immediately see the companies that fit my preferences.
Saving Job Alerts On JustTechJobs
Understandably, sometimes we need a bit of luck to find the perfect job position and company for us. There will be times when we are looking for a position or company that is currently unavailable on the JustTechJobs site.
So, we need to check for updates or new job positions on the site regularly. JustTechJobs knows this, and that is why they offered a feature to keep us updated on the newly posted openings on the site through the "Save Search for Job Alert."
I can choose whether the alert will be sent daily, weekdays, weekends, weekly, bi-weekly, or monthly. The job alerts can be viewed on the "My Profile" tab. The site will collate all the newly posted job vacancies according to the date they are posted. This saves me time as I do not have to go through the posts that I checked already.
Getting Job Search Advice On JustTechJobs
Another interesting feature that JustTechJobs offers to job seekers is the job search advice that benefits college students, new graduates, and individuals with minimal work experience. Although I have been in the field for some years already, I still found the advice helpful.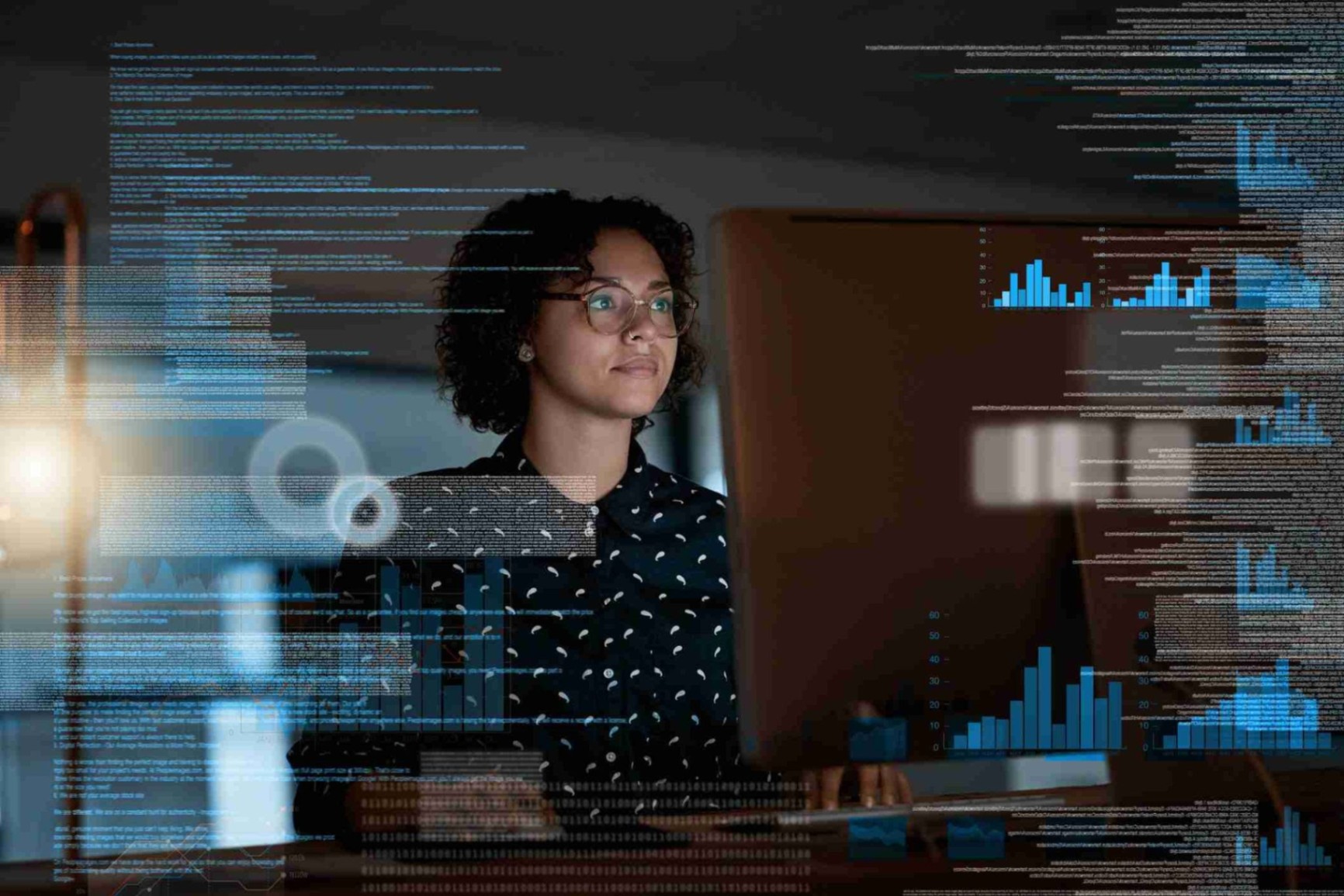 All advice is collected from experts in the field so that job seekers will be guided appropriately when they apply for an entry-level job. The site sections cover the different aspects that job seekers need to know before looking for a job to ensure a higher chance of acceptance in their desired position.
The site gives an overview of the top careers that best suit the job seeker's educational attainment, work experience, and interest. Moreover, there are tips on developing excellent resumes and cover letters that will show all the job seeker's strengths and qualifications.
Moreover, the job seekers will be advised on broadening their network that can help them land a job. Lastly, the site provides the how-to's during an application interview. There are some tips and reminders on presenting yourself and how to answer the commonly asked questions.
Finding Jobs Near You On JustTechJobs
When I reached the JustTechJobs site, the first thing that caught my attention was the "Tech Jobs Near Me" section. I can immediately check the companies or positions near my current location. This is only possible if I allowed my device to access my location.
If my device did not recognize my current location, I can manually enter my location and let the site filter and list down all the job vacancies near my place. It is also possible to do an advanced search to filter the openings according to the date posted.
Conclusion
JustTechJobs helps companies and individuals who are related in the technology industry to meet as employers and employees. The site acts as a platform where people can search for available jobs and eventually find one where they think they fit best.